Tricia Lucus is the wife of Toby Keith, the American country singer and songwriter popularly known for the 1993 hit single Should've Been a Cowboy. She is an American businesswoman born in 1962. Tricia and Toby were married on March 24, 1984, and have three children together; two daughters named Krystal and Shelley and one son named Stelen.
While she may have been keeping a low profile, the spotlight that shines on her husband has spilled over her and made fans of her husband's music appreciate her presence in his life. Successful men are well known for having a woman by their sides who cheer them on even when the going gets tough, and Tricia Lucus is definitely a woman that has cheered her husband on. Currently, she is living with her family, managing and overseeing her family business.
Summary of Tricia Lucas' Biography
Full name: Tricia Lucus
Gender: Female
Date of birth: 1962
Tricia Lucus's Age: 61 Years Old
Ethnicity: White
Nationality: American
Sexual Orientation: Straight
Marital Status: Married
Tricia Lucus's Husband: Toby Keith
Tricia Lucus's Children: 3
Famous for: Being the wife of Toby Keith
Tricia Lucus's Instagram: tricialucas
What is Tricia Lucus' Age?
Tricia Lucus was born in the United States in 1962 and is currently 61 years old. She has an American nationality and a white ethnic background.
Tricia Became Toby Keith's Wife at the Age of 22
Tricia first met Toby at a club in the early 1980s. At that time Tricia was 19 and Toby was 20 years old. They dated for three years before they decided to tie the knot. Tricia and her husband worked for over 12 years to create their dream home in Oklahoma's green, rolling plains.
Does Tricia Lucus Have Kids With Toby Keith?
Tricia Lucus and Toby Keith are married with three kids. Their kids are Krystal Keith (Born September 30, 1985) and Stelen Keith Covel (Born 1997). Toby also has an adopted daughter, Shelley Covel Rowland (Born 1980), Tricia's daughter from an earlier relationship. In addition, Tricia is also a grandma to Shelley's three kids (two daughters and one son).
Krystal showed an interest in taking after her father in music, performing her song Mockingbird with her dad at the CMA Awards, which was also her large stage debut in 2004. But, because her Dad wanted her to go to college first, she placed her music career on hold. Krystal eventually signed a recording agreement with Show Dog-Universal after graduating from college. Her first single, Daddy Dance With Me, was a chart hit and she has so far released one album titled Whiskey & Lace. Toby and Tricia are sure to be so proud of her!
Even after almost 35 years of marriage, the love birds still seem to be getting along exceptionally well, and not just that, their connection continues to grow. Tricia is living a peaceful and happy life in Oklahoma with her husband, children, and grandchildren.
Who is Tricia Lucus's Husband?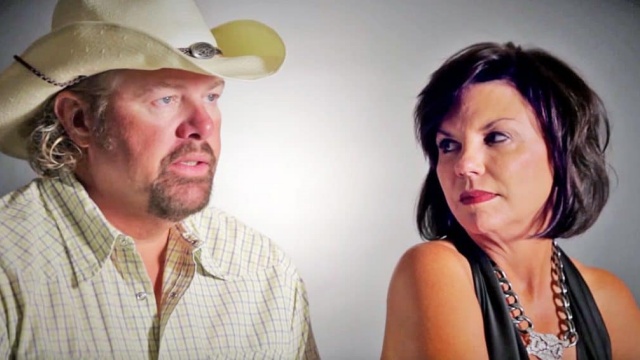 This article wouldn't be complete without giving a detailed background on the husband of Tricia Lucus. Country music star Toby Keith was born Toby Keith Covel in Clinton, Oklahoma on the 8th of July 1961. At a young age, he began playing instruments and at the age of eight, he owned his first guitar. He attended Highland West Junior High and then graduated from Moore High School, forming a band with several of his friends during his high school years.
Rather than actively pursuing a musical career at the time, he decided to make a living by working in the oil fields. His passion for music, while still working in the oil fields, created Easy Money Band, but after hard times descended on his job and with the stress of having a family, he decided to pursue music fully.
His large break came in the early nineties when Harold Shedd, CEO of Mercury Records, heard his demo and chose to sign him for a recording contract. Keith signed and published his self-titled debut album in 1993 with Mercury Records. His debut single Should've Been a Cowboy, the most played song of the 1990s, went directly to number 1 on the list of the Billboard Hot Country Songs.
Other Facts About Tricia Lucus – Toby Keith's Wife
One Big Family
Toby adopted the daughter of Tricia Lucus from a prior relationship, Shelley, after their marriage. The love that the family has for each other has weathered both good times and bad and never failed. Tricia is a woman that deserves the best.
Faith in Her Man
Toby was working in the oil fields early on in their marriage to help sustain his family. But he decided to follow a career in country music when the fields dried up. Tricia backed her husband 100% despite the dangerous nature of attempting to make it in the music industry. Toby has sold over 40 million albums around the world. In 2015, when he was officially inducted into the Songwriters Hall of Fame, Tricia was right by his side as he received one of the greatest honors of his career.
Business Savvy Family
Tricia Lucus is working on her own company venture called SwingDish along with daughters Krystal and Shelley, which offers a signature line of high-quality women's golf clothing. The fashion line provides functional and stylish women's golf shorts, shirts, skirts, and accessories.
Tricia Lucus's Net Worth
Tricia Lucus has an estimated net value of approximately $10 million. She made her fortune running her husband's business. Furthermore, her husband Toby Keith is an extremely well-known American musician and record producer. He has a well-earned net worth of $365 million as of 2019. He made most of his riches from his great singing career.
Tricia Lucus's Height and Body Measurements
Tricia Lucus is a very beautiful woman who is of medium height and build. However, details on her exact height and weight are not known at this time. Tricia has flowing dark brown hair that she usually wears short, and her eyes are brown in color.
Tricia and Her Husband are Big on Philanthropy
Tricia and her husband are giving back as much as possible. Their greatest philanthropy is the OK Kids Korral, a facility designed to provide families with kids receiving cancer treatment with a second home. In 2014, the ASTEC presented Toby and Tricia with the Door-Opener Award in honor of their philanthropic effort.
FAQs
How old is Tricia Lucus now?
Tricia Lucus is currently 61 years old. She was born somewhere in the United States in 1962.
Tricia Lucus's ethnicity
Tricia Lucus is of White ethnic background and a citizen of the United States of America.
What is Tricia Lucus' nationality?
Tricia Lucus is a citizen of the United States of America. She was born somewhere in the country in 1962. She's also of White ethnic background.
Is Toby Keith still married to Tricia Lucus?
Yes, Tricia Lucas is still the wife of Toby Keith. They got married in 1984 and have been together since then against all odds.