Triple H has an estimated net worth of $40 million. He is an American actor, business executive, and former professional wrestler. 
Triple H needs no introduction. This 6 feet 4 inches tall behemoth is one of the most popular and most beloved WWE superstars in the world. In an illustrious career that has spanned over three decades, the wrestler has endeared himself to fans with his ruthless style in the ring. He has also won at least 14 world championships to be now regarded as one of the greatest professional wrestlers of all time.
Early Life
Triple H was born Paul Michael Levesque on the 27th of July 1969 in Nashua, New Hampshire. His father's name is Paul Levesque while his mother's name is Patricia Levesque. He has only one sibling, a sister named Lynn.
The future wrestler grew up in Nashua and fell in love with the sport at the age of five. He aspired to look just like the superstars he saw on TV, and thus dabbled into bodybuilding at the age of 14. He continued this trend all throughout high school and upon graduation, became a gym manager. Whilst working as a gym manager, Triple H made acquaintances with a WWE staff known as Ted Arcidi. It was Arcidi who helped him to gain entrance into a wrestling school run by former pro wrestler, Killer Kowalski.
What is Triple H's  Net Worth?
The WWE superstar has a net worth of $40 million. This not only stems from his illustrious career in the ring but also from his enterprises. Triple H is an astute businessman who serves as the executive vice-president of talent, live events and creative of the WWE. His responsibilities include talent recruitment, and he was instrumental in attracting colorful British boxer Tyson Fury to the WWE Crown Jewel in October 2019. Additionally, and even more importantly, Triple H is the founder and senior producer of NXT.
NXT was initially billed as the developmental division of the WWE. It has however grown in popularity and has become a full-fledged branch, much like Smackdown and RAW. NXT is now one of the WWE's biggest attractions and has moved from the WWE Network to the USA Network. Part of the reason for the NXT's unprecedented success is its promotion of women wrestling. Triple H realized early on that times were changing and that women were so much more than just side characters. He started recruiting and training them as athletes, and this initiative has paid off. Female talents are no more divas but superstars. They have since headlined several events including the 2019 edition of Wrestlemania.
Triple H's Income Sources
Wrestling
Businesses (WWE, NXT)
Acting
His Career Achievements 
After several months of training under Kowalski, Triple H joined the IWF (International Wrestling Federation) and made his professional debut on the 24th of March 1992. He quickly amassed several victories and by July of that same year, won the IWF Heavyweight Belt.
The Nashua native continued his impressive form for the next three years and in 1995, he joined the WWF/WWE. He made his WWF/WWE debut on the 30th of April 1995, defeating his challenger, Buck Zumhofe. Since that victorious debut, Triple H has grown to become one of the greatest pro wrestlers of all time.
Renowned for his Pedigree finishing move, he has won several titles including the World Heavyweight Championships (5x), WWF/WWE Championships (9x), WWF/WWE International Championships (5x), Royal Rumble (2x) and WWE Tag Team Championships (2x). He also joined hands with three other wrestlers; Rick Rude, Chyna and Shawn Michaels, to form the unforgettable group, D-Generation X. The quartet were inducted into the WWE Hall of Fame in 2019.
Meet Triple H's Family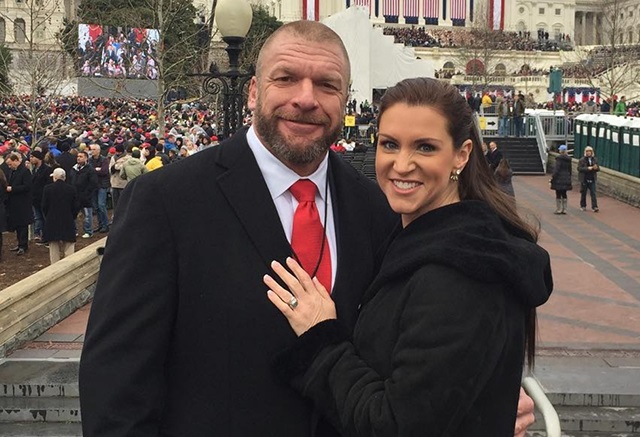 Triple H is not just a winner in his professional life but also in his personal life. The WWE superstar is married to Stephanie McMahon, a wrestling personality as well as a businesswoman. She is also the daughter of legendary wrestler and current WWE chairman Vince McMahon.
The romance between the pair initially started as a WWE storyline in 2000. It later morphed into a real-life relationship and they tied the knot in October 2003. The couple now have three daughters; Aurora Rose, Murphy Claire, and Vaughn Evelyn.
Aurora Rose is following in her parents footsteps and has trained with renowned female superstars such as Ronda Rousey and Charlotte Flair. Her father has meanwhile declared his wholehearted support for her future ambitions. According to the Hall of Famer; once his kids are passionate about something, and are willing to work hard in order to achieve their dreams, he would support them every step of the way.