Trisha Yearwood is one multi-talented fellow. She is not just a popular country music singer but is also a bestselling author, actress, and an award-winning TV host. Combined, these efforts have helped her to huge wealth, rewarding her childhood dream with financial glory.
But while there has been an endless string of success in her professional life, things were initially a lot less straightforward in her personal life. Trisha has been married thrice, with the first two marriages ending shortly after they started. Her third and hopefully final marriage, however, looks like it will last forever as the couple has been together for more than one and a half decades.
Trisha Yearwood First Made Money Working as a Backup Singer
As soon as Trisha Yearwood was old enough to know what she enjoyed, she chose to follow a musical path. She was passionate about it and worked in various capacities in her local community to connect with it. From talent shows to musicals and church events, young Trisha was everywhere there was music.
But since a career in music is not guaranteed like a job in the corporate world, she made sure to receive an education by first attending Young Harris College where she studied business before enrolling at Belmont College in Nashville, Tennessee, to study music business.
Trisha Yearwood would later got her foot in the door of the music industry with an internship at MTM Records. She later became a full-time employee of the record label, working as a backup vocalist for new artists. Although she was not a contracted artist, she took advantage of the company's resources to record demo tapes.
It was during her job as a backup artist that Trisha met Garth Brooks, who would later become her husband. She contributed with backup vocals on his album, No Fences. Between her performance on the album, the demo tape she had created, and some politicking by Brooks, Trisha was able to secure a record deal with MCA Records and so her professional music career was launched.
She Has Released 14 Studio Albums
With her dream coming alive with a deal as a professional musician, Trisha Yearwood began the hard work of creating her music. The year 1991 quickly became a transformative year for the singer as she was an opening act on Garth Brooks' nationwide tour. In the same year, she released her self-titled debut album that sold more than a million copies.
Yearwood would go on to make history as the first woman to achieve such a feat with her debut album. The album has since shipped more than two million copies, earning double-platinum certification from the RIAA. The album's lead single, "She's in Love with the Boy", peaked at #1 on the Billboard Hot Country Songs.
Over the years, Trisha Yearwood has gone ahead to release an additional 13 albums. Every other one of them except for Let's Be Frank in 2019 has featured on the US Billboard 200. Of the twelve that has made the Billboard 200, the lowest-charting project was her fourth album, The Sweetest Gift. The album peaked at #105 on the chart. Additionally, five of her albums have sold more than one million copies, and a further five have sold a minimum of 500,000 copies.
The compilation album, (Songbook) A Collection of Hits, is her highest-selling album to date, with more than four million copies sold. Overall, her discography has sold more than 15 million records globally, making her one of the highest-selling female country musicians in the US.
Yearwood Has Released Three Cookbooks
In addition to her successful music career that came about from a chance internship, Trisha Yearwood is also a published author. She released her first book, Georgia Cooking in an Oklahoma Kitchen, in April 2008. She wrote the book in collaboration with her mother Gwen, and sister Beth.
The cookbook contains various family recipes that were passed down from previous generations. Between her popularity and the book's quality, the book reached #1 on the New York Times Best Seller list.
Encouraged by the success of her first book, Trisha has published two more. She published the second one which was another partnership with her mother and sister in April 2010. The book, Home Cooking with Trisha Yearwood, followed a similar content style of passed down food recipes of the family. And just like the first, it reached the New York Times Bestseller List and was the cover article of Redbook Magazine. Her third book, Trisha's Table, was released in 2015.
She Hosts Her Own Cooking TV Show
Repeated success in the sales of her booking books showed that the public interest in Trisha's cooking was not a fluke. As a result, the Food Network in 2012 signed her to a cooking show, Trisha's Southern Kitchen. With it, Trisha Yearwood began a third career as a TV host.
Since the show's debut in April 2012, Trisha's Southern Kitchen has released more than twelve seasons and over 129 episodes. In the show, Trisha brings her cooking books to life, cooking southern-inspired meals based on her family's generation-long recipes and new ideas. The show has become a consistent and additional source of income for the country singer and has also won her a Daytime Emmy Award for Outstanding Culinary Program.
Alongside her hosting duties, Yearwood has also done some acting. Her most notable role is playing Lt. Cmdr. Teresa Coulter in the navy action drama, JAG, across six episodes. Other appearances include Mary in The Passion, an unnamed choir director in Dr. Quinn, Medicine Woman, and playing herself in an episode of The Naked Truth.
Trisha Yearwood Has Since Attained Multimillionaire Status
With a successful career as a singer, a long-running cooking show on Food Network, and multiple published books, Trisha Yearwood has amassed an estimated net worth of $40 million. Her music earnings have not only come through music sales but also tours, which she frequently does with her husband, Garth Brooks.
Together, the Brooks-Yearwood family is worth more than $400 million, with Brooks carrying the bulk of the load with over $350 million in net worth.
How Trisha Spends Her Money
It is no surprise to know that a successful woman in the entertainment business has a huge closet of clothes and shoes from every top designer in the world. Trisha is no exception to this as she makes sure to look good whenever she appears on the screen or performs at shows.
Outside of what she spends on her self to look good, she has also spent a significant amount of money on real estate. In the early days of her career, following her debut album and first divorce, Trisha Yearwood bought a home in Nashville for $432,000. By 2014, the property, which she sold, had grown in value to $2.2 million.
She and her husband have further invested in other properties like a Malibu mansion they bought in 2008 for $5 million and sold in 2016 for $7 million. They also own a house in Owasso, Oklahoma worth $3.2 million where their family lived until they returned to the music scene in 2013. The couple currently lives in a $2.2 million home in Goodlettsville, Tennessee.
Trisha and her husband are also noteworthy philanthropists. They donated $1 million in 2020 for Covid-19 relief efforts and have supported other projects like Hurricane Katrina disaster relief and Habitat for Humanity.
Trisha Yearwood's First Two Marriages Each Lasted For Less Than Five Years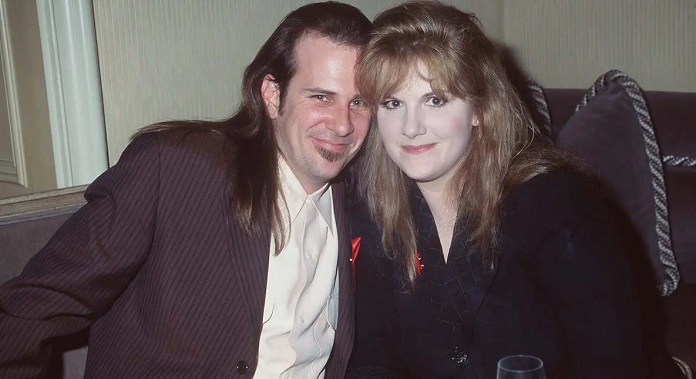 Any fan of country music knows Trisha Yearwood has been married to Garth Brooks since 2005, and the two of them are considered the unofficial king and queen of Country Music. However, before they found their lasting partnership, Trisha was in two failed marriages; one to Chris Latham and another to Bobby Reynolds.
Her first marriage to music producer Chris Latham began after they tied the knot in 1987. They got married before Trisha launched her music career and while she was still in college. While we are not certain why the marriage ended, we know they divorced four years later in 1991. Neither of them has spoken publicly about why they parted ways. The closest Trisha has gotten to speaking about it was in her sophomore album, Hearts in Armor. She made the album after their divorce, and it is considered one of the best heartbreak records of the '80s and '90s.
After Latham, Trisha Yearwood moved on to a relationship with bassist Robert Reynolds. The pair wedded in 1994 and the union lasted for five years as they split in 1999. Unlike her first marriage, the singer publicly talked about her second marriage, commenting that her divorce from Bobby, who is a bassist for The Mavericks, was very difficult.
Her Third Marriage Was Born Out of a Lifelong Friendship
After two failed marriages, the third time truly was the charm for Trisha Yearwood. She first met and became friends with Garth Brooks in the late '80s. As mentioned earlier, he was instrumental in her becoming a professional musician and the subsequent success she achieved. At the time, however, Brooks was married.
Following his divorce in 2001 and her single status, the pair started dating in 2002. They got engaged in May 2005 after Brooks proposed in front of 7,000 people during a show in Bakersfield, California. The couple tied the knot on December 13 of that same year.
Their marriage, nor her previous marriages, have produced zero children. However, Trisha has three stepdaughters courtesy of Brooks' first marriage. Their names are Allie, Taylor, and August.
Trisha's Sister is Her Only Surviving Immediate Relative
Trisha Yearwood hails from a family of four. Her late father's name is Jack Howard while her mother, who is also late, is named Gwendolyn. She has an elder sister named Beth Bernard.
Yearwood is quite close to her sister and often incorporates her in what she is doing as the two of them worked on all three of her cookbooks. She has also made repeated appearances on Trisha's Southern Kitchen and an Intimate Portrait episode documentary about her sister.
Outside of business, the Yearwood sisters are also philanthropists. Both have worked for Trisha's favorite charity, Habitat for Humanity. Beth is also a married woman. She is married to John Bernard with whom she has three children; Ashley, Brett, and Kyle.