Troian Bellisario is a popular mixed racial American actress who wears several hats in the filmmaking process. She is a scriptwriter, producer, and director. She has been working since she was a child. Rather than burn out like most child actors, her career has grown, starring in hit TV shows and films.
Off-screen, Troian Bellisario, has deep roots in Hollywood. Her husband is Suits star, Patrick J. Adams, and her parents are producers, renowned for works like Quantum Leap and NCIS. Along with her parents and husband, here is your in-depth look at the life of Troian Bellisario, starting with her childhood start as an actress.
Troian Bellisario was Born into Hollywood
Troian Avery Bellisario has the entertainment blood flowing through her veins. Born on October 28, 1985, in Los Angeles, California, Bellisario has eight siblings; five half-siblings, two stepbrothers, and one biological sibling. Ethnically, Troian has roots in various cultures. Through her father, she is of Italian and Serbian descent, and her mother is of French, English, and African American ancestry.
She attended Campbell Hall School, North Hollywood, California, and excelled academically. She was her class valedictorian before she proceeded to the University of Southern California, where she bagged a bachelor's degree in Fine Arts in 2009.
Her academic pursuit, however, happened simultaneously along with a young career as an actress. She made her debut in the 1988 film, Last Rites, at the age of three. Her father may have launched her acting career by directing the film, but Troian's sheer talent and hard work paved the way for the next 40+ roles of her life.
A Look At Her Ever-Expanding Filmography
According to her IMDb page, Troian Bellisario has more than 40 credits to her name, earned in more than three decades as an actress. She had a five-year break between 1992 and 1997 and has been working since.
Out of her 40+ credits, 29 of them are in film. Eighteen of her film appearances, which include titles like Girlfriends, Intersect, and Joyful Girl, are short films. Some of her feature films are Pleased to Meet You, Consent, Martyrs, and Feed.
Troian Bellisario has a more substantial presence on television, where she has more than ten credits to her name. She has appeared in episodes of Tequila and Bonetti, NCIS: Naval Criminal Investigative Service, First Monday, and Suits.
For her outstanding contribution right from her teens, she has been nominated and awarded with several awards. They include the Vision Fest, Philadelphia First Glance, and Teens Choice Awards. She has also been nominated and won the New York Festivals Gold Medal Award and the IAWTV Award, both for her role as the titular character, Lauren, in Lauren.
Spencer Hastings in Pretty Little Liars is Her Best Role So Far
In terms of media attention and international recognition, Troian Bellisario's best role as an actress since making her debut in 1988 is Spencer Hastings in Pretty Little Liars. She began starring on the show in 2010, and appeared in 160 episodes, across all seven seasons of the show.
As part of the show's ensemble lead actresses, Troian contributed to its widespread success. The show received 45 awards out of 46 nominations and elevated Troian as one of TV's most recognizable actresses. She also received six Teen Choice Awards nominations and won two of them, as well as a Young Hollywood Award.
Critically, Troian's best roles include Lauren, the WIGS series, the film, Consent, and Clara. Her roles in Consent as Amanda and Clara as Clara, earned her two awards, respectively.
Read Also: Zendaya Parents, Age, Height, Siblings, Dating, Boyfriend, Ethnicity 
Troian Bellisario Has Been with Patrick J. Adams For More than a Decade
The 5 feet 5 inches tall Troian Bellisario met Canadian actor Patrick Johannes Adams in 2009 while they were shooting Equivocation. They started a relationship, but briefly parted ways before getting back together after another meeting on the set of Pretty Little Liars in 2010. Patrick J. Adams starred in an episode of the show as Hardy.
The two appearances that brought them together will not be their last joint role in a project. They have made further appearances together in The Come Up, Suits, and We Are Here. Not only as their joint appearances helped solidify their relationship, but it has also expanded their myth as a celebrity couple.
As stars of two popular shows, Suits and Pretty Little Liars, their relationship has expanded, introduced them to each other's fanbase, gaining new fans in the process. It has also made them Hollywood royalty, and in an instance, literal royalty. Thanks to Patrick's co-star relationship with Meghan Markle, he and Troian attended Prince Harry and Markle's royal wedding at St. George's Chapel, Windsor Castle in May 2018.
They Have Been Married for Four Years
Four years after they got back on the dating track, they got engaged. Two years after, on December 10, 2016, they got married in a private ceremony in Santa Barbara, California, in front of family and friends.
On October 8, 2018, the first-time parents welcomed the arrival of their first child, a daughter, Aurora. The couple celebrated her birth with an Instagram post expressing their joy for their new baby and appreciation for those who supported them.
Dissecting Troian Bellisario's Family
Troian Bellisario was born to multi-racial American parents Donald Paul Bellisario and Deborah Pratt in Los Angeles. However, her parents parted ways but not before birthing her younger brother, Nicholas Dante Bellisario.
Her Parents are Film Producers and Actors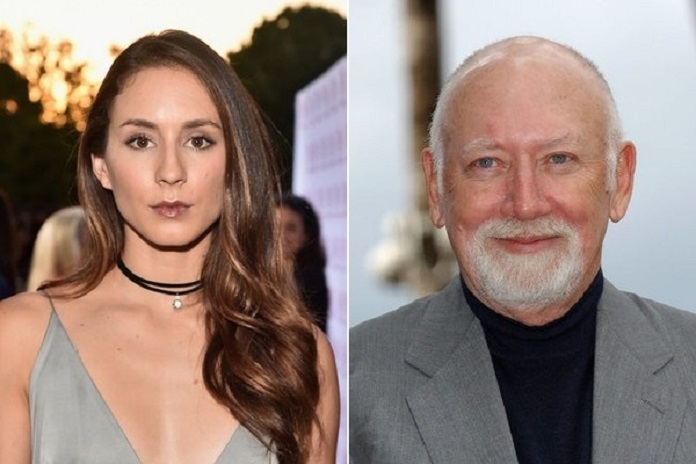 Her father is the Hollywood legendary actor, film director, screenplay writer, and producer. Notable among his works are Battlestar (1978), Magnum P.I (1980), JAG (1995), NCIS (2003), among many others. Before he became a producer, he was an advertising copywriter and a creative director.
Troian's mother, Deborah, is also an American actress, film writer, and producer.  She also made appearances in movies such as Happy Days (1974-1985) and The New Odd Couple (1982-1983). She is also a published author. Deborah is also an author. She wrote the novels, The Vision Quest: The Age of Light and The Vision Quest: The Odyssey in 2006 and 2008, respectively.
Following her parents' divorce in 1991, her father remarried. Her stepmother is Vivienne Bellisario. He married her in 1998, and they have been together ever since. Troian's mother, on the other hand, never remarried.
Her Siblings are Hollywood Actors Too
Her biological younger brother is Nicholas Dante Bellisario, born on August 27, 1991. He had his high school education at Beverly Hills and studied Computer Science at the University of Arizona, and he is an adventurous man. He is also an actor and has starred in several films such as JAG and Girlfriends (1997) and First Monday (2002).
Her stepsiblings, Sean and Chad Murray, two children Vivienne had before marrying her father, are also in Hollywood. The former is an actor while the latter is a film producer. Aside from them, Troian's half-siblings include Joy, Leslie, Julie, Michael, and David Bellisario, from her father's previous marriages.