While people in Kenya who have never had the chance of traveling abroad complain about everything and anything that is wrong with Kenya, those who have the seemingly golden opportunity to live far from our sweet home in search of a better life whine about how they miss the uncommon beauty in Kenya. They have seen the truth in the popular adage "you don't know the worth of what you have until you lose it". They crave the things most of us take for granted. The little things that we overlook seem to mean a lot to those who are far away from the shores of our country. Things that deserve our gratitude but get our ingratitude instead are the same things Kenyans in diaspora yearn desperately for. Well, you will never understand what you are enjoying in Kenya until you travel abroad.
Yes, it may sound sarcastic especially to people in Kenya who just can't wait to travel abroad, but sometimes we just have to live away from home to be more appreciative. After having a long chat with a few Kenyans living in the Diaspora, these are some of the things they shared with us that they miss about home.
Read Also: Top 19 Kenyan Destinations To Visit Before You Die
The Soothing Weather
In Kenya, locals hardly have to worry about the weather. They don't have migraines over tornadoes, hurricanes, storms and snow and Kenyans abroad miss that. The baking hot sun that we all love to complain about back home, appears to be so desirable abroad during winter especially when you're wrapped up in warm clothes and boots, inhaling the dry air. It is easier to deal with the red-hot sun back home by having a cool dip, regulating the air using air conditioner than having to deal with the extremely cold winter abroad.
Kenyan Masala Tea and Coffee
Kenyan tea is the nicest of all and it is followed by coffee. Sipping tea with friends, or the special way tea is served in every home when guests come around having milk and bread as gifts for their hosts is greatly missed by Kenyans who live abroad.
Fresh Fruits and Vegetables
Kenyans in diaspora can't deny that they miss the luscious and juicy vegetables here no matter how developed and lively the city wherein they live now is. And by that we're definitely not talking about dry vegetables, we are talking fresh and natural ones. Those types your mother had to make you eat back home that appear tasty and fresh compared with the dry and boring food you eat abroad. It is easier to buy succulent fruits from vendors and markets nearby or random farmers with pickups parked by the roadside selling fresh fruits and vegetables at absurdly cheap prices than anywhere else outside Kenya. And yes, a memory of fruit market, the tang of the fleshy fruits and vegetables, most of them on display, continue to tantalize your senses as you think about it. The deliciousness of fresh mangoes sliding down your throat, or mouth-watering Farmer's Choice sausages that have you drooling are the imaginations that keep flooding your mind, I am sure you can't help but crave it now!
Haggling At The Market:
Kenyans in diaspora miss haggling over the costs of fruits, vegetables and other items in the market. Unlike in Kenya, they buy things which already have price tags and are not often open to negotiations except when sales are on. In spite of the fact that haggling is not reserved for markets in Kenya or other African countries, but the way markets abroad can offer their customers a bargain is quite different from the way it happens back home. They miss talking their way to a bargain with local women and men who actually bring their goods to open markets and are eager to sell as much as possible. They miss the rowdiness and all the noise in the market as well.
Kenyan Party Atmosphere
Kenya especially Nairobi has one of the best nightlife around the world. The vibes, dancing, the music, the lovely atmosphere that comes with Friday nights when people are set to party the night away. They also miss the Kenyan habit of buying boiled eggs, fries, etc early in the morning as you go home from the club.
No Fast-Paced Life
Life abroad is fast. Time is way too valuable, especially for those who combine more than one job to make a living. So, Kenyans abroad miss the slow pace of life here. They miss the time they would've spent meeting up with friends during the weekend or watching a game of football together over a few drinks. Life was slow back home but now they are trying to tune into the fast-paced life abroad. Plus, now they no longer have time to stop by their neighbor's house whenever they wanted for a cup of tea, or have such inquisitive neighbor who's always enquiring about their whereabouts. How about the sound of children playing outside on a Sunday morning when all they want to do is catch up on some sleep, or hosting visitors on Sunday afternoons? They miss that too!
Matatu Rides
Yes, you read it right, they miss the craziness that comes with insane matatu drivers on the road, the battle for passengers, the pushing when you want to buy second-hand clothes at open-air markets, the items hawkers force in your face to draw your attention, primarily the things that make you a real Kenyan.
They Miss Not Having As Much Help As They Had At Home
Domestic workers don't cost much money in Kenya, but people abroad with kids struggle to afford that. Employing a nanny to take care of your kids can cost lots of money abroad, contrary to our home where an average earner can employ about one or two nannies to take care of their kids when they can't, do their laundry, cook for them as well as doing all the cleanings at a very cheap rate. Life is made easy and less stressful when you can afford to pay a carpenter to fix any bad furniture, a tailor to mend or alter clothes, a painter to get your house painted or a gardener to trim down your garden. In fact, there is help for everyone as nearly anyone can afford these things without having to be all that rich. Now tell me what could be better than this?
Getting your Braids Done
Kenyans living abroad won't deny they miss making their hair at will and anywhere they want without having to make hair appointments at hair saloons when you need an urgent hairstyle done. They miss the normal ladies' display at hair salons. Displays like three different women, laughing and talking at the top of their voices, arguing and talking about everything and anything including guys, children, husbands, politics and our country in general as they get their braids done in a record 2hrs at the market! Finally, about hair, they miss how incredibly cheap it is to get a beautiful hair-do.
Read Also: 10+ Best Places to Visit in Nairobi in 2015
Distinctive Kenyan Habits
Whenever you travel abroad, you will miss seeing people standing in front of a news stand looking at the newspaper like they don't understand where the country is going, you will miss randomly walking the streets and meeting a Masai herding his cows around the estates, you will definitely miss watching school children go to school by themselves without having to gather around waiting for the school bus, you will miss watching children play under the rain, or see bare-footed kids walking the street, buying roasted maize on the streets, a preacher shouting at the top of his voice while preaching to idlers intently listening to him at the bus stop, all these unique things make them homesick and miss life back home, after all East or West, home is always best!
When Last Did You Inhale The Sweet Aroma of Pilau?
Kenyans abroad crave the lovely smell of Pilau and Tea masala, fresh coriander, and Royco used in spicing food. They love it when someone brings these spices from home. But, no matter how big the spices they travel with is, they still miss walking inside the market, being greeted by the aroma of fresh spices all around as well as inhaling the lovely smell.
The scenery
They miss the wildlife at the Mara, camping and going for safaris around the country and all other amazing things that keep visitors or tourists wishing for more. They miss the alluring and captivating lure Kenya's beaches and scenic locations.
Family Love and Excitement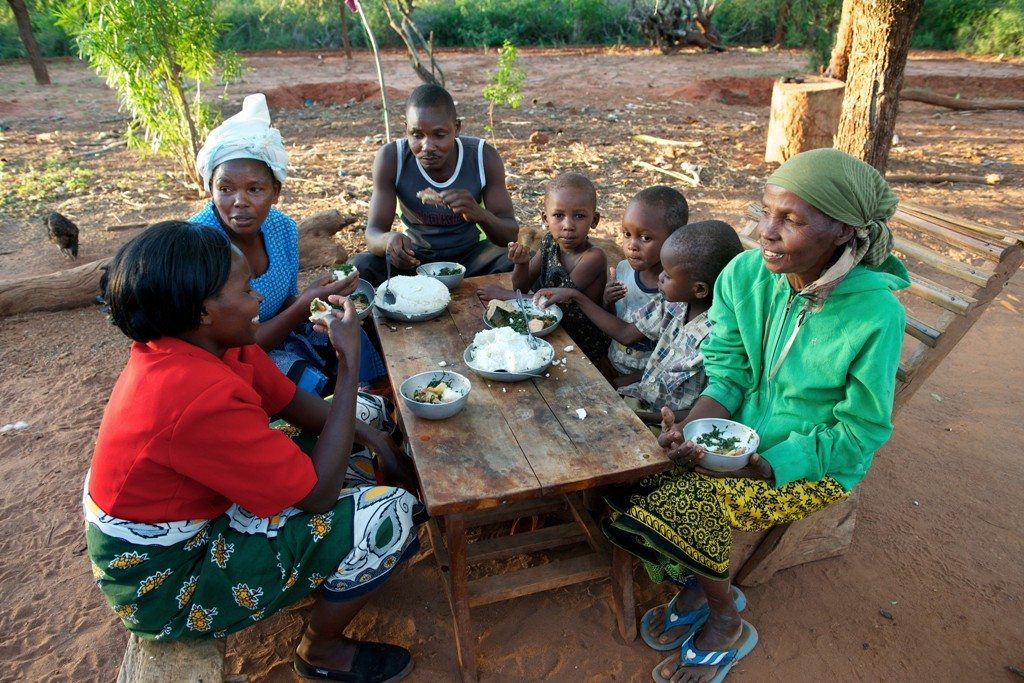 Another important thing Kenyans abroad miss is the package parenting back homes comes with. Family is important and it is more amazing when you stick with your family. Not necessarily living with them but the fact that it is easy to visit any member of your family you wish to. The happiness that comes with a mother's love, siblings driving you nuts, dealing with aunties and uncles who always remind how you were born just yesterday and how time flies, your grandparents who always want you to feed well on everything they can make, I am sure the countries abroad don't offer any of it.
The security of having family around you and the confidence that family will always show up when they don't see or hear from you after some days is never the same when you're abroad. Yes, they may keep in touch but not as often as they would when you are around.
Also, parenting in Kenya is like the community raising your children as everybody in a community helps in training up a child once s/he is born. You can get help in raising your child to be respectful and highly moral with the help of your parents, siblings, neighbors, and people around, unlike out there where everybody basically minds his/her businesses.
Houses Are More Affordable Here And They Miss It Too
Believe it or not, it is cheaper and more affordable to rent a house back home than it is abroad. And Kenyans outside know and miss that. You can afford to live on your own back home with no roommates around to help share the cost of the rent because you have the option of choosing the type of house you want for a cheap price and don't have to pay half a year's rent in advance!
Mombasa Beaches
You definitely miss Mombasa, the sunny weather, the beaches, the insane party scene, the beach parties and the amazing Swahili dishes that Mombasa has to bring to the table and so many water-sport activities.
A Taste of cold Tusker Beer with Nyama Choma
Nyama Choma tastes heavenly and can't be compared with anything else. After a stressful and hectic day, all that your system craves is a few bottles of cold Tusker, with some ugali and roasted meat (nyama choma), you miss the feeling though.
What do you miss most when you travel abroad? Share your experience in the comment below.