Famous Nigerian blogger Linda Ikeji comes from a large family that comprises seven children; six girls and one boy. Following her rise to prominence, the internet sensation has been able to take good care of her family as many of them are now resident in the United States of America. Linda is obviously close to her sisters and brother as she spares no expense in lavishing them with expensive gifts like luxury cars. Her siblings also seem to be doing well on their own as one of the girls is already following in Linda's footsteps with her own fashion blogging site.
Linda's parents, who are from Imo State in the eastern part of Nigeria, are not left out as they are now enjoying the fruits of their labor as they had struggled to bring up their seven children in penury. The duo, according to Linda, sacrificed a lot to see their children succeed in life and faced untold insults and humiliation because of their then poor state. After witnessing a particularly bad situation between her parents and a neighbor, Linda vowed to bring an end to the poverty in her family and she made good her vow.
All of Linda Ikeji's Siblings
1. Sandra Ikeji
Date of Birth: N/A
Occupation: Fashion Executive
Residence: Nigeria
Relationship Status: Married
Spouse: Arinze
Sandra is one of the biggest supporters of her sisters. Gifting the lady a new Mercedes Benz in appreciation of her unflinching support, Linda took to Instagram to express profound gratitude to "Miss Fix It" as she usually calls her. She narrated an interesting story about her early days in the blogging business when Sandra would accompany her to work on a daily basis except when she had to attend to school related issues. According to Linda, Sandra never stopped believing in her and never gave up the hustle. Linda credits Sandra with working as hard as she did and even perhaps even harder.
Away from the shadows of her celebrity sister, Sandra Ikeji is not doing badly at all. She is neck deep into the Nigerian fashion industry as the chief executive officer of one of the country's best modeling agencies, Blackdove Models. She had a huge celebration during her 2016 birthday, besides, Sandra received an exotic sports car (Porsche Carrera 911 4S) as a gift from her boyfriend Arinze whom she has since married.
2. Laura Ikeji
Date of Birth: 15th March 1988 (34)
Place of Birth: Lagos, Nigeria
Education: University of Lagos
Occupation: Fashion Entrepreneur, Blogger, Writer
Relationship Status: Married
Spouse: Christopher Kanu
Also called the mouthpiece of the Ikeji family, Laura Ikeji is fast gaining popularity like her sister. Thanks to her outspoken nature, Laura is one of the most popular in the Ikeji brood. A fashion entrepreneur, Linda Ikeji's sister also blogs about fashion. She has her own blog site called Hey! Laura.
Laura holds Linda in high esteem. She once shared the photo of her sister on Instagram with an outpouring of praises. According to Laura, Linda isn't just rich in money, her sister has an abundance of knowledge, wisdom, as well as understanding. The celebrity blogger according to Laura ensured that each and every member of the Ikeji family is rich, giving them both money and knowledge. This Laura said was to make sure that they can stand on their own when she eventually withdraws their allowances. In a nutshell, Linda gave her siblings fish and also taught them how to cast their net and catch the fish for themselves.
Laura got married to Christopher Kanu in 2017 and they share a son Ryan Kanu.
3. Vera Ikeji
Date of Birth: N/A
Occupation: Beautician, Realtor
Residence: United States
Relationship Status: Married
Spouse: George Shilobod
Another of Linda Ikeji's siblings is Vera who lives a more quiet life in San Antonio, Texas. Vera is in the beauty business; she owns and runs a beauty salon in San Antonio. The type of work she does came to the fore after Linda published pictures of the salon as well as how the sisters spend time there. Vera is a married woman and her husband goes by the name George Shilobod.
4. Peks Ikeji
Date of Birth: N/A
Occupation: Actor, Comedian
Marital Status: Single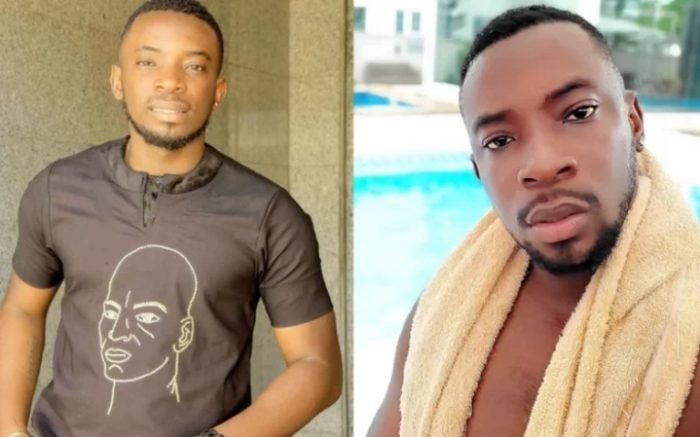 Peks is the only male child in the Ikeji household. His life is not in the limelight but he says on Instagram that he is a comedian and an actor. Linda Ikeji's only brother equally leverages on his Instagram to brandish pictures of plush automobiles and exotic trips. Peks is very close to Linda who gifted him with a Honda Accord for his birthday in 2016. Linda's male sibling is always boasting about his life of affluence.
5. Edna Ikeji
Date of Birth: N/A
Relationship Status: Married
Residence: Unknown
Edna is among the lesser known siblings of the famous Nigerian blogger. We only know that she is happily married and her husband was once mistaken to be Linda's spouse. That particular mistake earned Edna much attention.
6. Benita Ikeji
Date of Birth: October 17 (Year Unknown)
Relationship Status: Engaged
Residence: Unknown
The baby of the family is Benita who is believed to be a resident of the United States although we are not sure for certain. Her name hit the airwaves following her official engagement which attracted congratulatory messages from her family and fans.
What We Know About Linda Ikeji's Parents
Linda Ikeji's parents are simply referred to as Mr. and Mrs. Ikeji as their individual names are not known. They are devout Catholics who hail from Nkwerre in Imo State. Their personal lives are not in the public arena but from the little we gathered from their celebrity daughter, life was far from smooth for them. They struggled to take care of their seven children under the harsh economic condition in Nigeria. As a result, they were repeatedly humiliated. The famous blogger cited an instance where her parents were insulted and assaulted over the paltry sum of 70 naira when she was just 16. That particular experience made Linda Ikeji vow to do everything in her might to liberate her folks from penury.
True to her words, Linda wasted no time in spending good money on her parents upon her rise to fame. The couple who used to wallow in poverty now lives in a plush six-bedroom duplex courtesy of Linda. According to the celeb blogger, the house took just six months to complete and is one of the gifts she has lavished on her parents. She has also put her mum and dad on luxury wheels and has taken the duo on several expensive voyages across the globe. During the 39th wedding anniversary of Mr. and Mrs. Ikeji, their celebrity daughter took to social media to share their beautiful photos.
The Truth About Linda Ikeji's Relationship History
No one can tell why Linda Ikeji has remained single while she inches towards 40. This is for the sole reason that the celebrated blogger loves to keep the details of her personal life under lock and key. However, a famous blogger of her status cannot completely escape from the radar of the press as titbits of information on her love life keep filtering out to the public.
According to some really strong rumors, the Nigerian blogger and businesswoman has dated some high-profile men, some of whom are in the world of showbiz. First, she was shipped with Dan Foster who works as a presenter for Cool FM. After Foster came film producer and director Aquilla Njamah before her name was linked to the Nigerian music legend Don Jazzy. However, in the midst of all these speculations, Linda Ikeji never deemed it necessary to come up with a confirmation or a rebuttal neither did the men she was linked with.
Linda Has a Son From Her Relationship with Sholaye Jeremi
Though Linda Ikeji has never accepted being in a romantic relationship with any man, the celebrity social media star has definitely dated someone and that person is responsible for the existence of her son, Jayce Jeremi, who was born on September 17, 2018, in Atlanta, United States.
Upon Jayce's birth, his surname rang a bell and gave more fuel to some past speculations about Linda dating Sholaye Jeremi. People immediately put two and two together and concluded that Sholaye must be Jayce's father. The speculations were still raging on when Linda herself decided to come out in the open with the full gist. According to her, she was not compatible with Sholaye, hence their decision to end their relationship. Linda said, after they met in 2016, it didn't take long for them to realize that things are not going to work out between them. However, some speculations said she had to become a single mother because Shalaye was not interested in making things permanent with her. He wasted no time in dropping Linda immediately she announced that baby Jayce was on the way.
After it became glaring that Linda conceived without the comfort of a wedding ring, the Nigerian internet sensation went under heavy criticism. The criticisms only got heavier when the blogger let on that her relationship with Sholaye had hit the rocks and that they are not planning to spend the future together. Despite all the harsh criticisms that were dished out to her by fans and the general public, the arrival of Jayce pushed out the nose of people like Nigerian Journalist Kemi Olunloyo who claimed that Linda had no womb and can never have children.
Linda Continues to Announce Her Search for a Husband
Nigeria's most popular internet sensation recently took to Instagram to announce that she is still searching for a husband despite all her possessions and accomplishments. She dropped the announcement in a rather grandiose manner, posing between two of her exotic automobiles and gushing some stuff about living her dreams and on her own terms. The cars in question were a Bentley Mulsanne and a 2020 Autobiography Range Rover. Linda described herself as strong and independent but acknowledges the fact that she needs a partner in her life.
Linda made this announcement after she had her 40th birthday celebration. The social media star noted that she loves her life as she can do whatever takes her fancy, thanks to her financial independence. However, family appears to be really important to the blogger who has been hammering on her wish to tie the matrimonial knot for years. She has also been wishing to have kids and build a solid family with her spouse. Linda believes God will make her wish come true but acknowledges that we cannot control whatever life decides to throw at us not minding how much we pray, plan, or work.
Before she even met her baby daddy Sholaye Jeremi, Linda Ikeji revealed some facts about the things that are most important in her life. According to her, it is of utmost importance that her man supports her work, if he fails to lend his support, then, they can never become an item. She listed her preferred qualities in a man which include, a man who has a job, has his own money, a man who is kindhearted, and has a lot of respect for women.
Linda Ikeji's Advocacy for Abstinence
Linda is known to organize female empowerment interviews and seminars in the country and has on several occasions mentioned that she advocates abstinence from sex which leaves her free to build her empire. Being the number one celebrity blogger in Nigeria, many young women wanted to be like her and wasted no time in embracing her supposed ideology. With time, the social media star became the front runner for both celibacy and abstinence.
People were so occupied commending Linda's policy on celibacy and sexual abstinence that they never deciphered when their idol got pregnant. It was a rude shock for fans as many were already ensconced in her fantasy world of celibacy. In fact, it dawned on them that while preaching celibacy to her followers, Linda was on the side enjoying unprotected sex with a virile red-blooded man. The hypocrisy of the highest order, our dear Linda was clearly anything but celibate.
While some considered the news of her getting pregnant to be a thing of joy, many dismissed it as another evidence of the type of hypocrisy practiced by our present-day celebrities. It has always been a case of "follow my teachings but don't follow my behavior" with some of our favorite celebs. The worst part of the deal is that the younger generation is completely at their mercy, swallowing their every word, hook, line, and sinker.