A popular philanthropist, model, and author, Ayanda Ncwane is a public figure in South Africa who has courted some controversies in the media space concerning her actual age. As such, most of the facts about her real age remain a mystery. She is commonly referred to as her late husband, Sfiso Ncwane's manager. Sfiso was a well-known South African gospel musician. Currently, the beautiful Ayanda Ncwane is the president of Africa Gospel Awards and Chief Executive Officer of Ncwane Communications.
Being a fun-loving person, she founded the Ayanda Ncwane Women's Carnival, which usually takes place in her town of birth-Ndwedwe. The model was largely raised by her grandmother because her biological parents were mostly unavailable. Therefore, she grew up knowing more of the care given to her by her granny. Ayanda married quite early, at the age of 18, and that was in the year 2002. Her marriage to the gospel artiste, which was heralded with a beautiful ceremony, ended suddenly at the demise of her dearly beloved Sfiso Ncwane.
Ayanda Ncwane's Actual Year of Birth is Unknown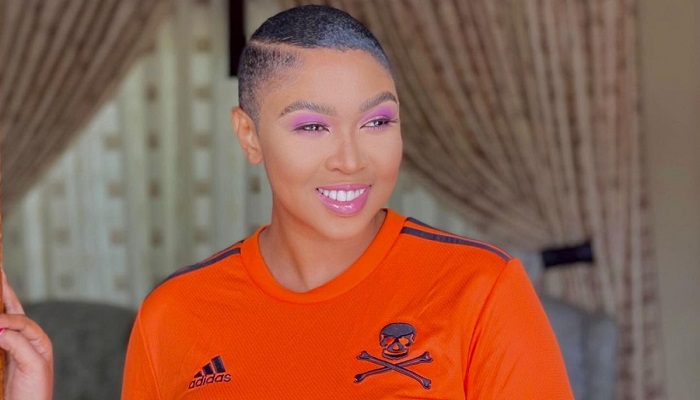 One of the major controversies that surround the life of Ayanda is the speculations about her real age. While some believe she is 37 years old as of 2021, many have assumed she is barely 30 years because of her beautiful physique. Despite all the speculations, the actual age of the philanthropist is not known as she has chosen not to make this information known to the public. But what we can say for sure is that her birth date is August 12th.
During her birthday celebration in 2017, she shared that her deceased husband, to whom she was married for fifteen years, would always put everything on hold to thank God for her birthday. Her late husband never forgot her birthday as she revealed; he often said that God had his wife's birthday in mind when he created him.
From what she has said here, we can only speculate what her age should be by now. Considering that she got married at 18 years old and their marriage lasted for 15 years, she would likely be 33/34 years old when her husband died in 2016. This then means that she should be leaning towards 38 or 39 years old in 2021.
Her Late Husband Was The Love Of Her Life
Ayanda believes that no man can ever love her the way Sfiso did, which is probably why she is yet to remarry. After a fierce fight with cancer, Sfiso's painful exit occurred on the 15th of December 2016. He left behind his dearly beloved wife and their two children (Mawenza Ncwane and Ngcweti Ncwane). The unending love between the model and her late husband was evident when she wrote a book in his memory to honor his legacy.
Sometime in 2017, the widow lost her wedding ring while swimming, and many of her followers considered this a sign for her to move on and find love again. Ayanda has said she feels sorry for whoever her next man will be as she will always compare him to Sfiso, especially on how much he loved her.
Ayanda Ncwane Has Grown To Become An Accomplished Businesswoman
Ayanda Ncwane chose to pursue a career in modeling early in life after her matriculation from Ndwedwe. Before that, she had shown her passion for this career path by enlisting among the Miss Teen Durban pageant participants. She also participated in the famous Miss Teen South Africa competition. Ayanda, who has always believed in the dignity of labor, was once a waitress and featured in two TV productions, Generations, and Isidingo, although as an extra. It's really commendable all she was able to achieve at a young age.
While her husband was alive, she worked as the Chief Executive Officer of his music company – Ncwane Communications, and stepped up in her role after his death, taking the company to greater heights. Under her leadership, she has enjoyed several record-breaking sales and won local and international awards. This is what led to her appointment as the President of the South African Gospel Awards in 2020.
In addition, she founded the Ayanda Ncwane Women's Carnival, a platform that creates an opportunity for women to discuss business and how to excel in their career, their meeting point is Durban. One of her other major achievements is the establishment of the Annual Gospel Stars Festival.
Her Net Worth Runs in Millions of Dollars
Like her age, her net worth is another important aspect of her life she has refused to discuss. From the quality of life she leads and her several endeavors, she is obviously wealthy, but to what extent? From the speculations online, her worth has been estimated to be between $500k – $2million, but all these are just rumors which Ayanda has refused to confirm or refute.
Working Hard And The Influence Of Her Late Husband Contributed to the Luxurious Life She Enjoys
Even though most people are quick to judge Ayanda about the life of luxury she lives, she really is a very hardworking lady. At the same time, her husband left her a large amount of money and property, all that could have been depleted by now without proper management. She has not only managed what he left behind but also added considerably to it. Moreover, Ayanda is quite an online sensation. Even though she was born in Durban, she has influence that crosses the borders of the African continent, which is evident from her fan base that is multi-cultural and cuts across various countries.
She Inherited The Magnificent Mansion She Currently Lives in From Sfiso
Ayanda Ncwane lives in a gorgeously adorned house and many people will do anything to have such an edifice as a property. The interior is massively decorated with modern and expensive materials. Whenever pictures of the house appear in the public space, the outpour of admiration for the beautiful masterpiece is commendable. In terms of ownership, she and her late husband bought the house before his demise and lived in it as a family, so, therefore, we can say she inherited the house from her late husband.
The house is seating beautifully at Dainfern, which is located in the northern part of Johannesburg. It is a two-storey building with pictures of the late gospel artiste (Sfiso) still hanging on the beautifully painted walls. Moreover, the beautiful pictures posted by Ayanda on her social media pages show undoubtedly that the interior decor must have cost a fortune with several coveted pieces of furniture all around the house.
On the 7th day of March 2021, Ayanda celebrated the birthday of her son Mawenza, and from the pictures posted online, we can see that the house has a swimming pool, which further adds to the magnificence of the family home. Even though the worth of this magnificent edifice is not known, it is an obvious fact that it would almost cost an arm and a leg to own such a large and magnificent building.
She Owns Several Luxurious Cars
Ayanda Ncwane is a woman with class and elegance. Her sense of style is wide, ranging from simplicity to eclectic but always graceful and exuding luxury. It is pertinent to point out that this beauty is a hardworking woman who has paid her dues and worked hard across every career path she has chosen for herself, especially in the showbiz and entertainment industry.
While it is rumored that she inherited a fortune of assets from her late husband, who reportedly left all of his assets in the name of her beloved wife, Ayanda continues to work hard at all that she does.
Moreover, Ayanda seems to have a thing for expensive cars and unashamedly flaunts them on social media. While she is mostly seen with her white Range Rover with the cream interior, she owns other flashy cars, including a Ferrari that is beautifully colored red.
Ayanda Ncwane Might Be Single
Since her first appearance on the Real Housewives of Durban, many of her fans have wondered if she is getting ready to give love a try again. Nevertheless, there has been quietness surrounding her marital status, but all we know for now is that she is widowed and single.
Moreover, there have been speculations that whoever will marry the singer will have to fill a large vacuum because of the strong bond between her and her late husband. For now, she is living her life one step at a time and upholding the legacy her late husband left behind for the family.