Faith Nketsi (born December 30, 1994) is a 28-year-old South African influencer, model and media personality. She was in a relationship with Thami Yabo but it all ended after she she cheated on him with a blesser. For the uninitiated, a blesser refers to rich men who entice women way younger than them with money and expensive gift for sex.
Faith Nketisi has become a popular name in the South African entertainment industry and the reason for this is not far-fetched. She has had something to do with various aspects of show business. The genesis of her rise to fame has been traced to when she was a member of Pro-Twerkers, a hip hop dance crew. For someone her age, Nketsi definitely carries a lot of clout in show business.
While many would easily identify with her as a social media influencer, given the massive number of followers she has accrued online, she has also made waves as a model, thrived as an entrepreneur, and is set to make exploits in the music industry. And, as much as people wonder how she got to pull off all she has attained in the competitive industry at a young age, her love life has also piqued their interest.
Faith Nketsi Was Born on the 30th of December 1994
The South African Influencer famed as the Queen of Twerk is currently 26 years old as of this writing in 2020. Based on what has been erroneously reported on various online platforms that her place of birth was in Johannesburg. Nonetheless, we have been able to uncover that she was precisely born in Katlehong on the East Rand and raised alongside two brothers. Faith is very close to her mother and her parents are no longer together.
While details of her early life and the fun memories she had then are hard to come by, we can confirm that Faith Nketsi didn't abandon her education in the pursuit of a career in showbiz. Even though she became known in the industry as a teenager, she had her high school education and later proceeded to the University of South Africa. So, contrary to what one may be tempted to believe, the Queen of Twerk is not all about twerking.
Although it is obvious that she is very passionate about that, right from when she was young, she kept up with her education and this has surely helped her grow her career and business the way she has.
She Began Her Career When She was 16 and Rose to fame as a Member of Pro-Twerkers
Now popularly known as a social media star, host, model, rapper, and entrepreneur, Faith Nketsi began her career as a dancer. The Queen of Twerk started gaining the attention of the public as a member of Pro-Twerkers. As a result of her appeal which has a lot to do with her derriere, she was featured in the music video of Cassper Nyovest's popular song, "Tito Mboweni" which was released sometime in March 2017.
As one would expect, the video gave her more exposure that in turn earned her more followers on social media sites. Faith is most popular on Instagram where she has more than 1.7 million followers as of November 2020.
She has relentlessly leveraged her popularity to diversify her career and build her brand. For instance, she launched a diet and workout program called Get Snatched in July 2018. The following year, she reached a career milestone as her reality show titled "Have Faith" premiered on MTV Africa in her country. This was a big deal for Faith as she was the first woman to get a show of her own on the channel.
It was also in 2019 that she decided to launch a career in music. This saw her release an Extended Play titled "Disrespectful". The EP produced by Blaqboy Music has seven tracks and it is said that Faith worked with DJ Maphorisa to drop the project.
In addition to the foregoing, Faith Nketsi co-owns a cosmetics company known as Fe Beauty Cosmetics. From what we gathered, she founded the company in September 2019. Its product collection includes high gloss, duo lip kits, glow kit, eyebrow kit, eyeshadow pallets, body lighter spray, and much more.
Faith Nketsi Cheated on Thami Yabo with a Blesser
For the uninitiated, a blesser refers to rich men who entice women way younger than them with money and expensive gift for sex. It is widely held that Faith and Thami Yabo's relationship came to an end because she cheated on him with a blesser. One may be tempted to dismiss this but the story came from Faith.
It may be difficult to tell when Faith and Thami started dating, but it is known that they were together in September 2019. That month, Thami shared a picture of him and Faith with a caption that read: "Happy Anniversary Lover". This suggests that they had been together for a while. But then, it became apparent that they had parted ways in 2020. What led to the separation remained unknown until Nketsi disclosed on her show that she cheated on Thami, the founder and owner of Bar Co. Services.
Based on what Faith disclosed, she had an entanglement with the blesser and fell pregnant in the process. This led to the end of her relationship with Thami.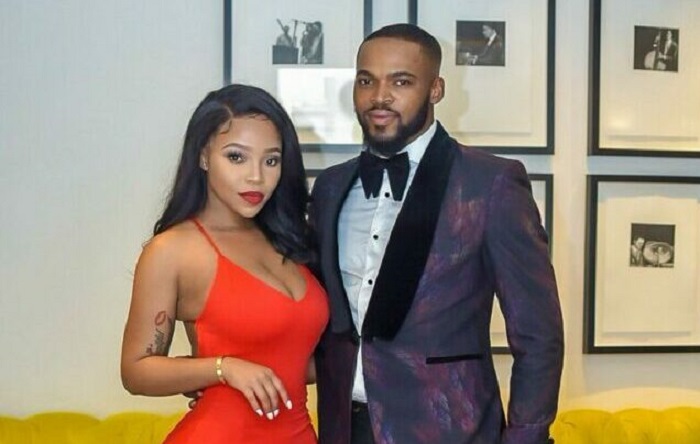 The Blesser Abandoned Faith and His Unborn Child
Since the Instagram star disclosed she cheated on Thami with an older, wealthy, man who got her pregnant. Her many followers have been speculating on who the man is but the model is yet to reveal his identity. Nonetheless, she has disclosed that the man has abandoned her and his unborn child.
Based on what she related, her affair with the blesser came to an end when she discovered that he was also cheating on her with three girls. As fate would have it, she learned she was pregnant and informed the man about it. He distanced himself from her and the unborn child, leaving Faith traumatized.
Because of the stress Faith faced as a result of the pregnancy and the treatment she got from the wealthy lover, she suffered a miscarriage. Faith's revelation generated mixed feelings; while many sympathized with her, others have suggested she deserved what she got for being unfaithful.