Iyabo Ojo is a 45-year-old Nigerian actress, director, skit maker, and producer who has shown her prowess in the movie industry for the past 22 years. The actress was married to Mr. Ojo, a Lagos-based movie marketer, and the union was blessed with two children (Festus Ojo and Priscilla Ojo). People marry out of love but the case is different in the actress's marriage as it was not based on love nor fame but the fear of giving birth out of wedlock. The marriage did not last because it resulted in a divorce. Asides from her flourishing acting career, Iyabo has people's attention drawn to her personal life.
How Long Was Iyabo Ojo Married To Her Ex-husband?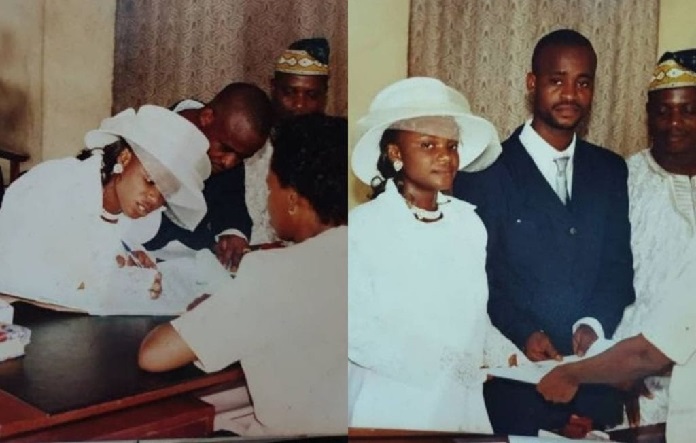 Iyabo Ojo was married to the Lagos-based movie marketer Mr. Ojo for two years. The actress got married in 1999 at the age of 21 after she marked her debut in the Nigerian movie industry in a movie titled Satanic (1998). She started dating her ex-husband three months before their marriage. Within a short time of getting intimate, they found out they were expecting a child together which led to marriage. Though it was alleged that the marriage was based on promoting her career, the actress refuted the claims, saying the marriage was not for fame nor love but because she didn't want to have her child out of wedlock.
A few months after their wedding, Iyabo gave birth to her first son Festus Ojo. Being a newbie in the movie industry with intentions of developing herself, she had to take a break from her newfound career to handle the mantle of motherhood. Its no doubt that the actress was ready to build a family as she gave birth to a baby girl Priscilla Ojo two years after her son's birth. This further extended the break in her career, making her a full-time housewife at the time.
Iyabo Ojo's Marriage Crashed In 2021
Though she is blessed with two kids, Iyabo didn't experience the joy of marriage. She considered divorce severally as an option to happiness but couldn't stand the stigma attached to single parenting. To keep her face and maintain her marriage, she endured and prayed for God's guidance. However, in no distant time, she couldn't take the torments anymore and took to divorce.
The actress's marriage finally crashed in 2001, a few months after the birth of her daughter and she attributes the reason for the short-lived union to early marriage. She found her children as a source of consolation and went the extra mile to make ends meets and build her career as well. This made her take acting as a full-time career, gaining respect and fame for herself in Nollywood.
The Actress Suffered From Emotional Abuse
As stated by Iyabo Ojo, there was no love and care in her marriage. On her wedding night, her husband clearly told her that he doesn't love her but married her because she was pregnant with his child.
Coming from different families and backgrounds, there was no understanding in her marriage. She further stated that she comes from a family that goes to work in the morning and comes back in the evening to be together but her ex-husband came from a world where he could be away from home for weeks.
Iyabo also revealed that she suffered emotional abuse and neglect from her ex-husband. She narrated how she gave birth to her daughter in a neighbor's room without any medical care. The actress saw the Hausa women behind her house who gave birth in their rooms as a source of motivation because she was not financially stable. She further explained that she suffered from hemorrhage and was unable to be taken to the hospital because Mr. Ojo left long before she walked out of the marriage.
She further revealed that she suffered from depression after her failed marriage and only found her children as a source of motivation.
Meet Iyabo Ojo's Children
Despite the troubled marriage the actress lived through, she managed to pick herself up after divorce and took good care of her children. They are all grown up now and she's indeed a proud mother.
Festus Ojo
Festus Oladunjoye Ojo is Iyabo Ojo's first child, born on the 21st of June 1999. He is a 23-year-old social media influencer, CEO of Fedel Wears, and entrepreneur who is also in the spotlight. At the age of 17, he graduated from Secondary School in Lagos and left Nigeria to further his education at a University in Istanbul, Turkey.
Priscilla Ojo
Priscilla Ajoke Ojo is the second child and only daughter of Iyabo Ojo, born on 13th March 2001. She bagged a degree in Media and Theatre Arts from Babcock University, Ogun State, Nigeria in June 2021. Popularly known on her social media platforms as Its.Priscy, she is currently rated as the most popular celebrity kid on social media in Nigeria. Iyabo's 22-year-old daughter is an actress, entrepreneur, and model. She is no doubt following her mother's footprints as she was nominated for the Best Child Actress at the BONS Awards for her outstanding performance in the movie titled Beyond Disability.
Priscilla is not just beautiful, but also influential. The brand influencer has not been dulling in her personal life as she is allegedly dating the popular Nigerian musician Koredo Bello. The two are said to be having a secret romance but the "Godwin" crooner debunked the rumors, stating that Priscilla is in a better position to give answers.
Who Is Iyabo Ojo Dating Now?
Mistakes they say are the best teachers. Iyabo Ojo is not left out because her failed marriage taught her a lot. Becoming single after a long time of being married is not easy as many need to get their sanity back to move on with life. Some who can't get used to spinsterhood get into another relationship or marriage which may turn out to be a disaster. Iyabo Ojo is completely left out in this as she moved on with her life without getting married immediately.
The beautiful actress has chosen to remain single since her divorce. She is no doubt enjoying her spinsterhood. Nevertheless, the decision to stay off the radar has not stopped her from accepting love when it comes knocking. Recently, it has been confirmed that there is a man in her life.
Iyabo Ojo's Mystery Man
Iyabo Ojo left everyone in suspense as she dropped hints about her new boyfriend. Though she keeps the details about her new lover a secret, she still professes her love for him openly. The actress has disclosed that she is happy and receives lots of support from her man. Thus, there is no further revelation about her mystery boyfriend or ex-boyfriend, depending on the way things have turned out since then. Following her recent posts, it is safe to say that the actress is happy and living her life to the fullest.
Though happiness is written all over her, she has revealed that she is not ready to disclose the details about her man to the public. She stated that after her kids, her boyfriend is the second most important person in her life.