As one of the most eligible and talented public figures in South Africa, fans are always interested in the love life of Soweto-born media star Maps Maponyane. The actor, on the other hand, has never been one to share such personal details with the public, at least not intentionally. As a result, speculations are always rife as nobody really knows the truth about who he is dating. One relationship that was never confirmed but very obvious happened between Maps Maponyane and Nomzamo Mbatha, a fellow media star.
The couple gathered fans when they were together. They graced many events together and served couple goals on social media but the relationship was not meant to be in the end. More recently, there have been rumors about Maps getting married. How True is this? More details herein.
Maps Maponyane and Nomzamo Mbatha Never Confirmed Their Relationship While It Lasted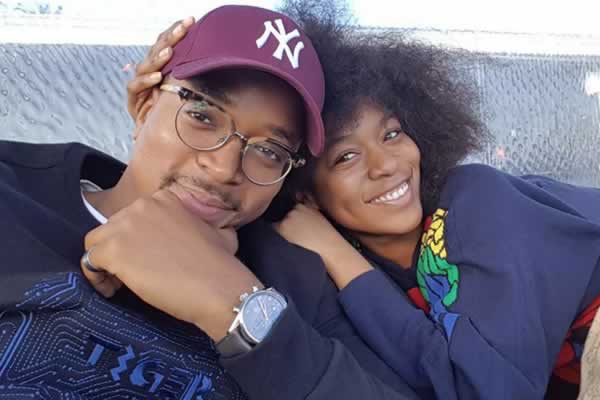 Unlike most celebrities who wouldn't shy away from flaunting their relationships in the public domain, Nomzamo prefers to keep them private. This is probably the reason she and Maps never came out with details of how they started their relationship. Thus, we can't confirm the exact time and circumstances that brought the two together. Nonetheless, the speculations about their romance started making the rounds sometime around 2015 when they played each other's love interest in a local rom-com Tell me Sweet Something.
Notwithstanding, what they didn't do was hide the fact that they were in love. They were often seen at events together, mostly cozying up to each other. On social media, they sent sweet messages to each other and would always call themselves 'best buddies' to the delight of their enthusiastic fans.
The picture-perfect couple also often jumped to each other's defense on social media, like when a troll attacked Nomzamo on Twitter, mocking her about getting dumped and she clapped back. Maps also joined in dragging the troll in her defense.
heard you got dumped/ cheated on this year 😔😔

— Snup Mr Lit Nojaja (@nojajawongile) October 23, 2018
Their Relationship Goals Hit Rock Bottom in 2018 Followed By Cheating Allegations
In May 2018, Maps Maponyane and Nomzamo Mbatha were rumored to have ended their unconfirmed romance and the rumor mill also proffered possible reasons this could have happened. According to a source close to them, the unofficial couple went their separate ways after Nomzamo confirmed he was cheating on her. The cheating claims were allegedly not new but there was no tangible fact to back them up.
However, the Isibaya actress took to Twitter to debunk the claims by asking Maps if he was okay following the rumors making the rounds about them online.
Bayasisukela.

uGrand mfethu? @MapsMaponyane pic.twitter.com/7QXG8yVn2C

— Nomzamo Mbatha (@NomzamoMbatha) May 28, 2018
Maps replied to her tweet with comforting words, laughing over the whole situation. Nevertheless, tweeps didn't buy into the front they were putting up and maintained that there was trouble in paradise. Fans of Maps Maponyane, on the other hand, insisted that he couldn't have cheated on the actress as his reputation is way beyond that level.
Further details pointed to the fact that Nomzamo was once in a relationship where she was also cheated on and it hurt her pretty much. Interestingly, Maps was there to console her when it happened. Thus, when rumors of him cheating on her emerged, a lot of people defended him, saying it's all false. His manager Christine Bekker said Maps is a good guy and those rumors are damaging his reputation. However, Bekker didn't confirm if the couple was still intact.
In all, Nomzamo didn't make any official comment but continued to live her best life, getting busy with work in South Africa and New York.
Are They Getting Back Together? Probably Not
It seems Maps Maponyane and Nomzamo Mbatha didn't part on good terms after all and they might not be the best of buddies anymore. When we thought the drama has fizzled out, a picture posted by maps in March 2020 stirred the waters once again. The picture showed him hugging a woman whose identity was hidden and with the accompanying message, a fan was quick to conclude that the woman was Nomzamo and that they were back together.
This is far from the truth however as Maps set the record straight as he replied: "Nah, that's just @leddi_g". The person in the picture is apparently content creator Naledi Radebe.
Nomzamo's reply to the issue opened a can of worms and kind of confirmed the rumors that they parted on bitter terms. Fans also weighed in on the matter to accuse Maps of dating someone who looks like Mbatha just to make himself feel better.
With regards to getting back together, maps Maponyane and Nomzamo Mbatha seem to have moved on with their love lives. The actress was recently linked to the sportsman, Kagiso Rabada after they were spotted in a lovey-dovey situation on a yacht in Cape Town. Nothing was confirmed by both parties though, and more recently, the actress has clearly stated that she is single and loving every moment of her life the way it is.
Maps Is Rumoured To Be Dating Boitumelo Thulo
If you have been following both celebrities on social media, you would see why the rumor mill has been buzzing about their very close relationship. Maps and Boity always hang out together, looking very comfortable in each other's company and even sharing kisses. Viewers of Boity's reality TV show Boity: Own Your Throne have seen enough to conclude they are an item but the two are debunking the claims.
According to Boity, they are just good friends who love to support each other, nothing more. She reiterated that they are just comfortable around each other and there are no vibes between them. "There is no vibes between me and Maps, we are homies. Geez!".
Meanwhile, Maps Maponyane's mom Sylvia Maponyane didn't help matters when a video showed her thanking Boity for the gift she got from her and in the process, she called the media star her daughter in law.
The video was shared by Maps and has Sylvia holding Boity's gift bag containing her newly launched fragrance, Pink Sapphire. Maps was also very supportive during the product launch. Overall, Boity and Maps have publicly denied being in a relationship and we will have to go with that until they state otherwise.
The Truth About Maps Maponyane's Marriage To Mrs Buns
First of all, let's clear the air, Maps is not married, at least as of the last time we checked in 2020. However, he may have married his biggest fan some time ago, with or without his knowledge.
You know how celebrities have fans who obsess about them? Maps has one big fan who loves him so much she named her Twitter handle 'Mrs Buns'. The lady in question is a social media influencer named Pamela Mtanga who doesn't hide the fact that she is crushing on the hunky Maps Maponyane.
Mrs Buns often tweets about her imaginary relationship with Maps and in October 2019, she tweeted that she was going to his restaurant 'Buns Out' where they will get married.
Hi guys, where can I get this outfit? I'm going to Buns Out today. pic.twitter.com/2IFvg3IQVP

— Pamela Mtanga (@pamela_mtanga) October 29, 2019
In a series of hilarious tweets that followed, she lamented how the groom didn't show up at the wedding. By November 2019, Maps finally met her at his restaurant and the much-anticipated "wedding" happened.
So the wedding finally happened!!! I love this app!
💞❤️💃🏾

This has been the best weekend by far!!! #BecomingMrsBuns#MrAndMrsBuns pic.twitter.com/FBhX7wOZwo

— Ndile_Maphela ✨✨ (@Phindi_Maphela) November 3, 2019
The whole event entertained social media users as a series of witty tweets and comments popped up in the process. Some people, however, saw the whole charade as a publicity stunt to advertise Maps' new restaurant.