Actress Uju Okoli is one of the familiar faces in the Nigerian movie industry and she hails from the eastern part of Nigeria. Recently, fans cast doubt on the identity of the actresses' real father but according to long-held records, she is believed to be the daughter of Obi Okoli, a legendary actor in Nollywood who is also regarded as part of its pioneers. However, all these claims were debunked earlier in the year when Uju's brother Tony White took to the picture-sharing platform to give us a glimpse at their real parents who are not connected to Nollywod at all.
Sadly, White deliberately omitted the full details about their mother and father, the movie actor was more focused on convincing fans that they don't have any blood ties with Obi Okoli and emphasizing how proud he is of the man who gave him life. On the flip side, the movie star's mother is not in the public eye, thus, we only know that her name is Ajie Okoli and she is a devout Catholic. Uju comes from a family of seven children, notable among them is her big brother Tony White Okoli who is also a recognizable face in Nollywood.
Profile Summary Of Uju Okoli
Full Name: Uju Okoli
Date of Birth: 26th April 1983
Age: 38
Nationality: Nigeria
Education: Studied Mass Communication at Imo State University
Parents: Ajie Okoli (mother)
Occupation: Acting
Years Active: 2014 to date
Net Worth: $400,000
Uju Okoli Hails From The Igbo Ethnic Extraction Of Nigeria
Born on the 26th of April, 1983, the popular Nollywood actress was named Obianuju Okoye but goes by the stage name Uju Okoli. According to the records, the "Nollywood Sweetheart" as she calls herself was born in her hometown in Imo State, the southeastern part of Nigeria, precisely in Ideato North Local Government area. Her ethnicity is obviously Igbo, however, the blossoming entertainer spent a better part of her formative years in Warri, Delta State.
Growing up in Warri, Uju attended both primary and secondary school there and upon her graduation, she went back to her State, Imo to join the Mass communication department of Imo State University. While a student of Mass Comm, Uju was fully into music and arts and we would not be far from the truth to say that her university experience played a big role in shaping the actress' future. She had a head-start with the kind of activities she was exposed to in the university
Uju Okoli First Tested The Music Industry Before Deciding to Pitch Her Tent with the Moving Movie World
With her university degree bagged, Uju Okoli went back to Delta State where she dabbled into music. However, by 2014, she had a change of mind and decided to follow a career path in the movies. Consequently, she moved down to the state capital Asaba and before long, the actress started scoring minor roles like maids, servants, and palace hands.
Uju didn't take long to hone her skills and upon emerging to the limelight, she became one of the most sought-after actresses in Nollywood. Now, we see the Imo State damsel grace the screen in lead roles like a princess or elite lady.
She recorded her breakout role on the set of the television series entitled The Palace where she played the lead in 2015. Uju is now one of the most popular faces in the Nigerian movie world, sharing the screen with the crème de la crème of Nollywood, including Chinwetalu Agu, Liz Benson, and many more.
The Best of Uju Okoli's Movies
Echoes of Love
Another World
Designated Prince
Strength of Love
My Last Hope
Family of Enemies
Amazing Husband
Hard Way
Village Liars
Royal Struggle
Ring of Fate
Truths About Uju's Father and Family Members
Uju Okoli was born into the family of Mr. and Mrs. Okoli from Ideato North Local Government Area of Imo State. The Nigerian entertainer is not the only child of her parents; she spent her growing up years alongside six siblings among whom is movie actor Tony White Okoli. there have been several speculations that Uju is the daughter of the Nollywood actor Obi Okoli, however, this rumor was recently debunked.
Obi Okoli Has No Blood Ties With Uju Okoli
People who watched the famous TV series Things Fall Apart centered on Chinua Achebe's novel of the same name would be familiar with the name Obi Okoli. Obi was featured alongside the legendary Pete Edochie in the 1985 series and today, they are regarded as part of the pioneers of the Nigerian movie industry. When Nollywood was eventually birthed, Obi was among the faces that graced the screen in several productions and today, the veteran has recorded hundreds of appearances in the movies. He is normally featured in prestigious roles like a chief, king, father, and grandfather.
In recent times, we were entertained by speculations that Uju Okoli is not really the daughter of Obi Okoli. The speculations went further to say that bearing the same surname is just a coincidence as the duo do not really share blood ties.
Also, we heard some claims that Obi comes from Anambra and not Imo, therefore, he cannot be the father of someone who hails from Imo State. To lend irrefutable credence to this claim, Tony came out on Instagram to clear all doubts; the older brother of Uju Okoye claimed that Obi Okoli hail's from Nsukka while they are Imo State indigenes, thus, he cannot be their father. Tony went on about his parents who he is obviously proud of.
Who is Uju's Real Father?
When Tony White shared his post about his real parents, he never bothered to throw more light on their identities. As a result, their father's name is not known, and also his profession was never mentioned. One thing is clear though, the older Okoli is not involved in the entertainment industry.
Uju's Mother Goes By The Name Ajie Okoli
Uju Okoli's mum has been accurately identified as Ajie Okoli. However, she lives her life well away from the limelight. Consequently, little is known about her. We only know her to be a devout Catholic and she brought up her children in the Christian way. In fact, Uju is believed to have gotten her morality code from Ajie.
Tony White Okoli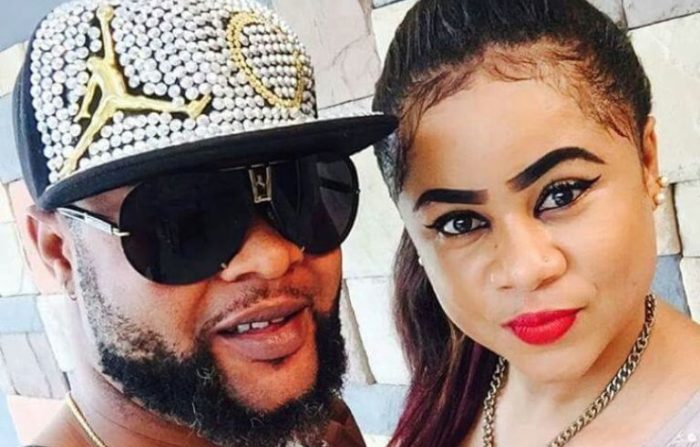 Uju is not the only person in her family who is working in the movie industry, her older brother is also trying to create a niche for himself in entertainment. The budding actor was born on the 20th of April 1980, making him three years older than Uju. He first surfaced on the movie scene in 2014, however, he doesn't appear to be as prolific as his sister. Tony White Okoli has only ever appeared in a couple of productions.
Out of the seven Okoli children, only six made it into adulthood as one of them died in 2014. Sadly, the Okolis are known to be secretive with their family details, thus, nothing is known about the rest of those that are not in Nollywood.