Tshepo Motsepe is the wife of South Africa's President Cyril Ramaphosa, making her the country's First Lady. As the number one woman in her country, Motsepe is very popular and her name rings quite a loud bell all over the nation as she dutifully carries out her duties as First Lady while endearing herself to her people as a down to earth and very loving person.
However, it is noteworthy that even though she came into the limelight when she became First Lady of South Africa, Tshepo Motsepe had been able to build an enviable career of her own a long time ago. Long before she became First Lady, she worked very hard to make her name as a medical doctor renowned for her work around major hospitals in different countries.
Tshepo Motsepe Became Cyril Ramaphosa's Wife At Age 43
One of the many questions people have often asked about Tshepo Motsepe is about when she got married to South Africa's President Cyril Ramaphosa. The answer to that question is quite interesting. It is interesting because Tshepo tied the knot with Ramaphosa when she was already in her 40s.
The exact date of Motsepe and Ramaphosa's wedding is not certain, however, we understand that they got married in 1996. For the record, Motsepe was born on the 17th of June 1953 and is now 70 years old. This means that at the time she tied the knot with Cyril Ramaphosa in 1996, she was about 43 years old. Her husband was also in his 40s as he was born on the 17th day of November 1952. This means that he is now 71 years old and is just about seven months older than his wife. Also, it means that he was about 44 years old when he married Tshepo Motsepe in 1996.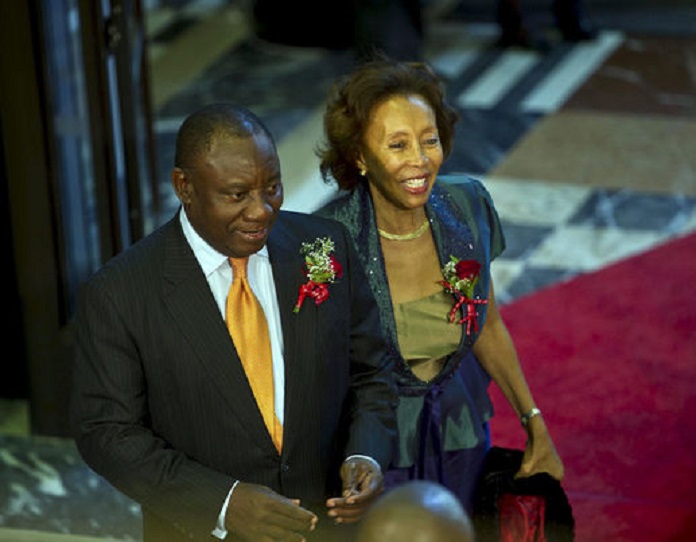 She Was Not The First Woman In Ramaphosa's Life
Another interesting thing about Tshepo Motsepe and Cyril Ramaphosa's relationship is that Motsepe is not Ramaphosa's first wife. The man was previously married to two other women.
Ramaphosa got married for the first in 1978 to a woman called Hope Ramaphosa. They maintained their marital union until 1989 when they parted ways. The man went on to marry for the second time in 1991 to a businesswoman called Nomazizi Mtshotshisa. However, this marriage did not last long as they divorced in 1993. It was after his divorce from Mtshotshisa that Ramaphosa married Tshepo Motsepe in 1996.
Tshepo Motsepe's Husband Has Been Involved In A Cheating Scandal
Tshepo Motsepe and Cyril Ramaphosa's marriage has mainly been peaceful as far as public records go. However, the couple was faced with a huge challenge when Ramaphosa was accused of cheating on his wife in 2017. Ramaphosa was not President at the time but was South Africa's Deputy President under Jacob Zuma.
The allegations emerged around August and September 2017, at the time when Cyril Ramaphosa was contesting to become the President of the country's ruling party, the African National Congress. The allegations were detailed in different newspapers in South Africa, startling many people. The reports claimed that Ramaphosa was a "blesser," a term that simply refers to an older rich man who uses his money to entice young women in exchange for sexual favors.
Ramaphosa was accused of having affairs with seven different women whom he had seduced with his money and expensive gifts. The allegations were so rife in the South African press that Ramaphosa trended online for days.
Ramaphosa Admitted To Having An Affair In The Past

After the allegations of cheating were made against Cyril Ramaphosa, the man decided to clear the air. In an exclusive interview he had with the Sunday Times on 2nd September 2017, Ramaphosa admitted that he had had an extra-marital affair before. However, he said that was 8 years earlier and it was with one woman. He explained that he later confessed the affair to his wife and they were able to resolve the matter after she forgave him.
Tshepo Motsepe's husband went on to state emphatically that he was no more having an extramarital affair and that all the allegations that he was having an affair with seven women were false. He dismissed the claims that he was a blesser, stating that the allegations against him were being politically motivated to tarnish his image. According to him, some powerful persons were using state resources to carefully orchestrate a political smear campaign to stop him from becoming the ANC president later that year.
Ramaphosa also revealed that some of the seven women that he was accused of sleeping with were actually students he and his wife were assisting financially and that there was nothing romantic going on between him and them.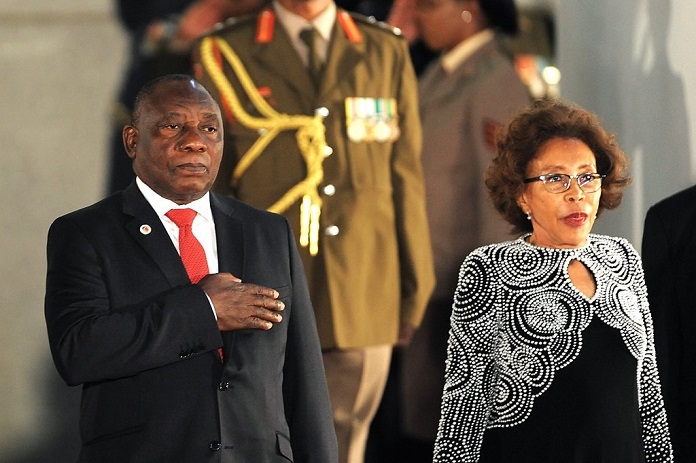 How Tshepo Motsepe Reacted To The Development
In the heat of all the accusations of cheating leveled against her husband, Tshepo Motsepe kept calm and defended the man. She reiterated her husband's claims that the allegations were politically motivated to tarnish his image and expressed deep disappointment that people could go to such lengths to discredit a person.
Motsepe, in a statement that she released to address the issue, explained that she and Ramaphosa have been married for a long time and that they are still very happily married. It was clear that she was very supportive of the man and was unflinching in the face of all the accusations.
Motsepe and Ramaphosa Are Parents To Wonderful Children
Tshepo Motsepe and Cyril Ramaphosa are parents to four children. They have two sons named Andile Ramaphosa and Tumelo Ramaphosa, and two daughters named Keneilwe Ramaphosa and Mashudu Ramaphosa.
Motsepe and Ramaphosa's children are doing quite well for themselves at the moment. Their son Andile is the managing director of smart technology business in South Africa called Blue Crane Capital. Their other son Tumelo runs his own company called StudEx Wildlife, a cryptocurrency-based business through which he sells wildlife.
Not much is known about their daughters Keneilwe and Mashudu as they are much more reserved than their brothers. It is also noteworthy that Cyril Ramaphosa is the father to an older daughter called Tulisa whom he had with his first wife.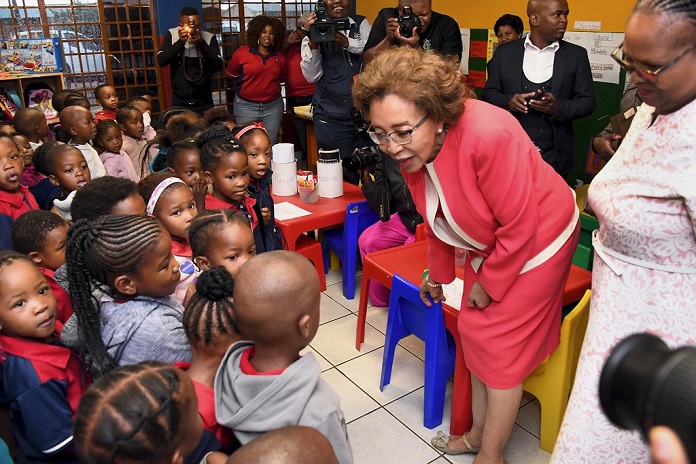 Tshepo Motsepe Has Built An Enviable Career As A Doctor
Tshepo Motsepe is an accomplished medical doctor. She attended the University of KwaZulu-Natal before heading to the Harvard School of Public Health at Harvard University where she acquired a Master's degree in public health. Later, in 2012, Motsepe completed a Social Entrepreneurship Certificate Program (SECP) at the Gordon Institute of Business Science.
Over the years, she has worked in private practice and is a known face in some of the biggest hospitals around South Africa and Zimbabwe. The South African First Lady is a former member of the National Medical and Dental Association (NAMDA) and is now the patron of some organizations including the following:
The Early Care Foundation (previously ASHA Trust)
South African Civil Society for Women's, Adolescents' and Children's Health (SACSoWACH)
The Students Sponsorship Program
Tshepo Motsepe has also served as Chairperson of the Gauteng Health Department's Accreditation Committee and is a former member of the boards of the Vaal Reefs Disaster Trust and the Kids Haven Foundation.