Tua Tagovailoa became popular as an American student-athlete who played as a quarterback for the Alabama Crimson Tide. He set himself apart among those aspiring to join the National Football League (NFL) when he broke a record set by Doug Flutie in 1984. He became a national icon when he pulled off a 41-yard touchdown against the Georgia Bulldogs in the first season of his college career, helping his side to claim their 17th National Championship.
He is adored as a king in Hawaii and has been referred to as a role model to young athletes from the Polynesian community. It would be absurd to link Tua's success to the claim that left-handed people are more successful and intelligent. While he is left-handed, the successes he has enjoyed are a product of hard work and massive support from his family, especially his parents.
The NFL Star Was Born and Raised in Hawaii to Samoan Parents
You could literally bite your tongue if you dared to pronounce Tua Tagovailoa's birth name, as he was named Tuanigamanuolepola Tagovailoa. He was named in the Samoan language and the name is pronounced without a "T". Born on March 2, 1998, in Hawaii, the footballer was also raised there.
Tua is one of four siblings and the oldest of the quartz. Just like most kids who tend to be closer to a family member, Tua was very close to his grandfather, Sue. It was the man that gave him his unique name which was reportedly inspired by a bird that circled the Samoan Villages of Vatia and Aua.
As one who supported his grandson's dream, Sue always engaged him in conversations pertaining to the game and Tua was very happy to share his passion with his grandfather. The latter soon realized that his grandson could become one of the most respected footballers in his generation and spoke to Tua's father, Galu, encouraging him to support his son's dreams.
Unfortunately, Sue died in 2014 and it was a traumatic experience for Tua. He decided to quit playing football, however, his parents encouraged him to continue with his dreams if he really wanted to honor his grandfather.
Tua Tagovailoa's Parents Have Been Super Supportive of His Career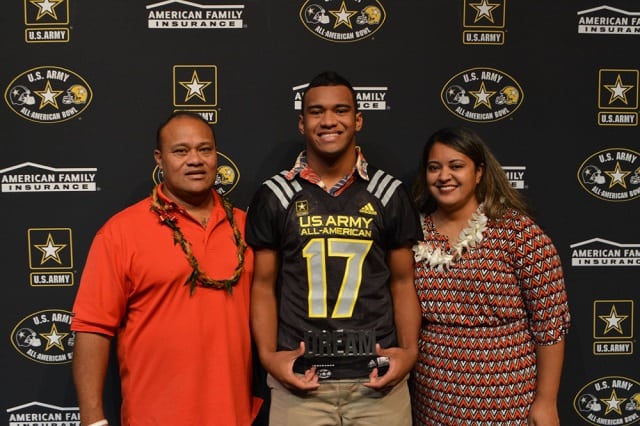 Tua Tagivailoa's family shares an amazing bond and has respected the sacredness of being family. They left their home in Hawaii for Tuscaloosa, Alabama with the sole purpose of encouraging their son's football career. His parents believe strongly in staying together as a family.
While his entire family has been very supportive of his career, his father takes most of the praise for grooming Tua into a formidable quarterback. Affirming that his father played a crucial role in nurturing him into a dominant athlete, Tua disclosed that the man started training him at the age of two and made him use his left hand even though he was naturally right-handed.
The quarterback detailed that Galu used flogged him with a belt whenever his performance failed to meet up with expectations in the field and in class. Even though the revelation earned Galu a lot of criticisms, with many upholding that he was more abusive towards Tua than motivating him to maximize his potential; the quarterback is grateful his father propelled him to football stardom.
His mother also has a special place in his heart as Tua regards her as the greatest mother ever and is grateful she is God-fearing. He surprised her with a mother's day gift in 2020.
His Brother is the Most Popular of His Three Siblings
Tua Tagovailoa has three siblings, two younger sisters named  Taylor and Taysia; and a younger brother named Taulia. Like his older brother, Taulia is also a footballer.
He played as a quarterback for Thompson High School in Alabaster and plays in the same capacity for the Maryland Terrapins. It was in 2020 that he joined the Terrapins; before this, he spent about a year at Alabama where he played as his brother's backup.
Moments like these are priceless. Roll Tide https://t.co/McBJyh2VHK

— Tua. T 🇦🇸 (@Tua) September 1, 2019
Tua and his brother have cousins that also play football: Adam Amosa-Tagovailoa and Myron Tagovailoa-Amosa. The latter plays as a defensive liner at Notre Dame while the former plays as an offensive line at the Navy.
Much isn't known about his sisters except for their names and the fact that they are part of a family of devout Christians. Yes, the quarterback is a proud Christian and gives gratitude to God for all his wins, including his losses. When Alabama's Crimson Tide won the National College Football Championship trophy, the young footballer took to Twitter to thank God, asserting He was at the center of his games.
Tua Tagovailoa Was One of the Top High School Quarterbacks in the Nation
His love for football started at a very tender age. His parents once revealed that he slept with a football as a child. At the age of 8, he recorded more than 30 yards when he threw a football at the Pop Warner games while his mates could only manage 10 yards.
He attended Saint Louis School in Honolulu where he played football as a quarterback. He thrived and was a lead team player during the 2016 HHSAA District 1 State Championship. He was also a part of the year's All-American Bowl and made the Elite 11 roster wherein he was named the most valuable player. All of these earned him a place among the finest players across the nation.
College Career Exploits that Saw Him Emerge the 5th Overall Pick in 2020 NFL Draft
Upon Tua Tagovailoa's graduation from high school, he was rated the number one high school player in Hawaii. Thus, he was sought after by several schools as he got a lot of offers from Florida, Hawaii, Alabama, Ole Miss, and Oregon Universities. But he eventually chooses to attend Alabama.
He began as a true freshman in 2017 and finished the season as a CFP National Champion. He was also honored as the most valuable player MVP of the CFP National Championship offensive. It was a deserving recognition as the quarterback threw the game-winning 41-yard touchdown that helped his side claim the National Championship.
Tua made his first career start the following season and pulled a lot of great feats that brought him several accolades. That year (2018), he was honored as the Sporting News College Football Player of the Year, the Maxwell Award, and the Walter Camp Award. Also, he was named the SEC Offensive Player of the Year and to First-team All-SEC and All-American.
He Plays in the NFL for the Miami Dolphins
His 2019 college season was troubled by a high ankle sprain that made him go through a surgery. Yet, he was able to make the Second-team All-SEC of the year. Given all of these, there was no doubt that the quarterback would be a top selection when he disclosed in January 2020 that he would forgo his senior year for the 2020 NFL Draft.
Tua Tagovailoa now plays in the NFL for the Miami Dolphins. The team drafted him as the fifth overall pick, after which he made a four-year pact with the side worth $30 million.