Tua Tagovailoa is an American student-athlete who plays as a quarterback for the Alabama Crimson Tide. He is celebrated as a national champion as he was awarded for beating the record set by Doug Flutie in 1984 by doing a 41-yard tough yard against the Fresno State on September 9, 2018.
He is adored as a king in Hawaii and has been referred to as a role model to young athletes from the Polynesian community. It wouldn't be an error if we linked Tua's success to the myth which says left-handed people are more successful and intelligent, well, Tua is lefthanded and of a truth, he has also been quite successful.
Tua Tagovailoa's Bio (Ethnicity, Religion)
You could literally bite your tongue if you dared to pronounce Tua Tagovailoa's birth name as he was born as Tuanigamanuolepola Tagovailoa. He was named in Samoan language and the name is pronounced without a "T". How daring? Well, he was born on March 2, 1998, in Hawaii and was also raised there.
Tua is one of four siblings and the oldest of the quartz. He attended Saint Louis School in Honolulu where he played football as a quarterback. Upon graduation, he was sought after by several schools as he got a lot of offers while deciding to go to the university. He got offers from Florida, Hawaii, Alabama, Ole Miss, and Oregon Universities but finally choose to school at Alabama. He was rated number one high school player in Hawaii.
Tua has professed his faith as a Christain and gives gratitude to God for all his wins, including his losses. When Alabama's Crimson Tide won the National College Football Championship trophy, the young footballer gave all gratitude to God on his Twitter page and emphatically buttressed that God was at the center of his games.
Just like every little child, there is one member of the family that tends to be closer than others, for Tua, it was his grandfather, Sue. Sue was a well known respected man who supported his grandson dreams. Often times after each game, Tua narrates his games to him irrespective of the time he gets to talk about it.
His grandad soon realized that he would be one of the most respected footballers this recent generation will produce, he then spoke to Tua's father, Galu, encouraging him to support his son's dreams. Unfortunately, Sue died in 2014 and it was one of the most horrific experience for the growing lad. Tua decided to quit playing football, however, his parents encouraged him to continue with his dreams if he really wanted to honor his grandad.
Tua Tagovailoa has also found solace in Marcus Mariota – a Heisman Trophy winner. He also attended the same school as him and has honored him as a mentor. Tua's career has continued to show promise as he was ranked as the 9th Dual-Threat Quarterback in the Nation on 247 Sports.
Career
His love for football started at a very tender age with interviews with his parents by Sports Illustrated revealing how he slept with a football as a child. At the age of 8, he recorded more than 30 yards when he threw a football at the Pop Warner games while his mates could throw only just 10 Yards.
See Also: Russell Wilson Wife, Parents, Divorce, Girlfriend, Height, Weight, Ethnicity 
In high school, he did excellently well and had 8,158 passing yards, recorded 84 passing yards, made 1,727 rushing yard and 27 scores as a junior. As a senior, he recorded 3932 yards, 43 touchdowns and was a lead team player during the 2016 HHSAA District 1 State Championship while at St Louis. He later signed with the Alabama Crimson Tide on April 22, 2018, and played his first game with the team at the Alabama Spring game.
Family (Parents and Brother)
Tua Tagivailoa family really shares an amazing bond and has practically respected the sacredness in being family. They recently left their home in Hawaii to Tuscaloosa with the sole purpose of encouraging their son's football career as he moved to Tuscaloosa. His dad, Galu Tagovailoa alongside his mom; Diane Tagovailoa, believe strongly in the art of staying together as a family.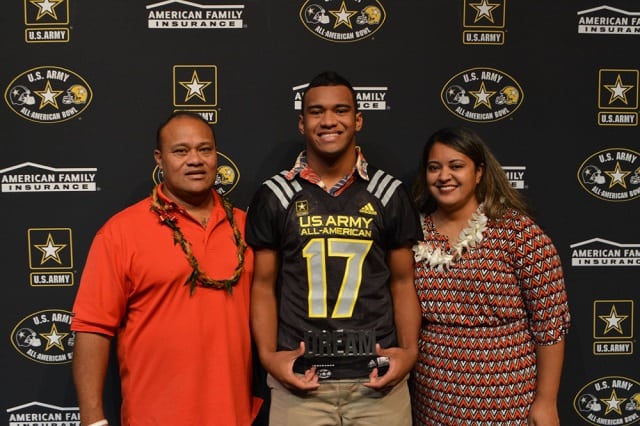 He has three other siblings, although, there are no details about them except for the fact that his younger brother, Taulia Tagovailoa also plays as quarterback for Thompson High School in Alabaster.
What is Tua Tagivailoa's Height?
Tua is a handsome looking young dude who is a proud Samoan and has gotten the right physic for the sports he loves. He is quite tall and is 6 feet tall with a weight of 99 kg.