On the TV screens, Tucker Carlson is that fiery fellow who passionately dishes out his conservative and often controversial views on issues of national importance. Such brazenness has fetched him many enemies, especially on the left-wing, but it has also helped him cement a reputation as one of the foremost broadcast journalists in America. His show is now one of the most-watched cable news show, and he is even said to have a degree of influence on the Trump administration.
Away from the TV screens, the fiery Carlson morphs into a loving husband who has been devoted to his wife of over thirty years. He is also the doting dad who loved reading to his children while they were kids and has remained an integral part of their formative years. Such differing personalities Carlson has can be quite confusing, but it is all part of the unique makeup of a man who has been touted for a potential 2024 presidency.
Carlson & Susan's Love Story Began in 10th Grade
Tucker Carlson first met his future wife, Susan Andrews Carlson, when they were both 15-year-old 10th graders at the prestigious St George's Episcopalian school in Rhode Island. He immediately noticed her as she was "the cutest tenth grader in America," while she also noticed him because of his optimistic and positive attitude. The fact that he was quite good-looking in his khaki pants and ribbon also did not hurt at all. Given this mutual attraction, one would have expected Carlson to make his intentions immediately known, but this was not the case. He had to tread carefully as Susan's father was none other than Rev George E. Andrews, an ordained Episcopalian minister, as well as the headmaster of the school.
This fact was enough to strike fear into the heart of even the bravest boy, and Carlson was no different. He, however, got over his hesitations with time and eventually asked Susan out. She agreed, and this marked the beginning of a relationship that would stand the test of time. Tucker Carlson and Susan dated throughout their high school days, and he became quite familiar with members of her family, including her father. The headmaster, therefore, had no trouble with helping him when he couldn't get admitted into the prestigious universities that he applied to. Rev. George simply stepped in and called upon his education connections to get his future son-in-law a place at Trinity College Hartford.
Carlson spent a few years at Trinity, during which he studied history. Even though his school was far from where Susan resided, they managed to keep the embers of their relationship alive. He subsequently asked Susan's father for permission to marry her, and he gave them his blessings. They then tied the knot in his senior year of college in 1999. The ceremony took place at the chapel in their old high school.
The Rape Allegation that Shook the Couple's Marriage
Tucker Carlson and Susan Andrews have been married for nearly thirty years now, and their union has been going stronger. Carlson has adopted his wife's Episcopalian faith, even though he disagrees with some of their liberal principles. Susan, on the other hand, has supported him throughout the lows and highs of his career. She was there for him when he decided to make a switch from print to broadcast journalism in 2000 in a bid for improved pay. She also stood by him after his shows on CNN (Crossfire) and MSNBC (Tucker) were axed for one reason or the other in the 2000s.
The couple's marriage, however, suffered its biggest test after Carlson was falsely accused of rape in the early 2000s. An Indiana woman named Kimberly Carter had a crush on the media personality and had gone to meet him at a fast-food joint, where she heard he would be. She, however, hit her head on a hard surface and woke up with the idea that Carlson, who was never at the joint, may have raped her.
Carter informed a lawyer but told him not to do anything. The lawyer, however, took matters into his hand and wrote to Carlson about the accusations. He even alluded to the fact that there was correspondence between Carter and Carlson. The flabbergasted TV host was able to get his lawyers on it, and Carter later withdrew her accusations. She stated that she was suffering from a mental disorder, and this marked the end of the matter. Throughout this ordeal, Susan stood by her man and never doubted him even for a second.
Their Efforts To Keep Their Four Children Safe
Tucker Carlson and his wife have four beautiful children. They are daughters, Dorothy, Lillie, and Hopie, as well as a son named Buckley. While the kids were still small, their father made sure to spend every bit of spare time that he had with them. He read them books constantly. The TV personality also took it upon himself to teach them about the American constitution, as well as the bill of rights, every 4th of July. These freedoms and rights lessons were perpetuated with fireworks being set off at intervals.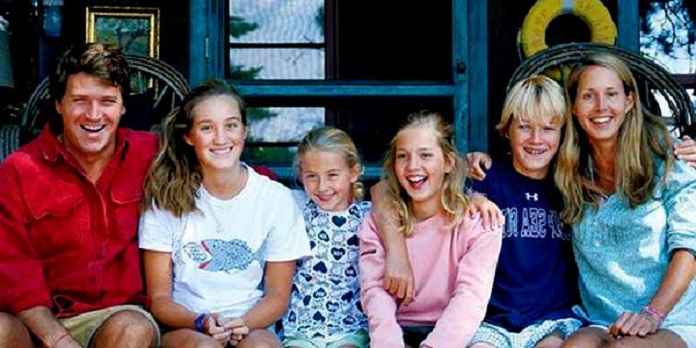 The Carlson kids are all grown up now and are in different levels of schooling while some have graduated. Alongside their parents, they make their home in Washington D.C., but they have had to relocate a few times due to controversies surrounding their father's jobs. For instance, back in November 2018, a group of far-left activists (known as Smash Racism DC), created a ruckus in front of the Fox personality's house.
The group numbering about 20 vandalized his driveway and vehicles with political signs. They also banged loudly on his door and left a crack there. Susan was the only one at home at the time and was quite scared. She had to call emergency services, and they came to disperse the group. Carlson later shared these events with members of the public and attracted a lot of sympathies. Even liberal news organizations agreed that nothing warranted the group to threaten the TV personality at his home.
A Look at the Net Worth of the Fox Star Host
With a lot up his sleeves, Tucker Carlson has proven that he is, beyond every reasonable doubt, a standout in his chosen career. The California native has authored at least two books, including the memoir, Politicians, Partisans, and Parasites: My Adventures in Cable News, released in 2003, and Ship of Fools: How a Selfish Ruling Class is Bringing America to the Brink of Revolution, which was published in 2018.
He was also one of the contestants who took part in the Dancing with the Stars Competition in 2016 but didn't get to take the trophy home. Throughout his career, especially with his overwhelmingly successful days at Fox News, it is no doubt that he has topped his earnings with millions of dollars. Sources say that he earns $4 million yearly and also has other work benefits added to his pay. That said, the political commentator and TV personality have a net worth of $16 million.