His name has dominated the news for the music, for controversies like sexual battery, for breach of contract and for his relationships. His name is Tyga and he is one of the popular names in the hip-hop community.
With Hip-Hop tending towards an extremely diversified genre with several styles springing out of it, Tyga is one of the few active popular hip-hop rappers whose music still has a strong connection to an older version of the genre. He has been a rapper since 2004, during which he has collaborated with some of the biggest names in the recent history of the genre.
Learn all about Tyga, his music, his background, and other worthwhile information by reading below.
Tyga's Bio, Age
Today, the name on the lips of millions across the world is Tyga but for a long time in his life, he was simply Michael Ray Stevenson to his parents; a Vietnamese mother named Nguyen and his Jamaican father. Tyga was born on November 19, 1989, in Compton, California, one of the most iconic cities in American Hip Hop history, but his parents moved when he was 12 to Gardena in California.
He claims to have been raised in a poor family, but it is a claim that has been disputed by hip-hop fans who consider it a misrepresentation of his upbringing in order to identify with one of the defining traits of hip-hop culture – a difficult background. Regardless of his socio-economic background, Tyga has had a supportive family in his climb to the top of hip-hop music.
He started his career at the age of 15 when he started recording music and released his first mixtape titled Young on Probation in 2007 and it was good enough to attract the attention of Travie McCoy, who offered him his first record deal. He subsequently signed with DCD2 Records, which at the time was known as Decaydence Records and released his first project, No Introduction under his new label in 2008.
Tyga, who had grown up listening to hip-hop artists like Fabolous, Lil Wayne, Eminem, and Cam'ron got a chance to work with one of his idols, Lil Wayne when he was signed onto Young Money Entertainment, Lil Wayne's record label. At Young Money, Tyga featured on popular songs like Bedrock and released his first mixtape, Fan of a Fan, under the label featuring songs like Deuces, No Bullshit, and Holla at me. Deuces peaked on the Billboard Hot 100 at number 14 and at number 1 in the subcategory, Billboard Hot R&B/Hip-Hop Songs, eventually earning a Grammy nomination at the 53rd Grammy Award.
He released his second studio album in 2012, four years after his first album in 2008 and titled it Careless World: Rise of the Last King. It was commercially successful and featured popular singles like Rack City, Faded, Still Got It and Far Away. The album itself peaked on number four on the US Billboard 200.
So far in his career, Tyga has released six albums, with his most recent release being in 2018 for the album named Kyoto. He has other projects to his name, including several mixtapes and a producer/director credit for a porn film, Rack City: The XXX Movie, which received several nominations at the AVN (Adult Video News) awards. He has collaborated with several other music stars like Chris Brown, with whom he's a frequent collaborator. Others include Rick Ross, 2 Chainz, Meek Mill, Future, Justin Bieber, among others.
He has been nominated for several awards, including a Grammy Award, BET Awards, American Music Awards, and World Music Awards.
Net Worth
Despite his multiple charting singles and commercially successful albums, Tyga is worth only $3 million. His low net worth compared to his that of his peers and others in the hip hop genre is believed to be due to his extravagant lifestyle and his multiple financial troubles. He currently lives in a mansion in California where he pays $50,000 per month as rent.
Parents
Tyga's father, whose name is unknown is reportedly in prison serving what is considered to be a life sentence. His mother, however, who is named Pasionaye Nguyen, is a Vietnamese woman and has been very supportive of her son's career. Tyga is believed to be an only child.
Tyga's Girlfriend, Son and Baby Mama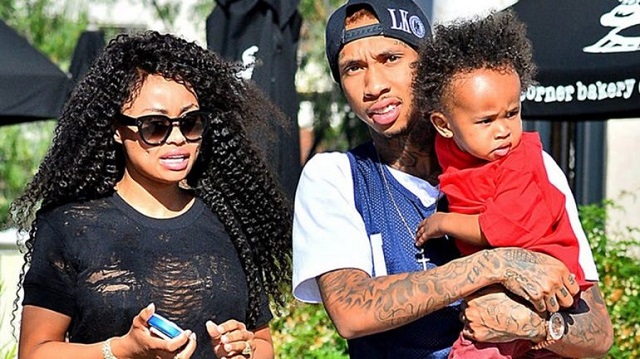 Tyga has been in two popular relationships since he shot to superstardom; he dated Blac Chyna from 2011 to 2014 in one of his longest relationships which produced a song, King Cairo Stevenson on the 16th of October 2012.
He was also reportedly in a relationship with Kylie Jenner, although the dalliance sparked its own controversy as the timing of the relationship suggested Tyga was dating an underage girl because Kylie was only 16 at the time. The two kept their relationship under wraps until Kylie's 18th birthday; the couple dated from 2015 to 2017.
As is consistent with almost every rapper in the industry, Tyga has a baby mama in the person of Blac Chyna. The baby King Cairo was born during their relationship which lasted from 2011 to 2014. He bought his current mansion in order to cater to their needs but apparently, the love between him and Chyna fizzled out.
Tyga's Height
Tyga has a body covered in several tattoos which is obviously his way of expressing his many interests. His body stands at a height of 5 feet and 7 and a quarter inches weighing an athletic 67kg. He has black hair and dark brown eyes.