Tyga is one of those few rappers who have been able to connect the new school hip hop and the older version of the music and still make it great. As far as music and the hip hop genre is concerned, he has always had a smooth ride, but not so much can be said for his love life. Even though in his early 30s, the rapper has not only dated a good number of women, but he has also consistently courted as much controversy as some would in a lifetime. As much as his music is keeping him in the limelight, his personal life is not leaving him in the dark.
Tyga Claimed His Childhood Was Poor, Fans Contradicted Him
Today, the name on the lips of millions across the world is Tyga, but for a long time in his life, he was simply Michael Ray Stevenson to his parents, a Vietnamese mother named Nguyen and his Jamaican father. Tyga was born on November 19, 1989, in Compton, California, one of the most iconic cities in American Hip Hop history, but his parents moved when he was 12 to Gardena in California.
Tyga's father, whose name is unknown, is reportedly in prison serving what is considered to be a life sentence. His mother, who is named Pasionaye Nguyen, is a Vietnamese woman and has been very supportive of her son's career. Tyga is believed to be an only child.
He claims to have been raised in a poor family, but it is a claim that has been disputed by hip-hop fans who consider it a misrepresentation of his upbringing to identify with one of the defining traits of hip-hop culture – a difficult background. Regardless of his socio-economic background, Tyga has had a supportive family in his climb to the top of hip-hop music.
His career began at the age of 15 when he started recording music, and he released his first mixtape titled Young on Probation in 2007. The mixtape was good enough to attract the attention of Travie McCoy, who offered him his first record deal. He subsequently signed with DCD2 Records, which at the time was known as Decaydence Records and released his first project, No Introduction, under his new label in 2008.
Tyga, who had grown up listening to hip-hop artists like Fabolous, Lil Wayne, Eminem, and Cam'ron, got a chance to work with one of his idols, Lil Wayne, when he was signed onto Young Money Entertainment, Lil Wayne's record label.
His Breakthrough Came Early In His Career
At Young Money, Tyga featured on popular songs like Bedrock and released his first mixtape, Fan of a Fan, under the label, featuring songs like Deuces, No Bullshit, and Holla at me. Deuces peaked on the Billboard Hot 100 at number 14, and number 1 in the subcategory, Billboard Hot R&B/Hip-Hop Songs, eventually earning a Grammy nomination at the 53rd Grammy Award.
He released his second studio album in 2012, four years after his first album in 2008 and titled it Careless World: Rise of the Last King. It was commercially successful and featured popular singles like Rack City, Faded, Still Got It, and Far Away. The album itself peaked on number four on the US Billboard 200.
So far in his career, Tyga has released seven albums, with his most recent release being in 2019 for the album Legendary. He has other projects to his name, including several mixtapes and a producer/director credit for a porn film, Rack City: The XXX Movie, which received several nominations at the AVN (Adult Video News) awards. He has worked with several other music stars like Chris Brown, with whom he's a frequent collaborator. Others include Rick Ross, 2 Chainz, Meek Mill, Future, and Justin Bieber, among others.
Tyga's Discography At A Glance
Albums: 7
No Introduction- 2008
Careless World: Rise of the Last King- 2012
Hotel California- 2013
The Gold Album: 18th Dynasty- 2015
BitchImTheShit2- 2017
Kyoto- 2018
Legendary- 2019
Compilation Albums: 3
We Are Young Money (with Young Money Entertainment)- 2009
Rich Gang (with Rich Gang)- 2013
Young Money: Rise of an Empire(with Young Money Entertainment)- 2014
Collaborative Album: 1
Fan of a Fan: The Album (with Chris Brown)- 2015
Mixtapes: 30
He Has Achieved Much In Music But Bad Behavior Has Affected His Net Worth
https://www.instagram.com/p/CAa_FbzhKx7/?utm_source=ig_embed
Musically, the rapper has come a long way, having earned many nominations and awards. He got nominated for several awards, including a Grammy Award, BET Awards, American Music Awards, and World Music Awards. More so, he has topped many charts and sold into the millions.
Despite his multiple charting singles and commercially successful albums, Tyga is worth only $5 million. His low net worth, compared to that of his peers and others in the hip hop genre, is believed to be due to his extravagant lifestyle, and his multiple financial troubles. He currently lives in a mansion in California, where he pays $50,000 per month as rent.
He has lost a good deal of money following the numerous lawsuits that he was dragged into. Also, he lost $2.2 million in 2014 after his custom Maybach got repossessed for failure to continue with his lease payments.
Tyga's Love Life Has Seen So Much Controversy
Tyga has been in several relationships since he shot to superstardom. While most of the relationships were brief, those that weren't ended in controversy. Let's take a look at the women the hip hop star has dated below.
Chanel Iman
In 2008, Tyga and the American model, Chanel Iman, started dating. They made it public in a May Vogue spread. However, this was not enough to hold them together for more than two years as only two years into the relationship, it emerged that he had already been dating a lifestyle blogger, Jordan Craig, for six months. Consequently, the duo parted ways.
Blac Chyna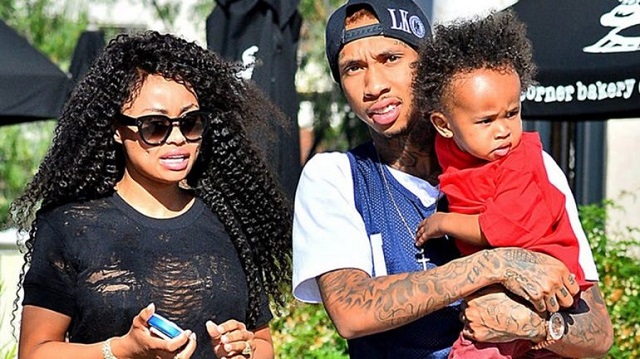 In 2011, Tyga started dating model, Blac Chyna (Angela Renee White), after they met on Tyga's 'Rack City' video shoot. She was his first known relationship as a superstar. Less than a year after they started dating, the couple welcomed their first child, King Cairo Stevenson, who was born in 2012.
By December 2012, the couple was already engaged with the hopes of soon becoming man and wife, but in 2014, the engagement was ended, and they broke up. The reason behind this was his affair with Kylie Jenner, which was rumored at the time.
One of the things that turned out to be interesting with this was that while Tyga was dating Kylie, Chyna also dated her brother, Rob Kardashian, with whom the former stripper had a daughter, Dream Kardashian, in 2016.
Kylie Jenner
Before Tyga started dating Kylie Jenner, he had already been in a few rumored relationships with some other women, including model Amina Blue who appeared in the video of his  "1 of 1" song. With that said, this was the second serious relationship of Tyga, and it did not go without its fair share of controversy. The two first started dating in 2014, and at the time, Jenner was only 16 while the rapper was 24.
The 8 years age difference between them forced them to hide it to avoid any issues concerning underage dating. Once Kylie turned 18, they became public. Nonetheless, the relationship only lasted until 2017 when it finally came to an end after the two kept breaking up and coming back in the years before then. While they were together, some women claimed they had an affair with Tyga, including Brazilian model Annalu Cardoso and Val Mercado.
Carla Howe
https://www.instagram.com/p/B-2JN2nhO_v/
Since his split from Kylie Jenner, Tyga got into a good number of relationships, but most either ended too fast or were not spelled out. He was linked to women such as Kamilla Osman, Amina Blue, and Jordan Ozuna. He also dated Carla Howe, although was more defined and serious than others.
The two started dating in 2017, and in 2019, they went their separate ways. Like others, this relationship also had its drama; he reached for a gun at Floyd Mayweather's birthday bash following a row with a rival, making the playboy model to fear for her safety.
While the relationship lasted, they broke up many times before coming back together. At a point, she ditched him to take part in the reality show, Love Island, before they came back together again. Sources claim the rapper had trust and jealousy issues as he didn't like it when she went out.