Video games are just a source of entertainment for many, but there are a select few like American Twitch streamer Tyler Blevins (Ninja), who have gone ahead to turn the exciting pastime into a lucrative career. In addition to being a professional gamer on Twitch, the internet personality is also a YouTuber with millions of followers.
Although he pursued both fields simultaneously, Ninja's early success as a professional gamer came via competitive gaming. Playing for various organizations, he developed a reputation among pro-gamers before he found global fame via Fortnite on Twitch. Today, he is one of the pacesetters in competitive video gaming and represents the level of success a person can achieve if they pursue their passion.
Tyler Blevins Began His Gaming Career After High School
Although he is Ninja to millions of people online, he was born as Tyler Blevins on June 5, 1991, in Greyscale, Illinois. Tyler is the youngest son of Cynthia and Chuck Blevins, who also have two older sons, Chris and John Blevins. When he was just one year old, his family relocated to the Chicago suburbs. There, he spent his formative years excelling in both video games and sports.
During his days at Grayslake Central High School, Tyler Blevins (Ninja) played soccer and was enthusiastic about video games. He decided to go professional with video gaming after graduation. The young streamer was always skilled at streaming from his formative years. He had a knack for winning them at Halo even before he hit ten.
Tyler became serious with the games when he came to realize the inherent gains in it. Thus, he started joining professional organizations, entering tournaments, as well as live streaming his games. He entered a professional gaming competition, a local Halo 3 Orlando event, for the first time in 2009.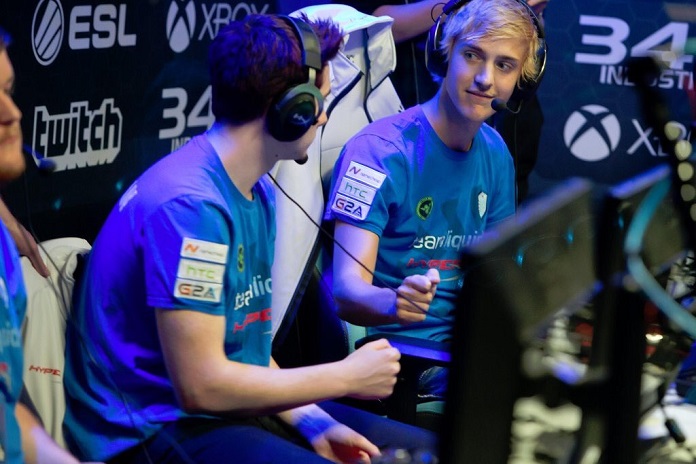 Although he did not win, his skills attracted interests from eSports teams. Over the next eight years, he played for teams like Luminosity Gaming, Team Liquid, Renegades, and Cloud9. He spent his last year as a pro-gamer with Luminosity Gaming, competing in games like Halo, PlayerUnknown's Battlegrounds (PUBG), and H1Z1. He won the PUBG Gamescom competition in August 2017.
When he is not playing competitively, Ninja played casually on his own, and he began streaming his games in 2011. And although he rose to fame in the pro-gaming circuit, eventually, his independent streaming career took off, and he quit competitive gaming for good.
His Streaming Career Took Off With Fortnite Battle Royale in 2017
Even though Tyler Blevins (Ninja) became a live streamer in 2011, it took a while before finding the fame he has today. With exposure gained from playing games like PUBG and Halo in the competitive circuit, he attracted fans on YouTube and Twitch. He created his channels on both platforms in 2011, and it grew gradually until 2017.
After the release of the free-to-play battle royale video game in September 2017, Tyler Belvin's viewership began to grow on both platforms. By the end of 2017, he had amassed 100,000 subscribers on YouTube and had over 500,000 subscribers on Twitch.
As Fortnite further grew in popularity, so did Ninja's following, which had risen to two million followers on Twitch by March 2018. In that same month, he set a record for the largest concurrent audience on an individual stream with 635,000 viewers during a Fortnite match with Drake, Travis Scott, and Juju Smith-Schuster.
The record signaled Tyler Blevins' arrival as a gaming celebrity, and just a month after, he broke the record with his Ninja Vegas 2018 event, with over 667,000 live viewers. The massive following has continued to date on both major streaming platforms.
As of September 2020, he has more than 15.8 million followers on Twitch and over 24 million subscribers on YouTube. With the latter, his videos and streams have been watched more than 2.31 billion times while he has over 494 million views on Twitch.
His vast following consequently attracted sponsors and partnerships with various gaming brands and platforms, like EA and Mixer, who signed him to an exclusive contract.
After Months Of Exclusivity With Mixer, Tyler 'Ninja' Blevins Is Back To Twitch
His ability to attract millions of gaming fans was a quality hotly contested by gaming platforms. In the race to make Ninja an attraction, Microsoft signed him to an exclusive deal for its streaming platform, Mixer. He left Twitch on August 1, 2019, for a deal worth between $20 and $30 million.
However, the move, which he made alongside other popular streamers like Shroud and King Gothalion, did not turn out to be the gamechanger Microsoft wanted. Less than a year after signing the contract, Mixer shutdown on July 22, 2020. He was released from his exclusivity deal on September 10, 2020, and returned to Twitch.
Tyler Blevins (Ninja) returned to Twitch on a multi-year exclusivity deal. The exact terms of his new agreement with the Amazon-owned gaming platform remain undisclosed. Since he returned, he has amassed over 22,800 subscribers, gained over 700,000 subscribers, and 11.4 million views to his record. He has also beaten his 2018 concurrent views record, with over 115,000 live viewers during a stream.
Ninja's Wife Is Also A Streamer And His Manager
Tyler Blevins (Ninja) gave up the single life to embrace matrimony in 2017. He exchanged marriage vows on August 12 with his long-time girlfriend Jessica Goch, a fellow streamer. She goes by the screen name, JGHosty, and although she has streamed games like Minecraft and Slender Man, she is more of an IRL streamer, often streaming her cooking routines.
Their first meeting dates back to 2010 when the duo almost missed the chance of meeting each other. They met at a Halo tournament, which Jessica nearly did not attend because she had to drive through a snowstorm for over three and a half hours to get to the destination. As at the time of their meeting, both had other love interests but found each other through Twitter after three years.
Since she became Mrs. Blevins, Jessica has been playing an active role in her husband's profession. She became Tyler Blevins' (Ninja) manager after noticing that he needed some assistance. Their marriage is yet to produce any children.
Currently, they are both residents of a gated community close to Chicago – a district that houses several players for the Chicago Bears team. While they were at their former residence, they usually had fans waiting at the door to meet Tyler. Now that they moved to a more secure environment, the fans resorted to sending messages to their mailbox.