If you know the Madea character in Black American movies, then you know Tyler Perry. He was born as Emmitt Perry Jr on September 13, 1969. He is an American producer, director, writer and lyricist. The celebrity from New Orleans, Louisiana, is an occasional actor. He often models his works within the Christian gospel precepts. The movies often revolve around broken families and the "black church culture."
Tyler Perry Biography & Wiki
Born on 13 September 1969, Tyler's father figure worked as a carpenter. Though not his biological dad, his relationship with Emmitt Perry Sr was so rocky that he attempted suicide at some point. With the help of his mother, he found solace in the church. In his teens, he officially changed his name to "Tyler". As a healing therapy, Tyler took up writing. Today he is a guru in the art.
A smart child he was but he never finished high school. His love for the performance art spurred him into investing all of his humble savings in producing shows. Unfortunately, Tyler spent 6 years organizing shows with little or no returns. He was frustrated and broke. However the young man did not dare give up, he kept on pushing till there was a positive change.
See Also: Jackie Chan At 62: Everything You Need To Know About The Star
After facing several rejections in Hollywood, Tyler decided to start his own company in Atlanta. From there, his break was registered. In 2005, Forbes reported that Tyler had sold over $100 million in tickets and about $30 million in videos. Each of the 300 live shows he produces each year is attended by a weekly average of 35,000 people.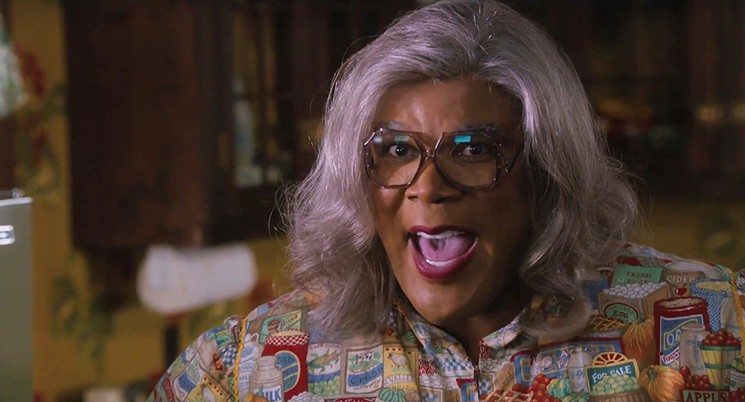 Tyler Perry has written and produced many performance pieces. He produces live recordings of stage plays; some of which have in time been translated into professional movies. According to Wikipedia, his most successful television show has been Tyler Perry's House of Payne, a show that ran for eight seasons on TBS (Turner Broadcasting System). He is most popular for the 'Madea' movies. He both created and plays the comic character.
Tyler Perry recently moved his TV empire over to Oprah Winfrey's cable network (OWN). OWN airs Tyler's The Haves and the Have Nots and Love Thy Neighbor at the moment. Tyler is incredible with scripts. That skill has formed the basis of his partnership with Oprah. A resounding success in that regard is the scripted series for The Haves and the Have Nots.
Tyler Perry Net Worth
Tyler Perry is a millionaire. He has significantly grown his wealth as much as he has been in the entertainment industry. In 2008, the skilled comic writer was worth $75 million. At a net worth of $130 million in 2011, Forbes named him the highest paid man in entertainment. In 2012, he was rated as the richest black actor with a net worth of $400 Million (Eric Robeson). In 2017, his net worth grew to $600 million which is quite an impressive growth so far. We still expect his net worth to jump higher in the future.
It's good to know that the black successful entertainer was not always a money bag. He was not born with a silver spoon in his mouth. He believed, had faith and worked so hard to get to where he is today. Although abused by his father, Tyler still takes care of Emmitt Perry Sr who he thinks gave up all he had earned to raise him. The star is still looking for his biological father after finding out that his mother lied to him throughout her lifetime.
Tyler Perry Son, Wife & Girlfriend
A general belief that a man of his age and financial status in our present society would have been married is not for Tyler Perry who remains single despite owning a media empire. This has made a lot of people speculate that he is gay. But what may prove them wrong is the fact that he has a son Aman Tyler Perry whom he had with his longtime girlfriend Gelila Bekele. Nobody is sure why they are yet to be married but the duo has been dating since 2009. Tyler and Bekele try as much as possible to keep Aman their son away from the public eye.
Tyler Perry House
Tyler Perry is expected to afford any kind of home he desires and the actor hasn't failed in this regard as he continues to invest in real estate. So far, he has many properties in his portfolio including a 17-acre (6.9ha) estate in the Paces neighbourhood of Atlanta. His company, ETPC LLC bought 1,100 acres in the New Manchester Georgia in 2013.
The comedic actor also bought Dean Gardens located in Atlanta Suburb for $7.6 million. He had planned to pull down the structures in the Dean's garden but Tyler later sold the property for $9.2 million. He also sold one of his mansions in Atlanta – the huge 34,688-square home built on 17 acres which he bought for $9 million but sold it for $17.5 million a year after purchase. However, he continues to own a 25,54 square-foot mansion he custom built on 22.5 acres in ritzy, guard-gated Beverly Ridge estates in Beverly Hills.
The cross-dressing television mogul also still owns the 17,000 square foot mansion in Fairbum GA Atlanta. He also custom built on 11.4 acres which he bought in the spring of 2001 for $62,661.  The writer and producer recently, in 2017, added a mansion to his portfolio, purchasing a $14.5 million glass-walled house located in mountains between Beverly Hills and Studio City. The house belonged to billionaire aerospace businessman Alfred E Mann who died at age 90 in 2016. But in 2018, the filmmaker and screenwriter listed the glass-walled Beverly Hills house for about $17 million. The house in focus is located in a gated community Mulholland Estates and has everything that makes a home very comfortable.
Tyler Perry Height
Tyler Perry is not only considered as one of money minting Hollywood film producers, he is also among those considered quite tall in the industry. The TV personality stands at a height of 6 foot 6 inches ( 1.96m) which is way taller than an average American male height of 5 foot 7 inches.
Is He Dead?
No, Tyler Perry is very much alive. He may have fallen a victim of celebrity death hoax but he is hearty, whole and fit enough to make more dough.