Nicknamed "the most toxic player" in North America, American gamer, streamer, and YouTuber, Tyler1 has carved a niche for himself against all odds. Tyler1 is a League of Legends online personality most popular for his loltyler1 live streaming channel on Twitch. His Twitch channel currently boasts of over 2 million followers, more than 30,000 paid subscribers and over 80 million views. As for his YouTube channel, it has garnered over 1.5 million subscribers and close to 200 million views.
Tyler was banned from the League of Legends for about two years for gaming misconducts – what the media dubbed "toxic behaviors". He went through what he called a reformation but that didn't end the matter. However, Instead of his notoriety pushing him out of the business, it pushed him further into the limelight. Join us as we take a detailed but fun ride through the life of the "toxic" Tyler1; from his biography down to his romantic relationship and every other thing there is to know about him.
Tyler1 Biography
Tyler1 was born as Tyler Steinkamp on the 7th day of March 1995 in Missouri, United States. He grew up in Missouri alongside his younger brother and only sibling, Eric Steinkamp. There, he completed his high school education at the Mark Twain Senior High School. He then proceeded to Central Methodist University (CMU) for his bachelors. While at CMU, he played in the university's football team as a running back.
Tyler1 had developed a passion for gaming from his childhood. He, however, started professional gaming around 2014, focusing primarily on Riot Games' League of Legends (LoL) on which he usually plays as Draven. He also plays a variety of other games including Outlast, Overwatch, Warcraft, Counter-strike, Call of Duty, and so on.
Twitch Career and Bans
In May 2014, Tyler1 created his own YouTube channel loltyler1. He subsequently created a Twitch channel, also titled loltyler1 on which he streamed his gaming episodes. In the first few years of his streaming career, Tyler1 became popular for exhibiting socially unacceptable acts such as extreme verbal abuse and racist comments, player harassment and physical assaults, deliberate losing of games to the disadvantage of teammates, account sharing as well as the encouragement of suicide. This resulted in his being banned from playing the LoL from April 2016 to January 2018.
On resuming online gaming, Tyler1 announced that he is a changed person. This did not last though. He soon went back to his old behaviors, consequently landing in yet another ban from LoL. In addition, Riot Games passed a "Ban on Sight" regulation which warrants the immediate ban of any account that publicly features Tyler1. This development caused Tyler to quit the League of Legends, an action that negatively affected his popularity and dwindled his fame.
Tyler1 however, bounced back after he twitched his stream to include other unconventional videos. His streaming of "A Day in the Life of Tyler1", a 45-minute satirical green screen life story which he acted out on April 1, 2018, gained widespread attention. He also added a variety of games to his stream including PlayerUnknown's Battlegrounds. He has since continued his career with much success, emerging the runner-up for "Streamer of the Year" at the 2018 Esports Awards.
His Girlfriend
Tyler Steinkamp started dating Macaiyla in February 2017. Tyler and Macaiyla met online and subsequently met physically at TwitchCon2016. Macaiyla is an Instagram star who has over 80k followers on the platform. She also has her own YouTube channel which has amassed close to 55k subscribers.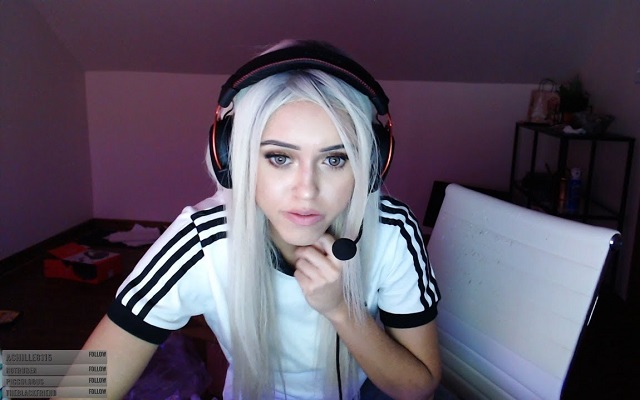 Macaiyla has made cameo appearances in a number of Tyler1's video. She seems to also be a misconduct lover having earned several social media bans both for herself and for Tyler. On one occasion, she earned Tyler1 a one-day ban from Twitch for flashing viewers. Her Twitter and Reddit accounts have also been banned twice and once respectively.
Macaiyla formerly lived in Albany, New York but moved in with Tyler who lives in New London, Missouri. Just like Tyler, she also started gaming at a very young age, precisely 3.
See Also: Ashton Whitty Biography, Net Worth, and Everything You Need To Know
Everything You Need To Know
1. He is a School Dropout
Tyler1 could not complete his degree program at the Central Methodist University as he withdrew to focus on his streaming career. Macaiyla is also a school drop-out. She reportedly abandoned her study of Criminal Justice just six months after enrollment.
2. Reformation Boom
Following his ban from Twitch, Tyler underwent a language etiquette course to save his career after which he announced that he is a reformed person. After his reinstatement in LoL, Tyler1's first streaming peaked at over 386,000 viewers on Twitch, a number that emerged Twitch's largest concurrent viewership for an individual account at the time.
Moreover, his Twitch channel reportedly increased from around 5,700 followers before his announcement to over 92,000 followers by the end of the month.
3. Tyler1 Championship Series (TCS)
In late 2017, Tyler Steinkamp produced a parody of the League of Legends Championship Series (LCS) which he tagged Tyler1 Championship Series (TCS). The tournament which he streamed on a green screen alongside images of LCS stadiums and a commentators' desk peaked at over 200,000 concurrent viewers on Twitch. It was also viewed by professional players and LCS casters. Tyler self-funded the games, awarding the winning team a $10,000 grand prize.
He subsequently launched the second season of TCS in November 2018 with much quality upgrade. He also increased the grand prize to $50,000 with Polar Ace pocketing it at the end of the tournament.
4. His Height
Tyler1 stands as 5 feet 6 inches (1.68 meters), a height that may be regarded as short for a guy. However, some sites hold that Tyler's real height is 5 feet 1 inch.
5. He is an LoL addict
Tyler Steinkamp has once admitted that he is an LoL addict but does not mind.