In order to reach the nooks and crannies of South Africa, the Unemployment Insurance Fund has extended its offices into almost all the provinces in the country. Gone are the days when a limited number of outlets will make claims a bit cumbersome for contributors who wish to contact the personnel. In addition to the physical offices of the UIF, there are several other avenues of reaching their staff; a good example is sending them an e-mail, going to their website to lay a complaint, or even calling the personnel on phone for a quick chat.
Whichever route a contributor chooses to follow, UIF is known to be a "corruption-free zone" where all contributors are treated equally. Thus, people are advised to never part with funds to hasten the payment of their claims.
What Exactly is UIF?
The South African Unemployment Insurance Act, 2001 (the UI Act), along with the Unemployment Insurance Contributions Act, 2002 (the UIC Act), were used in establishing the Unemployment Insurance Fund that became effective on the 2nd of April, 2002. The essence of the scheme is for employees and employers to get registered with "The Fund" and make monthly contributions to its coffers.
The modus operandi of the UIF is that all employees contribute 1% of their monthly remuneration while their employers also contribute the same 1% making it 2% in total. Combined together, the 2% hits the coffers of UIF and in the time of job loss, sickness, maternity leave, and the likes, the UIF provides its contributors with short-term relief to cushion the harsh effects of their situation. The dependents of a deceased contributor also have cause to smile as UIF will also provide them with relief.
Where Are UIF Offices Located in South Africa?
UIF has located their offices at strategic places in South Africa to enable those whose employment contracts have been terminated to easily locate them with ease. To aid employees in locating the UIF offices, we have compiled a comprehensive list of their addresses and contact details, region by region.
Department of Labor: UIF Head Office
Telephone: (012) 309 4000
Fax: (012) 320 1942
Postal Address: Private Bag X 117, Pretoria, 0001
Street Address: Laboria House, 215 Francis Baard Street, Pretoria, 0001.
Operating Hours: Monday – Friday, 07:30 am – 4:00 pm
UIF Offices Pretoria
Telephone: 0800 030 007 (for Call Center) or 012 337 1997 (for Switchboard)
Fax: 086 713 3000
Email Address: [email protected], [email protected], or [email protected]
Postal Address: The UIF, Pretoria, 0052
Street Address: UIF Building, 230 Lillian Ngoyi Street, ABSA Towers, Pretoria Central.
Operating Hours: Monday – Friday, 07:30 am – 4:00 pm
UIF Offices Durban
Telephone: +27 31 336 1500
Address: Government Buildings Victoria and, Beach Grove, Durban Central, Durban, 4001, South Africa
Operating Hours: Monday – Friday, 07:30 am – 4:00 pm
UIF Offices Cape Town
Telephone: (021) 466 7160
Fax: (021) 462 2832
Street Address: Room 1207, 12th Floor, 120 Plein Street, Cape Town, 8000.
Operating Hours: Monday – Friday, 07:30 am – 4:00 pm
UIF Offices Gauteng
The Gauteng province in South Africa can boast of several UIF dedicated offices in strategic places. Most towns in the region have lost the status of municipalities since the local government decided to have them merged into larger structures.
UIF Offices Johannesburg
Since Johannesburg is still considered a part of the Gauteng province. Below are the addresses, contact and numbers, operating hours, of UIF branches in Joburg Metropolitan Municipality:
UIF Offices Soweto
Telephone: (011) 983 8700, (011) 444 7631
Fax: (011) 939 1207 or 086 6229 255
Email Address: [email protected] or [email protected]
Postal Address: PO Box 4560, New Canada, 2000
Street Address: 2 Khumalo Road, A Centre, Orlando West, Soweto, Gauteng
Operating Hours: Monday – Friday, 07:30 am – 4:00 pm
UIF Offices Sandton
Fax: (011) 444 8872 or 086 603 7920
Address: [email protected] or [email protected]
Postal Address: PO Box 273, Sandton, 2012
Street Address: 9th Street, 424 Marlboro, Sandton, Gauteng.
UIF Offices Roodepoort
Telephone: (011) 766 2000
Fax: (011) 763 3413 or 086 619 0694
Email Address: [email protected] or [email protected]
Postal Address: PO Box 485, Roodepoort, 1725
Street Address: 125 Main Reef Road, Technikon, Roodepoort, Gauteng.
Operating Hours: Monday – Friday, 07:30 am – 4:00 pm
UIF Branches In Other Towns Of Gauteng
Apart from Joburg, other metropolitan municipalities in Gauteng also have operative UIF branches where employers and employees who are withing reach can go for claims and to siort other UIF related issues
UIF Offices Benoni
Telephone: (011) 747 9600 or (011) 747 9606
Fax: (011) 422 3369 or 086 5613 518
Email Address: [email protected] or [email protected]
Postal Address: Private Bag X1446, Benoni, 1500
Street Address: 10 Woburn Avenue, Woburn Heights, Benoni, Gauteng.
Operating Hours: Monday – Friday, 07:30 am – 4:00 pm
UIF Offices Boksburg
Telephone: (011) 898 3340, (011) 898 3342 or (011) 898 3349
Fax: (011) 917 1472 or 086 556 2810
Email Address: [email protected] or [email protected]
Postal Address: Private Bag X13, Boksburg, 1460
Street Address: Lakeside Building, Cnr Market and Bank Street, Boksburg, 1459, Gauteng.
Operating Hours: Monday – Friday, 07:30 am – 4:00 pm
UIF Offices Alberton
Telephone: (011) 861 6130, (011) 861 6131, 011) 907 6081, (011) 907 6097 or (011) 907 6031
Fax: (011) 861 6151 or 086 660 4270
Email Address: [email protected] or [email protected]
Postal Address: Private Bag X2, Alberton, 1450
Street Address: Mercedes Place, 89 Voortrekker Road, Alberton, 1450, Gauteng.
Operating Hours: Monday – Friday, 07:30 am – 4:00 pm
UIF Offices Free State
The South African province of Free State has Bloemfontein as its capital and needless to say, there is a UIF officer located in the city. Other places where contributors can locate the Unemployment Insurance funds offices include Botshabelo, Bethlehem, and other Free State towns. They are listed below alongside their contact details;
UIF Offices Bloemfontein
Note: Offices of the Unemployment Insurance Funds in South Africa are corruption-free zones, thus, contributors should never pay any money to have their registrations done. In addition, disclosure of personal information to non-staff of the UIF is at the owner's risk, thus, contributors who visit any of their offices are advised to desist from the temptation of taking the shortcut as it may be detrimental. If any corruption or fraudulent activities are detected, report them immediately by leveraging the UIF contact details listed above.
Other Ways To Communicate With the Personnel of The Unemployment Insurance Funds
Those who don't wish to visit any of the branches of UIF or call the numbers dedicated to these branches can also contact the fund management body under the Department of Labor. Below are alternative ways of getting in touch with the staff of UIF.
You can get to them via the dedicated TERS (Temporary Employer/Employee Relief Scheme) Hotline: 0800 030 007 and 012 337 1997
If you decide to place a call to the contact center of UIF, you can do so through these numbers: 0800 030 007, 012 337 1997. The operating hours for the UIF contact center run from 07:30 to 16:00, Monday to Friday.
The Unemployment Insurance Fund has rolled out Provincial Rapid Response teams; this is dedicated to only businesses with 50 staff members or less.
The UIF toll-free numbers for contacting UIF claims are 0800 843 843 or 0800 UIF UIF),
Those who merely wish to check the status of their claim can do so online by visiting uifecc.labour.gov.za/covid19/covid19. Once you land on the page, navigate to "my payment status" and leverage your id number in checking your status.
UIF has plans of launching their own dedicated virtual office through which employees and employers who have access to the internet can submit applications for their services online as well as track claims.
Possible Reasons Why One May Need to Contact UIF Customer Service or Visit Their Office
The major reasons why employees may need to visit the offices of the Unemployment Insurance Funds or contact their customer services are because of the benefits and these come in different forms
Employees Go To the UIF Offices To Claim Their Unemployment Benefits
The number one reason that would take a worker to the offices of the UIF is to claim their unemployment benefits. This situation is only occasioned when the said employee finds himself out of a job due to retrenchment or dismissal, or due to the expiration of their job contract. An employee that voluntarily resigns from their jobs has no business contacting UIF offices as the person will be disqualified. However, if the person can provide proof that it was a constructive dismissal, he will be welcome to lay claims at the Unemployment Insurance Funds office.
Illness Benefit is Another Reason That Warrants a Worker To Visit or Contact UIF
Those who fall ill in the line of duty can contact UIF customer services for their illness benefit and if possible, go to any of their offices to lay claims. However, it must be noted that UIF does not welcome all employees who claim to be sick. Considerations are only given to those whose ill health lasted for up to two weeks. Thus, if you were sick for less than a fortnight, there is no reason to go for claims as UIF does not give considerations to such people. Remember, the indisposed person's benefits can only be paid from the day he or she stopped going to work because of ill health.
To Claim Maternity Benefits, Pregnant Employees Must Contact UIF Customer Services Or Visit The Offices
A pregnant woman who has been contributing to UIF has the right to contact their customer service to claim maternity benefits. SA's Basic Conditions of Employment Act- section 25 says a female employee who falls pregnant is free to proceed on maternity leave from four weeks prior to the EDD (expected date of delivery) and may have no need to go back to work for the ensuing six weeks post-delivery. Pregnant workers must go to UIF offices to make their claims on or before eight weeks prior to delivery or within six months post-delivery.
Similarly, a pregnant woman who in the course of claiming maternity benefits losses her job, is also eligible to contact the UIF customer service to initiate the process for claiming unemployment benefits. Both benefits will be paid so long as the employee is qualified for them.
Parental Leave Attracts UIF Benefits Which Warrants the Beneficiary to Contact UIF Customer Service
Since The SA Basic Conditions of Employment Act made amendments (on the 1st of January 2020) to start giving leave to those parents who don't qualify for maternity leave, UIF also did some amendments that ensure that people in this category get compensated. As a result, fathers who go on paternity leave can now visit their offices to claim benefits.
Claiming Adoption Benefits Means that One of the Adoptive Parents Need To Contact UIF
Legally adopting a child that is below two years of age and having to stop work in order to cater for the child warrants the adoptive parent to visit the UIF offices to apply for adoption benefits. This form of application for claims must get to UIF customer service from the adoption date – the date that order of adoption is granted by a competent court of justice. Important to note that if the two adoptive parents are contributors to UIF, only one will be eligible to claim benefits.
Dependants of a Deceased Employee can Contact UIF to Claim Dependents' Benefits
Apart from the contributors to UIF, their dependents may also have reasons to contact the customer services of the Unemployment Insurance Funds in case of the contributor's demise. The dependants of a contributor who dies in active service are welcome to claim dependant benefits from UIF. Only two people will be given consideration under this circumstance – the spouse of the deceased and child under the age of 18. If you are a relative of a late contributor and do not fall under any of these categories, there is no need to contact the UIF as you will not be considered.
Temporary Employer/Employee Relief Scheme (TERS)
TERS is specially carved out for employees who couldn't meet up with payroll and employees who did not receive salaries during the COVID 19 lockdown. Also, those employees that were forced to go on compulsory leave as a result of the ravages of the Corona Virus on economic activities are also mopped up into this category. These people are eligible to contact UIF offices to lay claims to their Temporary Employer/Employee Relief Scheme benefits so long as they are registered with the South African Department of Employment & Labor.
Because of the lockdown, all claim applications were submitted online via http://uifecc.labour.gov.za/covid19. They were also encouraged to place calls to the UIF call center toll-free number – 0800 030 007. Successfully submitted applications only took 10 days for processing and the beneficiaries were credited with their benefits
IS UIF Part Of the Department Of Labour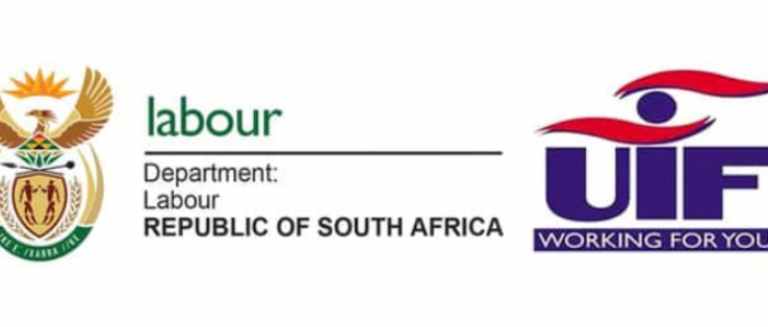 The Department of Employment and Labor in South Africa is saddled with the responsibility of regulating the SA Labor Market. While working to reduce the incidences of unemployment, inequality, and poverty through its policies, it created the Unemployment Insurance Fund to take care of the needs of employees who found themselves out of work.
Thus, the UIF is part and parcel of the department of Employment and Labor. In fact, the two work hand in hand in executing projects, and there are direct links to relevant personnel at the Department of Labor that can be contacted for UIF and TERS issues:
Eastern Cape Manager: Philiswa Madikazi; Tel: 043 701 3342
Free State Manager: Morgan Ramatsetse; Tel: 051 505 6362 / 6200
Gauteng Manager: Dingaan Basimane; Tel: 011 853 0303
KwaZulu-Natal Manager: Gugu Khomo; Tel: 031 366 2012
Limpopo Manager: Ronet Landman 015; Tel: 290 1703
Mpumalanga Manager: Evelyn Mokoena; Tel: 013 655 8742
Northern Cape Manager: Adv Bulelani Gwabeni; Tel: 053 838 1554
North West Manager: Selete Qhamakhoane; Tel: 018 387 8178
Western Cape Manager: Tony Lamati; Tel: 021 441 8054
UIF Email and Fax to Email Numbers
Call Center Remains The Fastest Way of Sorting Out UIF Issues
It is true that the UIF call center sometimes experiences some technical glitches that may likely throw them offline for a while. However, in the absence of any technical glitches or network challenges, the UIF call center is where contributors are likely to get the fasted response to their requests. This is so because, the other avenues of contacting the fund managers like email and website will involve a few processes, but with calls, a contributor will be talking one on one with the UIF staff, and solutions are provided on the spot.