Award-winning Multilingual Nollywood actress Omoni Oboli also functions as a movie producer, scriptwriter, director, professional digital moviemaker, author, and businesswoman. The movie star hails from Delta State in Nigeria where she had her early education. Coming into the movie world after her secondary education, the actress and businesswoman graced the screen in a few productions before taking a long hiatus. By the time she resurfaced, Omoni has armed herself with a professional degree which saw her achieve great heights in her career.
Profile Summary Of Omoli Oboli
• Full name: Omoli Obolo, nee Ukey
• Date of birth: 22nd April 1978
• Age: 43 years old
• Nationality: Nigeria
• Education: Bachelor's degree in French, University of Benin
• Parents: Chief Matthew Eriyovwe Ukey
• Occupation: Actress, Producer, Scriptwriter, Director, Professional Digital Moviemaker, Author, and Businesswoman
• Years active: 1996 to present
Her Early Years And Educational Achievements
The Nollywood actress cum movie maker celebrates her birth anniversary every 22nd of April and she is currently 43 years old. She is the first child of her parents, born in 1978. Her tribe is not a prominent one in Nigeria, but they are a small village in Delta State known as Mosogar. Omoli was not born in her hometown, the actress' place of birth is recorded as the capital of Edo State, Benin City where she also spent a better part of her formative years.
When she attained primary school age, her parents sent her to Delta Steel Company Primary School where she headed the school's literary and debating society, and also the drama club. After graduating from primary level, she continued her academic pursuit at Delta Steel Company Technical High School.
Omoni took her artistic talent into secondary school as she remained head of some of the institution's clubs and societies she was in. Her years in school were really eventful; the rising star not only acted in her school plays, but she was also equally active in producing and directing most of them. This only goes to prove that art has always been part of her even before she took the decision to join the show biz industry.
Omoni Was Just 18 When She Scored Her Debut Acting Role
Omoni Oboli was barely done with her secondary school education before she ventured into the Nigerian entertainment industry as an actress. She had her debut role depicting the character of a secretary in the 1996 film entitled Bitter Encounter. Despite the fact that she was yet to acquire professional training or qualification in the performing arts, the youngster began scoring roles in quick succession. Within a space of one year, the juvenile actress was seen in a few other productions where she recorded remarkable performances.
After she was featured in Bitter Encounter, the emerging movie star wasted no time in landing a role on the set of the film Shame. Her lead roles didn't take long in coming as Omoli was chosen to play the female leading character in the film Not my Will, Oboli soon scored another lead in Destined to Die, before she landed her break out role as she essayed the leading character in Another Campus Tale. This marked the end of the first phase of her career in Nollywood.
She Returned To The University And Bagged Her First Degree at The Age Of 22
Despite the fact that she joined the movie world early in life, the Moms at War star didn't miss out on acquiring formal education. Even though she was already in the limelight with her first outing, Omoni Oboli was prepared to leave everything behind in pursuit of a university degree.
Her quest for further academic qualifications took her to the University of Benin where she enrolled in the Foreign language department with a major in French. After four years of rigorous studies, Oboli was rewarded with 2nd Class Upper division honors. Studying French in the higher institution made Omoli a Multi-lingual as the movie star can boast of proficiency in both English and French.
Following the completion of her first degree, the then aspiring entertainer in 2010 went abroad for further studies at the New York Film Academy. There, Omoni Oboli studied digital editing in a 4-week workshop.
In summary, Omoni Oboli attended the following educational institutions:
• Delta Steel Company Primary School – Primary School Leaving Certificate
• Delta Steel Company Technical High School – Secondary School Leaving Certificate
• University of Benin – Second Class Upper in French
• New York Film Academy – Digital Editing
Omoni Resurfaced on the Movie Scene After Marriage
Omoni had already married and had children before she made a come back to the movie industry. On her return, the actress became quite prolific, recording over 150 acting roles and producing quite a good number. She records multiple movie roles on a yearly basis, for example, in 2009, the actress appeared in two movies Entanglement and The Figurine. in 2014, Omoni appeared in four productions namely Brother's Keeper, Render to Caesar, and Being Mrs. Elliot. Perhaps, her most prolific year to date is 2015 when she proved her mettle on the sets of five major Nollywood productions which include Lunch Time Heros, The Duplex, As Crazy as it Gets, The First Lady, and Fifty.
Summarily, the movies she has acted in since after her marriage include:
• Entanglement
• As Crazy as it Gets
• Lunch Time Heroes
• Render to Caesar
• The First Lady
• Bent Arrows
• Brother's Keeper
• The Duplex
• Wives on Strike
• Feathered Dreams
• The Figurine
• Fifty
• My Wife and I
• Being Mrs. Elliot
• Anchor Baby
• The Wedding Party 2
• Okafor's Law
• Wives on Strike 2
• Moms at War
Her Movie Production and Directorial Portfolio
While playing both lead and supporting roles in front of the camera, Omoni Oboli has proved her prowess behind the camera as she is credited with producing and directing quite a few movies. She wrote and directed Being Mrs. Elliot, First Lady, Wives on Strike: The Revolution, and served as a co-producer for The Rivals alongside her friend. During the New York International Movie and video Festival in 2010, The Rivals was named The Best International Drama.
The Rivals and Wives on Strike went down in history as the first Nigerian movies ever to be premiered at the festival since its inception in 2003. The Festival's judges gave The Rivals three out of four-star ratings. Omoni's movie directorial portfolio includes other productions like:
The First Lady
Being Mrs. Elliott
Okafor's Law
Wives on Strike
The Actress Has A Book To Her Credit
The mother of three is one Nollywood actress with multiple talents. In fact, she has proved herself to be a force to reckon with in the entire Nigerian entertainment industry. The star of Being Mrs. Elliot does not just write scripts for production, she equally knows how to put a book together. Omoni is the author of "The Stars Are Ageless: Finding My Light in Life, in Love, and on Set."
She Has Quite A Few Endorsement Deals Under Her Belt
For Omoni, fame opened several other inroads for her, especially, lucrative endorsements. The movie star took to Instagram on the 14th of August 2017 to announce a new deal she inked with Olawale Ayilara's LandWey Investment Limited as their new brand ambassador. Here is a list of her endorsements to date:
• Ageless by Omoni 3D Mink Lashes (owner)
• Pedini Nigeria
• Nunu Milk
• Royal Caribbean Nigeria
Omoni Oboli Is Also A Businesswoman
Even with her busy schedule, the celebrated actress still finds time to dedicate to growing her businesses. Omoni owns the beauty outfit Ageless by Omoni 3D Mink Lashes where she also serves as the company's brand ambassador. Omoni also owns the franchise on House of Tara.
She Earned Her First Award in 2010
Omoni Oboli's first projects in the movie industry did not result in any awards and nominations, however, when she resurfaced after her long hiatus, the actress came with a big bang and started bagging awards. The moviemaker distinguished herself as the first Nollywood actress to ever emerge winner in two international award festivals in 2010. Some of the awards she has to her credit include:
• The Los Angeles Movie Awards bestowed her Best Actress Narrative Feature awards in 2010, for Anchor Baby.
• Also in 2010, The Harlem International Film Festival named her Best Actress, for Anchor Baby
• The Africa Movie Academy Awards of 2011 named Omoli Oboli a nominee in the awards for Best Actress in a Leading Role.
• 2014 ELOY Awards named the entertainer, Big Screen Actress of the Year, thanks to the film Being Mr.s Elliot
• Her most recent award is the Sun Nollywood "Personality of the Year in 2015.
Omoni Oboli's Family Life: Parents, Siblings, Husband, And Kids
The celebrated actress is the first daughter in her family and she has only one sibling. From what we gathered, she credits her mum as being the inspiration behind all she has been able to achieve. Aside from her parents and sibling, Omoni now has her own family too.
This Is What We Know About Her Mother
My mother…Sister Lizzy, God rest her soul, deserves some accolades!!!
Na she born this fine girl o!
What? See as person pikin fine! 🌟
Complete outfit omoniobolibyave new collection… https://t.co/W4v14oQYB3

— Omoni Oboli (@Omonioboli) October 2, 2018
Though the identity of her mother has never been revealed, the actress often makes reference to her. While talking at the International Women's Day (with #BalanceforBetter as the theme) at the headquarters of the Nestoil Corporate Company, she credited her late mother with giving her the necessary preparations she needed to face life challenges.
According to the actress, it was her mother's strength that prepared her for life. Note, Omoni's parent's marriage hit the rocks when she was still very little and her mum took care of the kids. The actress confessed that she got the inspiration to make the movie Wives on Strike from the life of her mum. According to the actress, the movie was a way of honoring her mother.
The Actress' Dad Died In A Fatal Motor Accident
The movie maker's dad, Chief Matthew Eriyovwe Ukey is also late; he died in a fatal motor accident two weeks before the demise of the actress' grandmother, Alice. Mr. Ukey was laid to rest in Mosogar, Delta State on the 2nd June 2017; the Mosogar town civic center served as the venue for the reception.
From what is obvious, the actress' late dad is well known in Delta State Civil Service, in his younger years, Omoni's dad served with Delta Civil Service Commission as a Permanent Secretary before he retired from active service. At her father's burial which happened on the 2nd of June 2017. Omoni Oboli wrote a highly emotional tribute to the deceased as he was laid to rest. Upon the death of her grandma Alice, she took to Instagram to announce the sad news.
Her dad's burial ceremony was well attended by high-ranking civil servants in Delta State, including some well-known members of the Nigerian movie industry. The burial pictures were generously posted on social media and anybody that cares to look will see that Nollywood was well represented.
Omoni Has Just One Younger Sister
Though her parent's marriage hit the rocks when she was barely out of the diapers, Omoni Oboli is not the only child of that union. The actress grew up alongside one sibling, a younger sister whose name is not known. The Nollywood star's sibling was visibly present at their dad's funeral where she rendered a heart-warming tribute to the deceased. In her write-up, she lamented that her father's death has robbed her of someone to call her princess, she equally lamented about having no one to tease about his big tummy.
She Got Engaged To Nnamdi Oboli While In The University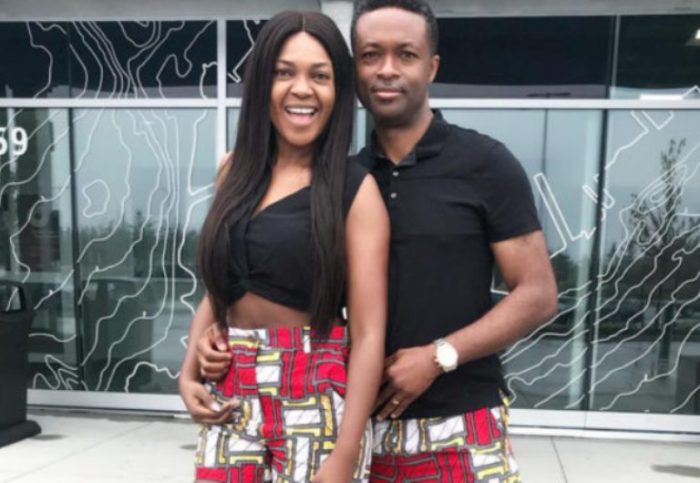 As soon as she surfaced on the movie scene in 1996, Omoni met the man who would become her future husband Nnamdi Oboli. However, they didn't start dating until four years later when she was already 21 and Nnamdi 29. A couple of weeks after they became an item, Nnamdi popped the big question to which he received an answer in the affirmative. All these happened after Omoni left the movie industry in 1996 to complete her University education. By the time she went back to Nollywood a decade later, the rising star was already married and has given birth to her children.
Meet Omoni's Husband – Nnamdi Oboli
Omoni Oboli's spouse Nnamdi Oboli is a man that wears many hats. He is a professional life coach on relationships and marriage who works with Motherhood-In-Style magazine as a columnist. Just like Omoni, Nnamdi is also an alum of the University of Benin where he graduated from the Department of Optometry.
He put his qualification to good use by co-founding Dioni Visions Ltd. Nnamdi functions as the managing director of the multi-faceted company with multiple business interests which include optometric practice as well as entertainment at its core. The father of three is also involved in his wife's kind of work, co-producing a good number of award-winning films like The Rivals, Being Mrs. Elliott, and Render to Caesar.
From what we gathered about him, Nnamdi is a man that strongly believes in the sanctity of the marriage institution, viewing it as a primary step towards building a better and greater society. Little wonder his union with Omoli has endured for so long and looks set to last even longer
Their Marriage Is Blessed With Three Kids
The couple's union has endured for almost two decades without any major drama and they have already witnessed the birth of three boys namely Tobe Oboli, Gozie Oboli, and their last child Chizi Oboli. Recently, the ever young Nigerian actress and movie maker started craving for a baby girl who would be her exact copy. However, she is also full of misgivings as it has been quite a while that she experienced childbirth and its accompanying troubles. But the question begging for an answer is, is Omoni Oboli going to have another baby after more than a decade? Time they say will tell.
Meet The Oboli Boys
Omoni, her husband, and three children are residents in Canada where according to her, she is training kings and their future wives will be grateful.
Tobe Oboli
Omoni didn't stay long in welcoming her first child after she tied the nuptials with Nnamdi Oboli in 2000. Tobe Oboli announced his entrance on the 4th of October 2001 barely one year after Omoni and Nnamdi became man and wife.
Tobe who turned 19 in October 2020 received a heartwarming birthday message from his mum. Omoni in her message referred to her son as the world's most amazing young man, crediting her first fruit with being so mature, so thoughtful, and very responsible.
Gozie Oboli
A few years after Tobe's birth, the couple's second son Gozie Oboli joined the family in 2003. When Omoni's second son turned 14 in July 2017, the actress took out time to give a loud shout-out to Gozie in celebration of his birthday. In her write-up, the proud mama described her second son as a mature teen who does not come across as 14. Omoni was full of praises for Gozie, crediting him with being so driven, so focused, and so self-motivated. The actress is of the belief that her son's future wife will be the luckiest girl in the whole world because of his warm, caring, and deep nature.
Omoni went on to say that Gozie's heart is made of pure gold as the young man is ever ready to lend a helping hand even without being asked. Gozie she said, is the type that wants world peace and strives to live peaceably with everyone. The proud mama gushed about being proud to be called Gozie's mum, calling the boy her basketballer and vowing to do all in her power to ensure that he becomes the great man he is destined to be.
Chizi Oboli
Omoni Oboli celebrates her last son's birthday every 30th of March. According to the mother of three, it was in faraway England that Chizi was born after overstaying his due date by a few days. The actress remembered praying seriously for a baby girl when she took in for the third time and even had a girl's name (Adanna) for the newborn. So when the baby boy finally joined the family, she and her husband had to brainstorm for a boy's name fast and settled for Chizi.
Despite not getting a baby girl as she initially prayed for, Omoni said she still loves her boy with all her heart and will remain grateful to God for sending him into her life. According to the actress, Chizi tugs at her heart in an unexplainable way. On the boy's 10th birthday, the beautiful mother of three prayed for Chizi, asking God to always keep him in good health and grant him wisdom beyond his years.
Omoni Says She Is Giving Serious Considerations To Having A Baby Girl
Recently, Omoni confessed that she has been brooding about having a baby girl. According to the Nollywood star, she wants a 'mini me', her own cute little princess who will inherit all her bags (Omoni loves bags). She said, even though her husband seems to be done with having children, she can easily get his grudging approval.
However, the actress said she must have been absent at the 'how to give birth to a baby girl' class. Omoni urged those who have fool-proof natural sex selection techniques, to please share with her while she gives serious considerations to the matter. But then, she is not yet sure if she will be able to handle the nine months gestation and accompanying sleepless nights.
Couples Have A Lot To Learn From The Oboli's
Looking at Omoni, no one would believe that she already hit her early forties. The actress is still looking pretty young even as her first son is slowly inching towards his twenties. Some would say she is blessed with a good physique but one would still need to give credit to the movie maker's happy and enduring marriage which is a key contributing factor to her fulfillment and ageless appearance. Besides, the actress is lucky enough to be married to a man who understands her and is equally abreast with the nature of her acting job.
Omoni's case is indeed rare in present-day Nollywood where couples rush into marriage only to divorce within a very short time. Even after three grown-up children, their union is still waxing strong and from what is obvious, the couple is the type that never gets tired of oiling the wheels of their relationship through ceaseless communications. Be it birthdays, wedding anniversaries, or their kids' birthdays, both Omoni and Nnamdi have always been vocal in professing their love for each other. Love is indeed a beautiful thing when couples like Omoni and Nnadi are involved.