Williams Uchemba is one of Nigeria's most loved actors and social media stars. He came to the limelight as a child and since then, has remained one of the most prominent actors in the film industry, enjoying huge followership on social media platforms, including Facebook and Instagram. It is thanks to all these that the actor now has a net worth of over $1.5 million. He made his fortune from the aforementioned aspects of his career life, as well as his efforts as a comedian, TV personality, and an established entrepreneur.
Of late, the actor has caught the attention of the Nigerian media sphere following his lavish wedding to the love of his life, Brunella Oscar. Even though he is someone who has always been in the faces of Nollywood enthusiasts, not so much is known about him on a personal level, including things such as his biography and other accomplishments and fortune. Nonetheless, we unraveled a few facts about the entertainer here.
Williams Uchemba Was Born And Raised In A Broken Home
The actual year of his birth is not known, but many are of the opinion that he was born in the early 1990s on October 22. The actor was birthed in the South-Eastern part of Nigeria, precisely in Abia State. It was also there that he spent his early life and got to start his career as a child actor.
He was brought up in a family of seven, and by the time he started his career, his parents' marriage had crashed, and his parents were separated. Because of this, the duty of taking care of the actor and other siblings fell on his mother. This meant that she was always busy trying to provide for them and train them properly at the same time.
Even before he got the chance to appear in his first film as a child, acting seemed to be the one thing that is in his gene as his sister also started out as a child actress, but she did not get the chance to go as far as Williams.
The first taste of fame for him was as an actor before he delved into many other things such as film production, motivational speaking, entrepreneurship, social media activities, and comedy among other things. He once made an attempt to start a musical career, but decided to suspend it after releasing a single, "I Don't Like What I Hate" which got over 140,000 views on YouTube. After the 2017 song, he released another less successful track, "Stay in Your Lane" in 2018 and since then, he has not made any attempt at rekindling the passion.
Early Career Journey As A Child Star
When Williams Uchemba started his career as a little child, Nollywood was filled with kids who only took roles that did not require them to speak more than a word or two at a time, and all they did was to move mechanically and nod responses. However, the young Williams who was not even up to 10 when he had his first role, was able to do it entirely differently.
He had the confidence of a well-established actor and could hold a conversation on the screen based on his scripts. He was a different kid on-screen and that became the first thing that won him the admiration of followers of the Nigerian film industry at the time.
He started his acting career in 1998 when he was 8 years old. However, it was by 2000 and 2001 that it became clear that there was a new kid in Nollywood who had come to change the status quo when he appeared in the film, Journey of the Dead, in which he starred alongside some of Nollywood's finest, including Pete Edochie, Olu Jacobs and Ramsey Noah. The movie earned him the Best Child Actor at the Africa Movie Academy Awards.
In 2002, the young actor graced the screen together with some of the best that the industry had to offer at the time, including Patience Ozokwo, Clarion Chukwurah, and Rita Edochie when he appeared in Oh My Son. Beyond Belief was the next film he appeared in, alongside veterans such as Sam Loco Efe and Omotola Jalade-Ekeinde in 2003.
Other films he appeared in as a child include Dorathy My Love in 2005 and The World of Riches in 2006 among many others. His career as a child actor helped in laying a solid foundation for how his career has now turned out to be. As a child, he won a good number of awards, including the Africa Magic Viewers Choice Award and Best of Nollywood Awards in the categories of Most Promising Actor in Nigeria and Most Promising Act to Watch respectively.
Williams Had His Education To University Level
Even though fame came to him very early in life, Williams Uchemba still ensured that he continued with his education. He dedicated his adulthood to his education because as a child actor, he did not have the time for that as he was busy building his career. The talented actor and comedian started his education in Abia State and it was also there that he got up to secondary level.
After this, the actor moved to Enugu State where he attended the University of Nigeria, Nsukka from where he graduated with a degree in International Studies. He paused his career when he was in school to train better and then rebrand himself.
He was at Nsukka for a period of five years before he moved to London where he ran a Global Analytics program for one year. It was from there that he moved to the US before coming back to Nigeria to continue his career.
Williams Uchemba Has Built An Enviable Fortune In Etertainment
As stated, the loveable actor has amassed for himself a net worth that is estimated at $1.5 million. Even though his career as an actor is what most people may tend to assume as his main source of income, he has also made money from doing other things. Here's a quick look at all the ways he makes his money.
He Has Cashed Out On Many Films As An Actor
First recognized as an actor, Uchemba has recorded more than 150 films to his name, with some of them making waves both in the country and other parts of the world. Easily described as a veteran in the business, he attracts a big fee for each appearance he makes but the exact amount is not known.
When he started at the age of 8, the first amount he was paid for a role was 3,000 Naira. In the late 1990s, that was very big money for him and his family. Today, he is perceived to be earning millions in the industry, although he opined that Nollywood has not fully matured to pay actors their due compared to other film industries around the world. His most recent films include the following:
Slay (2020)
Quam's Money (2020)
Sugar Rush (2019)
Merry Men 2 (2019)
Story Story: The African Rideshare (2018)
Uchemba Is A Big Earner In The Showbiz Arena
Apart from working as an actor, he has also built a career in other aspects of Nollywood as a writer and filmmaker who has produced a number of films. According to him, in his best year so far, he released two blockbuster movies which made him 300 million and 280 million naira respectively. That happened only a month after someone said to him that he wasn't going to have any job or endorsements deal for three years.
Also in showbiz, he hosts topnotch events and gets paid heavily for such. Among the events he had the chance to host are award ceremonies, but what he takes home at the end of such is not revealed.
Comedy Is Another Source Of Income For Williams
After he returned from the break he took to complete his education, Williams Uchemba reinvented himself as a comedian, although he fashioned his act in a different way from most others and did not delve into standup comedy. He is into skits which he shares on social media and YouTube. This has helped him to keep cashing a significant amount of money from social media where he has more than 3 million followers.
Also, he has done some comedy movies that have been very successful, adding to his already huge fortune.
He Has Many Endorsement Deals To His Name
The multitalented individual has also made money from the many endorsement deals he has acquired through the years. He has had deals with big brands, including the blockchain and cryptocurrency brand chiji14xchange, Pennek Nigeria Limited, Sapphire Scents, Roxbury Leisure Homes, and he was also the brand ambassador for the African Freestyle football championship 2019 among many others.
Even though it is no secret that he made millions of naira from all his endorsement deals, details surrounding the monetary aspect was never revealed. Nonetheless, he has more endorsement deals than many of his peers in the Nigerian movie circle.
He is Also A Businessman
Showbiz is what has made him famous, but he has evolved to other things since breaking out as an actor. According to him, he has had many business ideas and innovations in the bathroom that have turned out to be successful, revealing that it is from there that most of his ideas and even his vision for the path to take come.
The young entrepreneur has been in the estate business for a while now, even though the level of his involvement is still not clear. Needless to say, he has properties both in Nigeria and other parts of the world, including the United States.
He is also the CEO and founder of Prothesis Entertainment which is into the production business, as well as being the popular Prothesis School of Entertainment. The school is located in Abuja, Nigeria and teaches almost all aspects of filmmaking and movie production.
Williams Uchemba Had An Experience That Turned Him Into A Philanthropist
Uchemba has been a known philanthropist for a very long time. Over the years, he has taken to the streets to assist people in need and also pay school fees for many kids whose parents are struggling. He revealed that after he returned to Nigeria from the US in 2017, he saw an elderly man in his sixties selling ice cream in the Lagos traffic. Somehow, the man missed a step and fell and unfortunately, a truck hit him to death. This was the experience that forced the actor to start his charity venture.
It is thanks to this tragic experience that he started the Williams Uchemba Foundation through which he has assisted many people in different ways since it was founded in 2017. Every 25th of December, the foundation visits people living in the slums, widows, or the homeless to put a smile on their faces with different gifts. In 2020, he decided to visit inmates in prison with various gifts.
Being a big voice on social media, he started #TheGiveChallenge on Instagram, encouraging everyday people and celebrities to give to the less privileged in the society. Rapper Falz joined the challenge by contributing a million naira to the foundation while also encouraging six other celebrities to do the same.
His Cars And Houses Show He Enjoys The Good Things That Money Can Buy
Known for his hard work and dedication, Williams Uchemba takes the time to enjoy the money he makes while also making more money and assisting people. He has a good number of luxury cars, including a Mercedes-Benz C300 2016 which he bought for $44,000 in 2017 to celebrate his birthday. The car he purchased at Carmax was neither his first nor his last. Before then, the celebrated youth ambassador who seems to be in love with the German brand also had some other Benz cars, although the models are not known. One that is known, however, is his multi-million naira Mercedes G55 AMG which he bought many years ago.
Looking at the houses he has to his name, the actor was reported to have packed into his house in Los Angeles around 2017/2018. Details about the features of the luxurious property was not revealed but the value was claimed to be around $150,0000 dollars.
The actor mostly shares his time between Nigeria and the United States but has taken the time to vacation and travel to different parts of the world for both work and pleasure including places like Australia, London, Dubai, and Israel, which is one of his favourite holiday destinations.
Uchemba Has Not Escaped Controversies
Williams Uchemba's fortune is one of the things that has been questioned by many over the years, despite the fact that he is obviously a hardworking individual. While there are those who have alleged he could be into fraud, others suggest it could be something worse.
In 2018, he was dragged into a fraud case after the actor allegedly requested money to arrange a delegation to a United Nations youth event in the United States. According to a screenshot shared by Edafe Okporo, a US-based Nigerian human rights activist, the individual suspected to be the former child actor was demanding $1000 for the said activity, describing it as registration fee.
The allegation also called to question his place in the UN as United Nations Youth Envoy, Ms Jayathma Wickramanayake, who also doubled as an aide to the UN Secretary-General, claimed that the actor was not known to the organization.
In a swift defence of himself, the actor maintained his innocence in the fraud allegation, stating that the said Twitter account belonged to a known fraudster who was only impersonating him. He claimed many people have been defrauded by the same person and he had previously warned fans to be careful because he was not even on Twitter.
On the matter of his membership in the UN, he made it clear that he was not a UN ambassador, but rather the Deputy Nigerian Youth Representative, Youth Assembly at the United Nations, which turns out to be part of his description in his bio on Instagram.
The Actor Has Recorded Many Achievements
With a career that has spanned more than two decades, Williams Uchemba has recorded many achievements in all spheres of his life, including his acting career, philanthropic gestures, social activities, and much more. Aside from all the money he has made in his career, he has received many awards and has been celebrated both in the country and in diaspora for one thing or the other. Below is a list of some of the awards he has clinched thus far, and some accolades he received:
Lagos Entertainment Award- Best Supporting Actor of the Year (2016)
Social Media Awards- Individual Social Philanthropist (2018)
Social Media Awards- Best Of Social Media (2018)
 United States Consulate for his performance at the Carrington youth fellowship initiative (2020)
City People Entertainment Awards- Best Actor in a comedy.
Williams Uchemba Has Been Linked To Politics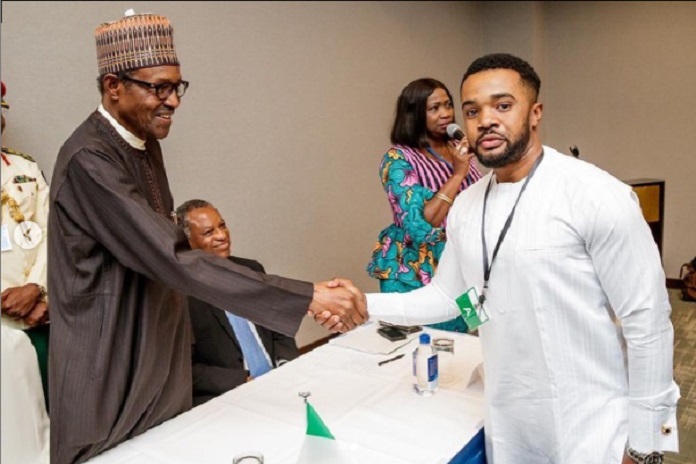 As a result of what seems to be his natural inclination towards serving others through his philanthropic venture and leadership positions, his name has been linked to political aspirations in the past, although he has not come out to indicate interest in contesting for any political office in the future.
The actor has, however, continued to get involved in youth activities as a youth leader and also in the activities of his community in Abia State. More so, he has been photographed with many leaders in the past, including President Muhammadu Buhari, former Nigerian Minister of Aviation Mr Osita Chidoka, and Prince Arthur Eze.
Williams Uchemba who is also a youth advocate fell on the wrong side of some Nigerian youths during the #EndSars protest when he made a comment that the protest had lost its essence after it dragged for a long time. This forced Nigerian celebrity, Adokiye Kyrian, to state that she was never going to vote for him if he decides to vie for a political office while also warning other youths not to look his way.