Originally born as a last (fifth) child and named Mark William Calaway, Undertaker took to sports early in his high school days. He showed a good mastery in basketball and football; with basketball earning him a college scholarship at Angelina College in Lufkin, Texas before he joined Wesleyan University in Fort Worth, Texas in 1985. But having tasted the wrestling sports in 1984 when he wrestled in for World Class Championship Wrestling (WCCW) with the ring name Texas Red, the talented sportsman dropped out of school in 1986 to take up his calling as a wrestler. The American Bad Ass, as he was fondly called held the enviable record of Wrestlemania for a long run of 18 to 0 unbeaten until Lesnar upset his record during the Wrestle Mania XXX in 2014.
Undertaker is one wrestler whose name has been in cyberspace in recent times with so many questions surrounding the WWE wrestler. The Deadman as he is also called has not made an appearance in the WWE in recent times which ultimately fuelled the speculations that he could be on his way out the ring thus the high demand for his whereabouts and the fortune he made from wrestling.
Although Undertaker's career began in earnest in 1984 with him working for different affiliate promotions including the WCCW; he only signed with World Championship Wrestling (WCW) in 1989. He had a short-lived career using the moniker – Mean Mark Callous then he joined the World Wrestling Federation (WWF), currently known as World Wrestling Entertainment (WWE) in 1990. This is where Undertaker became a household name winning 21 WrestleMania matches before going on to lose that winning streak on February 24, 2014. Stay on the page as we unveil details of Undertaker's net worth and how much he made from wrestling.
What is Undertaker's Net Worth?
Undertaker's career and achievements in wrestling have enlisted him among the most successful wrestlers the world has ever seen. A closer look at the medals the Undertaker has in his closet leaves one wondering what financial value The Deadman has accrued from the body breaking sport in the last 30 years. Undertaker's net worth is estimated at $17 million.
It is pertinent to state that the 6 feet 10 inches tall wrestler's earnings do not come only from the sport. He had augmented his wrestling's salary with cameo appearances in a number of films and television shows as well as real estate investments.
In 1991, the Undertaker starred in the film Suburban Commando where he played the role of Hutch. He also played an eponymous role in the 1999 documentary video titled Beyond the Mat. In all, The Deadman has starred in four films and seven TV shows, not forgetting video games numbering about fifty.
He lives in his Austin property with his entire family; he stated that his reason for living in Austin, Texas is to stay close to his hometown – Houston.
The Deadman may be on his way to retirement from the sport that brought him much glory and wealth but he has put up investments that would sustain him for the rest of his life. He is said to have made huge investments in real estate with his business partner – Scott Everhart. One of Undertaker's properties is situated in Loveland, Colorado, known as Calahart which is worth over $3 million.
See Also: Who Is Jinder Mahal, Is He Married, Does He Have A Wife?
How Much The WWE Legend Made From Wrestling?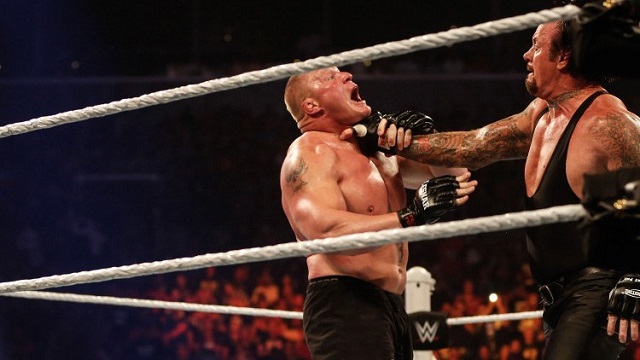 Undertaker's net worth was boosted by $2.5 million annual earnings he made in the course of his active career that spanned for over three decades. No wonder, his assets and cash are valued at about $17 million. Aside from the money he made, he sure won lots of medals in the ring.
Before his reigns in the WWF/WWE, he won the WCWA Texas Heavyweight Championship. He is a four-time WWF/WWE Champion, a three-time Heavyweight Champion, a six-time WWF World Tag Team Champion, a one-time WCW Tag Team Champion, and a one-time WWF Hardcore Champion. The Undertaker has headlined multiple pay-per-view (PPV) events for WWE, including four WrestleMania (13, XXIV, XXVI, and 33). The Undertaker holds the record of the second most prolific pay-per-view performer in WWE history, wrestling in 172 matches.
Undoubtedly, Undertaker has paid his dues and may have chosen to leave while the ovation is still loud, but one thing his fans would not forget in a hurry is his horror-themed, deathly and dreaded eyes features that characterized his days in the ring. Additionally, his 21 uninterrupted victories in the WrestleMania will always present him as a legend.