Apart from being the wife of the world-famous Deadman of the WWE professionally known as The Undertaker, Michelle McCool has been a mainstream celebrity right from the inception of her career in wrestling. However, she is best known for her stint in WWE where the female wrestler made a name as the debut diva ever to win the WWE Divas Champion in 2008. She also won it a second time, but that is not her only accolade. McCool is a two-time WWE Women's Champion and a one-time Diva of the year. Find out more about her below.
Who is Michelle McCool?
She was born as Michelle Leigh McCool in Palatka, Florida, the United States on the 25th of January 1980. The WWE Diva is quite unlike her parents who are both satisfied with a career that didn't put them in the limelight. While her dad Terry earns a living as a superintendent in the school system, Mary her mum works as a teacher. Aside her parents, Michelle McCool has an older brother Jeff who was a known football player at the University of Cincinnati.
During her formative years, the upcoming celeb was a diehard fan of wrestling, and by age seven, she was already adept at doing Ric Flair's signature maneuver, known as the figure-four leglock. She was a three-spot standout during and before high school, excelling in basketball, softball as well as volleyball. Her days at Pasco-Hernando State College saw Michelle McCool playing first base before joining Florida State University where she proceeded to bag masters in Educational leadership.
Before she became part of the wrestling world, Michelle worked in her home town of Palatka, Florida teaching seventh-grade science for all of four years, she also worked as both a kickboxing and a gymnastic teacher. She also put in some time as a personal trainer, and took part in National Physique Committee fitness contests,
Undertaker is not her first husband
She has gone through a couple of marriages, her first was with Jeremy Louis Alexander – her high school sweetheart whom she married in 2001. However, their union did not last long as it came to an end in a 2006 divorce.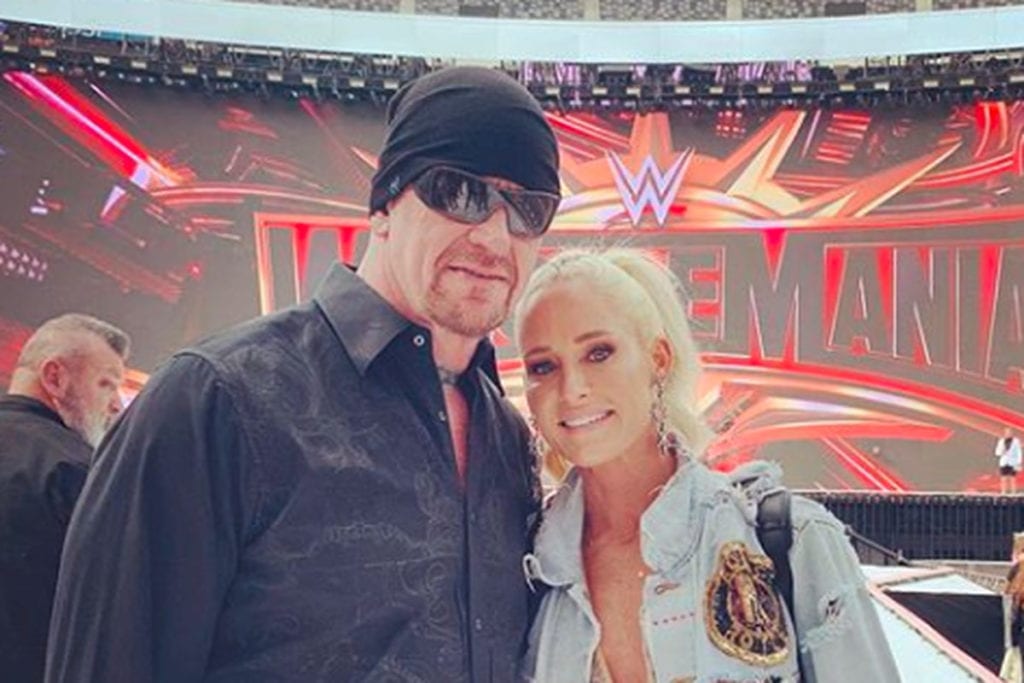 Michelle McCool got married for the second time in 2010, when she exchanged marriage vows on the 26th of June with Mark Calaway, professionally referred to as The Undertaker. Their wedding took place in Houston Texas and has endured for 9 years; moreover, the couple had a new addition to their family on the 29th of August 2012 when their daughter Kaia Faith Calaway was born.
Michelle McCool's Health Issues
Michelle McCool sustained several injuries during the course of her wrestling career. The first time was during an oversea tour with WWE when the diva fractured her nose. She has had to go on hospital admission twice as a result of a broken sternum, broken ribs, and xiphoid process. Just before her exit from the WWE, McCool also revealed that she sustained injuries on her toes for a couple of months, and has also had torn joint capsules in addition to a torn MCL. She underwent treatment in 2016 after being diagnosed with skin cancer. The diva herself announced her struggles with infertility via Instagram on the 24th of April 2019.
Awards and Accolades
Michelle McCool's stint with Pro wrestling Illustrated earned her a couple of prestigious awards like the 2010 Woman of the Year and she also made the 2010 list of the PWI Female 50 as the #1 top female wrestler.
The diva's days with WWE were even more eventful, there she became a two-time winner of WWE Divas Championship, two-time winner of WWE Women's Championship, and equally a two-time winner of the Slammy Awards. Michelle McCool bagged both the Knucklehead Moment of the Year and Diva of the Year in 2010.
What is Michelle McCool's Salary and how Much is She Worth Now?
The two-time Diva Champion has a net worth in excess of $4 million, which encompasses all her earnings in addition to the value of her properties. Reports revealed her annual salary with the World Wrestling Entertainment to be above $250,000 annually.
Body Statistics
Though she is not in the same league as her spouse The Undertaker who stands at almost 7 feet tall, Michelle McCool is quite tall in her own right. Her billed height is listed as 5 feet 10 inches which approximates 1.55m. however, her real height is two inches removed from the billed at 5 feet 8 inches or 1.76m.
Talking about the diva's weight, Michelle McCool weighs 58 kg or 127 lbs in body mass. She is a veritable sex symbol with a combination of body statistics listed as 38 for bust, 32 for waist and 38 for hips. The famed female wrestler is a natural blonde with eyes that are hazel green in color.