King Monada has been in the music scene for quite a while, since 2013, but it was thanks to his 2016 song, Ska Bhora Moreki that he became really famous. This was followed by his 2019 hit titled Malwedhe which made him a sensation on an international level. It is, therefore not surprising that he has decided to lavish his family with all the good things money can afford, including a big mansion, cars for his wife and mother, and some more exotic cars for his own pleasure.
Born Khutso Kgatla, the singer who rose to fame by projecting Limpopo music, boasts of a net worth that is said to be close to or over R39 million. So far, he doesn't seem to be in a lack of ways to spend his fortune.
The Mansion That Cost King Monada Over A Million Rand
In 2020, just when the Coronavirus was tearing through the economy, King Monada gave his family something to at least be thankful for in the tough times when he built a massive mansion for them. He built the large property in his village in Limpopo where his family is at.
According to the South African singer, many people may find it hard to understand why he decided to set up such an exotic structure there, but he said he chose his village because that is where his kids are from. The top problem with the village is that there is neither electricity nor water, both of which he said he was going to provide for his family. The Malwedhe hitmaker also said he set his home in Mokgolobotho, a small village outside Tzaneen, Limpopo because it was where his family feels at home.
The massive house which boasts of six bedrooms among other things is said to have gulped the singer anything between R1.5 million and R3 million. Initially, it was supposed to have been completed in April 2020, but the singer who has three children said he suspended work on the project as a result of the national lockdown caused by the COVID-19 pandemic. However, he stated that once the lockdown was lifted, he was going to complete the building.
Other features of the house, apart from the number of bedrooms, have not been revealed. What is known is that the house has everything one might need in a standard house and it is large enough so that no extension may be needed in the future even if the family grows.
What Was King Monada's Reason For Building His Massive House?
While he might still be in his twenties, the singer has already married two wives and three kids. It was mostly because of them that he decided to build an exotic house. He said he is aware that the lifespan of an artist is not guaranteed; something could either happen to the artist or even his career.
Also, all the luxury cars are not things one could look up to as investments. As such, he decided to have real investment; a mansion, so that if anything happens to him or his career, his wives and kids can have something.
More so, following the nationwide lock-down, it became clear to him that there was a need for him to invest in something worthwhile because the entertainment industry might not be as stable as thought.
The new house he is building for his family is opposite his own house which is also well lavished. The house is home to his music studio
Fans On Social Media Speculated He Might Be Broke
Since the time work was suspended on the building in April, nothing significant was done on the project more than 5 months later, even after the lock-down was lifted. This got fans on social media speculating that the singer must have probably gone broke as a result of the extended lockdown.
The Malwedhe singer has since come out to rubbish the speculations, stating that although he has been adversely affected by the lockdown regulations, there is no truth to the idea that he was too broke to finish the massive house that he started.
He also added that he came from a very poor family and had to work his way up the ladder through hard work. The lesson from growing up in a poor home where he sometimes had to go to bed hungry was that every cent counts, and so, he still had enough to finish his dream house and also pay his rent.
Do All Of King Monada's Wives Live In The Same House?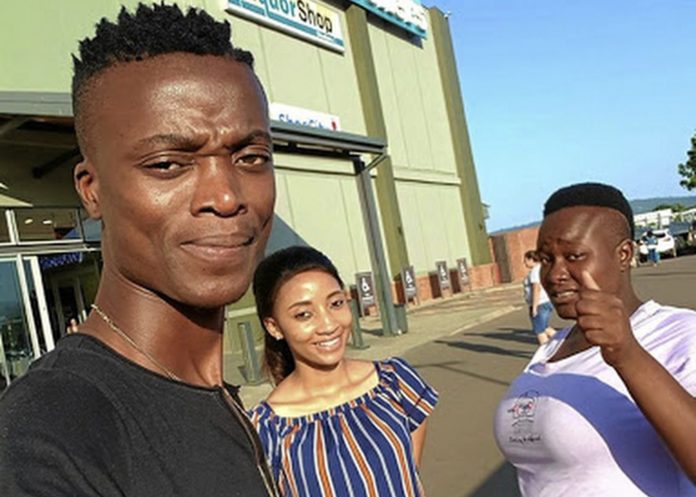 As already stated, the talented singer is married to two women; Lerato Ramawela, who is his first wife and Cynthia Nthebatse Lion. The three seemed to have lived happily until recently when it was reported that Lion has left the polygamous marriage.
Before then, it was reported that the two wives were living with him in the same house that he was also living in. Nonetheless, a clear picture of their living arrangement in the polygamous marriage has never been revealed.
When he embarked on the project of building the mansion opposite his own home, it was reported that the project was for his two wives and kids. Hence, the wives are expected to continue living in the same house which happens to be massive and with many rooms.
Why Did King Monada Gift His Wife a Car?
Even before he started building his mansion, King Monada has been known to be a lover of luxurious cars. In his fleet are cars such as C63 AMG Merc, CLK 350 Merc, Volkswagen Golf 1, Viano Marc and a BMW M4 sedan.
Apart from his own, he has also spent money on buying cars for his family members. He bought a Volkswagen Figo car for his first wife. While sharing the good news with pictures of the car on social media, the singer made it clear that he got the car for his wife to make her happy. He also added that his wife deserved more than the car.
This was not the first time he was buying a car for his family members. Back in 2018, the singer also bought a brand new car for his mother. The 'fainting' dance musician almost shared his mother fainting in excitement when he surprised her with the gift. He got the car for his mother, Thandi Matlala, in appreciation for all her sacrifices for him as his biggest supporter from the time he started his music career and even before.
Matlala brought up her children in poverty, but she made sure to always provide the necessary things she could. She lost her husband Elvis Kgatla after a prolonged illness and was forced to relocate with her kids to her parents' house because of the extreme poverty they suffered.
To surprise her with the car, King and his brother fetched her from the local market where she works as a cook and handed her the keys to the brand new Ford Figo. The gift caught her by surprise as she was never expecting to own a car. To make the surprise even more pleasant, he got her a driver who would take her to and from work since she was yet to get a driver's license.