Valerie Silverstein is the ex-spouse of comedian and actor Andrew Dice Clay who is also a talented hairstylist. She became prominent after she married Andrew Clay. Although the marriage was short-lived (2010-2014), it appears that the duo has chosen to maintain a romantic relationship without the baggage of the label 'marriage'.
Valerie has managed to take advantage of her newfound popularity and continues to push her brand on social media.
Summary of Valerie Silverstein's Biography
Full name: Valerie Silverstein
Gender: Female
Date of birth: 30th of June 1982
Place of Birth: New York, in the United States
Valerie Silverstein's Age: 41 years old
Ethnicity: White
Nationality: American
Zodiac Sign: Cancer
Sexual Orientation: Straight
Religion: Christianity
Marital Status: Divorced
Valerie Silverstein's Ex-Husband: Andrew Dice Clay
Profession: Hairstylist, make-up artist, cook, social media influencer
Valerie Silverstein's Height in Inches: 5'4″
Valerie Silverstein's Height in Centimetres: 163
Valerie Silverstein's Weight: 59 kg
Hair colour: Dark brown
Eye colour: Brown
Who Is Valerie Silverstein: Ex-Wife of Andre Dice Clay The Comedian?
Valerie Silverstein was born on the 30th of June 1982 in New York, in the United States. Before she became popular, she worked as a hairstylist and has continued her work. She also works as an entrepreneur and social media influencer.
Despite being married to the controversial comedian who is occasionally in the news for wrong reasons, Valerie has managed to keep information about herself away from the media. Details about her childhood, education, and family are unavailable, as well. Valerie has only the world aspects of herself that she wishes to share.
On Valentine's day in the year 2010, she married Andrew Dice Clay, becoming the third woman to walk down the aisle with the comedian. Despite their huge age difference, the two seemed very much in love and Andrew, who isn't the type to mince words, described her as his "gift from heaven". The comedian has stated that he believes their meeting and eventual marriage was orchestrated by God. Valerie changed her name to Valerie Silverstein after she married Andrew Dice Clay, whose legal name is Andrew Clay Silverstein.
During the course of their marriage, she was fiercely protected by her husband, who is over twenty years older than she is. At some point, rumors began to spread insinuating Valerie Silverstein was a porn star; however, Andrew was quick to refute the rumors. As a result, it came as a shock when the couple announced their separation in March and eventual divorce in April 2014.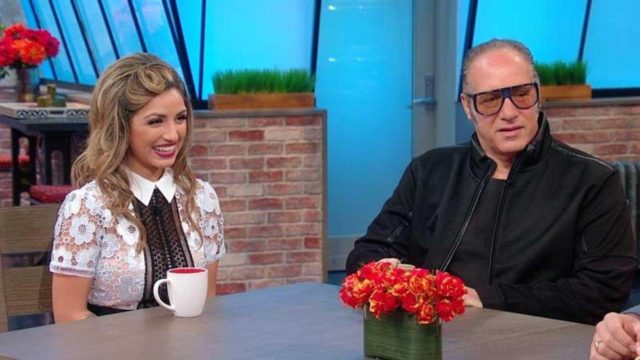 Other Key Facts About Valerie Silverstein
1. Valerie's current relationship
Since her divorce from Andrew, Valerie Silverstein has not been seen with any other man. She also continues to use his legal name across her social media pages which further validates the fact that the duo might still be going strong. She also continues to attend various events with him. In some of her posts on social media, she references her boyfriend (without calling names) which indicates that she has a man in her life and is happy about the way things ended.
2. Relationship with Andrew Dice Clay
The couple's official divorce was in 2014 and from all indications, as well as Andrew's statement, their divorce appears to be amicable as he revealed that the word "marriage" put a lot of pressure on their relationship. They decided to file for a divorce and have been more in love and have more respect for one another. He further claimed that they celebrated their divorce at a restaurant in Hollywood. Another major reveal about their relationship is that although they are divorced, they have chosen to remain in a romantic relationship.
3. Love for cooking
Asides her love for makeup and hairdressing, which she has successfully made a career of, Valerie Silverstein also has a flair for cooking. She has an Instagram account dedicated to her cooking where she shares original recipes as well as her favorite recipes of different mouth-watering dishes. She was also a winner on the Fox cooking show – MykitchenRules. Valeria uploads several videos about the preparation of various simple, Mexican and exotic dishes.
4. Social media
Valerie understands the dynamics and power of social media and has been able to harness her several businesses and entrepreneurial endeavors on social media. She has separate accounts for her cooking, hair styling and makeup, and several others. She is known to post irresistible pictures that continue to attract followers to her page. Valerie also has impressive followership on twitter as well as Instagram. She has thousands of followers across all her social media pages.
5. Physical statistics
Valerie Silverstein has an enviable physique which she constantly flaunts on social media. She is 5 feet 4 inches tall and weighs a commensurate weight. She also has hazel eyes with brown/dark brown hair.
FAQs
How Old is Valerie Silverstein?
Valerie Silverstein is 41 years old. She was born on the 30th of June 1982 in New York, the United States. Her zodiac sign is Cancer.
What is Valerie Silverstein's Real Name?
Valerie Silverstein was born Valerie Vasquez. However, after she got married to Andrew Dice Clay on Valentine's Day in Las Vegas in the year 2010 she changed her last name to Silverstein.
Does Valerie Silverstein Have Children?
Valerie never had any children during her marriage to Andrew Dice Clay. It's possible she went on to have kids after they parted ways but we are not sure of that.
What is Valerie Silverstein's Net Worth
Valerie Silverstein's net worth is not known at the moment but it is believed that she makes enough money to keep her life running smoothly. A business woman, she has several money-making avenues such as hairdressing, professional makeup, etc