Vernon Davis who plays for the Washington Redkins was once named the best and also the highest-paid tight end in the NFL. A two-time Pro Bowler and one of the most dangerous tight end you would ever come across. While with the San Francisco 49ners, he was referred to as the best tight end ever through the 2009 season recording 13 touchdowns,78 career high catches and 956 receiving yards.
His fans named an amazing catch he performed in the 2011-2012 NFL Playoffs against New Orleans Saints as The Catch III. He was one of the pivot stars who contributed immensely to the victory of the Denver Broncos 2015 Super Bowl and also the 49ners NFC championship in 2012. You wouldn't dispute the fact that Vernon sure is a loud name in the football world. This article would tell you more about the footballer.
Who is Vernon Davis and How Old is He?
Born as Vernon Leonard Davis on January 31, 1984, in Washington DC. His parents are  Duke and Jacquelin Davis. His father, Duke has been his support system ever since he was born. Unfortunately, things went sour for the family as his mother suffered from drug abuse. Vernon is one of seven siblings and he grew up as a grannie's boy but ensured that he was an exemplary child to his other brothers encouraging them to pursue their dreams and be of good behaviour.
He participated in several sports while in high school and was good in all of them. He played football, basketball and was amazing on tracks. His educational pursuit started at Truesdell Elementry located at Washington DC, later went to Paul Public Charter School. He also attended Dunbar High School and was teammates with Josh Cribbs who currently plays as a wide receiver for the New York Jets.
While in high school, he was named the fourth-best tight end prospect of his class and was a four-star recruit as listed by Rivals.com. He topped the whole of his class and was also ranked as the top 5 best student-athlete tight ends in the world by ESPN.
Career Achievements
Vernon Davis soared to the very best while at high school and finished the season with an outstanding record, 21 catches, 51 yards, and 5 touchdowns. Impressively, he continued at a good pace and at college he recorded 1,371 yards on 83 receptions for 16.5 yards per catch and won the Mackey Award in 2005. He was also part of the consensus All-American and All Atlantic Coast Conference first team in that same year.
Afterwards, Vernon was awarded as the finalist and the best tight end. Nonetheless, it was not all glooming while at college as he had his ups and downs but he strived hard and earned the work out hunk in college where he recorded 685 pounds squat, 824 pounds index, 380 pounds power clean and 480 pounds bench press.
Having set a solid foundation while at college and high school, Vernon Davis became one of the top prospects for a tight end during the NFL draft in 2006 and was later selected as the 6th overall by the San Francisco 49ners that year.
Vernon Davis started his professional career with a glimmering light and recorded his first NFL catch recording 31-yard touchdown and also recorded a career-long 51-yard touchdown in a game against Green Bay Packers. He was later traded to the Denver Broncos where he also set an impressive record. Currently, he plays for the Washington Redskins after he signed a one year contract with them in 2016. Moreso, he renewed a three-year contract with the team on March 8, 2017
Details of His Net Worth
You wouldn't expect less from an outstanding football player like Vernon Davis. He has sure made wealth from his career and has acquired a lot of properties to his name. With so many achievements, a lot of sources have estimated his net worth but have arrived at different numbers. His net worth varies from $16 million to $ 46 million.
Is He Married or in Any Relationship?
As for if Vernon Davis is gay, no he isn't. He has never been linked to any of such and so we believe he is straight with regards to his sexual orientation.
He is not yet married but has been in a relationship with his longtime girlfriend, Janel Horne. The two started dating since their days at high school and have not had any reason to call it off.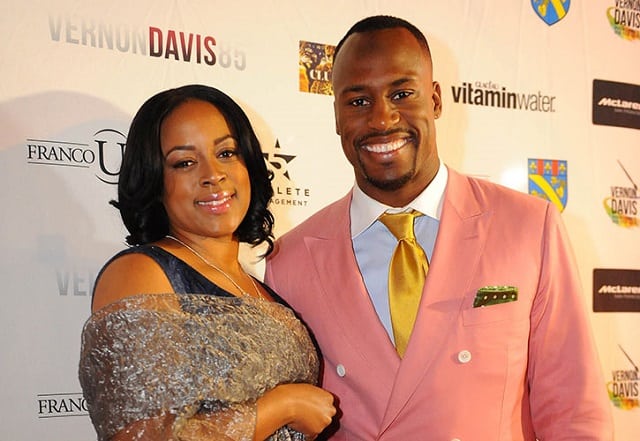 Vernon and Janel live together in their home at San Jose and have three beautiful children together. The tale of having an extramarital affair is always a story for most athletes and for Vernon despite being committed to his family was said to be having an affair with Natalie Nunn sometime in 2010. We don't know how certain this is, however, we know the couple is still together.
Is He Related To Vontae Davis?
Aforementioned, the footballer has six brothers and are all doing well for themselves in their various career paths. Although not all of his brothers are popular, the one who took the same career path as Vernon is Vontae Davis.
See Also: Nate Sudfeld Bio, Height, Weight, Measurements, Siblings, Family 
Vontae was born on May 27, 1998, was very active in the game of football and played as a cornerback for the Indianapolis Colts, Buffalo Bills and the Miami Dolphins of the NFL. Like his brother, he was a guru at his games and also played in two Pro Bowls. He retired from the game of football in the middle of the 2018 season.
The American football champion is quite tall and has an amazing physic. We are almost certain that he has taken his time in workouts and is also watching his diet. He has a right athletic body build and perfect balance as a tight end. He stands at 6 feet 3 inches and is, of course, a very handsome dude. As a tight end, he has shown the pace as a hybrid player and is so perfect when it comes to playing defense on the field. He currently weighs 115kg.