Matters of the heart have always caused people to take some bold steps in their lifetime. Veronica Berti, popular for being the wife of legendary multiple award-winning Italian singer, songwriter and record producer, Andrea Bocelli is one of such.
Veronica Berti is an Italian actress, producer, and manager. As an actress, Berti is known for her role in the PBS television series, Great Performances (1971-present). Berti also made appearances on ITV's British daytime chat series, The Alan Titchmarsh Show (2007-2014). She is also popular for appearing in Andrea Bocelli's self-titled documentary music video, "Andrea Bocelli Live from Florence" (2016).
In 2018, Berti appeared in Celebrity Fight Night in Italy alongside her husband, stepsons and other actors.
Let's now have a closer look at the wife of the world's best tenor singer. It's sure going to be an interesting ride!
Veronica Berti Biography
Veronica Berti was born in 1984 in Ancona, Italy. Her precise birth date is not available. She was born to Italian parents, Ivano Berti and his wife. Further information on her background, early years and education are also not available.
On  March 21, 2014, Veronica married long-time boyfriend, Andrea Bocelli. The marriage solemnization took place at the Sanctuary of Montenero on the Livorno hills while the wedding party was held at Andrea's villa in Forte dei Marmi, both in Tuscany, Italy.
Prior to the wedding, Veronica and Andrea had already welcomed a baby girl named Virginia together. Virginia was born on 21 March 2012 in the Massa-Carrara province, Tuscany. It was actually on her second birthday that Veronica and Andrea tied the knot.
Meanwhile, Bocelli already has two sons – Amos and Mateo from a previous one-decade marriage to Enrica Cenzatti (1992-2002). Veronica Berti is now the guys' stepmother. She currently lives with her husband and daughter in their large colonial cum modern home in Miami, Florida in the United States.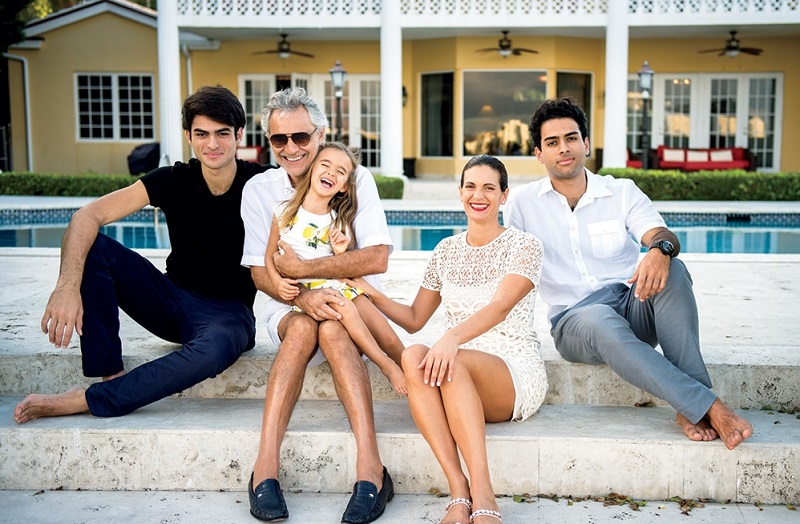 Her step-sons also live in Miami with their mother, Enrica in the home Bocelli once shared with them.
5 Interesting Facts You Need To Know About Her
1. Veronica Dated Hubby for a Dozen Years!
It is quite weird to believe that Veronica Berti met Andrea Bocelli way back in 2002. Berti and Bocelli met at a party and it was simply love at first sight! After exchanging acquaintances, they immediately became friends.
During an interview after their wedding, Bocelli revealed that he was captivated by Veronica's skin texture and voice. He described the swift kick-off of their relationship as the "quickest, speediest start", adding that their marriage began just at the time they met each other. In fact, the duo moved in with each other that same night they met.
Soon after their meeting, Andrea left his wife and fully started dating Veronica. One might be wondering how Berti and Bocelli managed to keep on for the next 12 years before making it official. And to think of the fact that Berti has never married for the first time in her life makes the story even more interesting. Well, just as we hinted earlier, the force of love made all the strange things possible.
2. She Became Her Husband's Manager
In 2006, Andrea made Veronica the manager and CEO of his currency management office, Almud. In 2011, she alongside Bocelli established the Andrea Bocelli Foundation. She also became the Vice Chairman of the humanitarian organization which provides assistance to people struggling with disability, poverty, and social exclusion.
3. She's 25 Years Younger!
Veronica was just 18 when she met Bocelli in 2002. And here is yet another puzzle – how did an almost 45-year-old man catch the fancy of an 18-year-old lady? Well, the answer remains the same – the magic chemistry of love!
Also See: Jaclyn Smith Spouse, Daughter, Age, Net Worth, Where Is She Now?
At the time of their marriage, Veronica Berti was 30, while Andrea Bocelli was 55. Following their wedding, Andrea told The Guardian in an interview that their wide age difference makes their relationship easier.
4. Veronica Has Not Dated Nor Married Any Other Man
Based on available records, Veronica Berti has had no other man in her life except Andrea Bocelli. Even if she has been previously involved in any relationship, it would not have been a very serious or long term affair. Having met Andrea at the young age of 18, it is possible that he is her first love. Moreover, in the course of their almost 20-year relationship, both before and after marriage, Berti has never been romantically linked to any other man.
5. Berti Is Cordial with Cenzatti (Andrea Bocelli's Ex)
It is very rare for someone to maintain an amicable relationship with her husbands' ex. But Veronica's case is among the rare occasions where this is obtainable. She is not at all an enemy to her husband's ex-wife, Enrica Cenzatti.
Andrea once described the good relationship between the two women as a "wonderful job" done by Veronica Berti. The credit for this, of course, should not go to Veronica alone, Enrica must have a heart of gold to be able to allow the woman who took her place in her husband's heart to be a friend and not a foe. Cenzatti even attended her ex-husband and Veronica's wedding ceremony.
Moreover, we think that Andrea Bocelli must be a respectable man to have been able to charm such caliber of women. Andrea once revealed in an interview that they have never had a fight. Rather, they all attend events together from time to time like one big family.