Victoria DiGiorgio is the proud owner of several lucrative businesses that have allowed her to achieve financial independence and success.
Victoria's businesses span across various industries, including real estate development, hospitality management, and fashion retail.
Despite being a successful businesswoman, Victoria remains committed to prioritizing her family above all else.
As the United States justice system fought tooth and nail to bring one of the most notorious crime lords John Gotti to justice, Victoria Digiorgo knew her husband's reign of terror was nearing its end. More so, she knew she would have to be both father and mother to their children. The worst happened in September 2002, when her husband finally succumbed to throat cancer.
At the time of his death, John Gotti wasn't surrounded by respected members of his crime family. He wasn't in a special intensive care center for the high and mighty, neither was he sure of a burial befitting the lord of one of the most successful crime families in the United States, the Gambinos.
How Victoria DiGiorgio Met and Got Married to John Gotti
Victoria Digiorgio's relationship with the crime boss began when they first met at a New York City bar back in 1958. Their love blossomed so well for four years till they tied the knot on 6th March 1962. Well aware of her husband's vocation, Digiorgio stuck with him regardless. Although she disapproved of his criminal activities and even got into altercations with him about it, Digiorgio never made his activities public. As she recounts, though Gotti may be a crime boss on the outside, he's a principled man with deep family values. Despite their wealth, the Gotti's chose a middle-class lifestyle.
Brief Background About Her Husband
John Gotti was born to parents of Italian origins on October 27, 1940. As the fifth of thirteen children, Gotti grew up in extreme poverty and got into crime from the early age of 14. Although a high school student of Franklin K. Lane, Gotti dropped out of school so he could join the Fulton-Rockaway Boy; a small gang affiliated with the Mafia. From there, he rose through the ranks until he became boss of the Gambino family after murdering its then leader, Paul Castellano in a shootout on the night of 16th December 1985.
He was installed as the leader of the family barely a month later. Gotti reigned as a crime boss and was so popular for his expensive shiny dress sense in the late eighties into the early nineties until the law caught up with him. In 1998, while serving his life-time prison term, he was diagnosed with throat cancer which eventually led to his death on 10th June 2002.
Where Is Victoria DiGiorgio Since Her Husband's Death?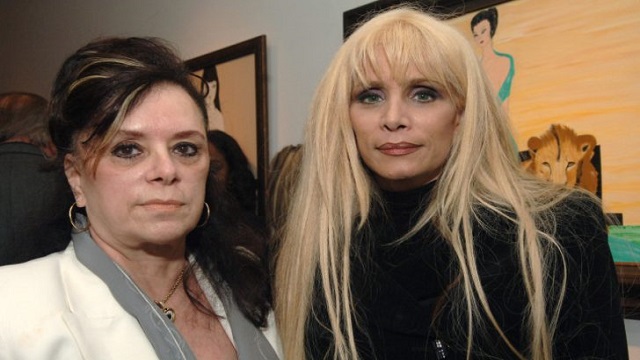 As far as we know, Victoria DiGiorgio has settled into a discrete lifestyle and hardly makes any appearances in public.
Now widowed, Victoria has four living children out of five: Angel (b.1961), Victoria (b.1962), John Jr. (1964), and Peter Jr. The woman showed impressive grit in defending her children from the ire of the public media. Although her kids are now grown up, Victoria continued to push for the release of her first son John Jr. who had reportedly taken after his father. The family was shocked after news came that John Gotti Jr. had been arrested for gambling and extortion in 1998. Unbeknownst to them, John Jr. had been boss of the Gambino crime family since his father's incarceration.
However, this had been a secret between Gotti and his father and the rest of the Gambinos. DiGiorgio was reportedly infuriated with her husband for putting their son in harm's way. She would later coarse her son to take a plea, a step she regrets till today. John Gotti Jr. remained locked up in prison until December of 2009. His release came after the 12 jurors assigned to his case admitted that they could not reach a common verdict. The judge then acknowledged a mistrial and Gotti Jr. was released following a decision by the prosecutors not to seek another trial against him. DiGiorgio reportedly played an immense role to secure the release of her son.
What Is Victoria DiGiorgio Doing Now?
She reportedly owns a number of businesses that turn in a sizeable amount by the year. Her daughter, Victoria Jr. has been the face of the family to the media. Since 2004, she has put her best foot forward in making media appearances, co-writing documentary and movie scripts; all to correct the myths that the public has had concerning her father over the years.
In 2009, the year Gotti Jr. was released from prison, Victoria published her first book, The Family of Mine: What It Was Like Growing Up Gotti. The book became the basis for a biopic screenplay for Lifetime's Victoria Gotti: My Father's Daughter.