A former celebrity spouse in the 1980s, Victoria Granucci was flung to the limelight following her marriage to a super famous singer. Though she already had a lucrative and budding career in the entertainment industry before then, Vicky is best recognized as the woman in whose arms John Mellencamp found love for a second time. In addition to being a former wife to the Grammy-winning singer and Rock and Roll Hall of Famer, Victoria is also considered a celebrity parent.
All of the above makes her someone a lot of people are interested in keeping up with, at least from time to time. But then, Victoria is quite a private individual who has nurtured the act of avoiding things that would earn her the attention of the public. As you would soon learn, this has always been so, it only heightened in recent years.
Victoria Granucci Was Fairly Popular Before She Met John Mellencamp
For someone who has taken great pride in avoiding publicity, it is only natural that almost nothing is known about Victoria's birthplace, parents, siblings, family background, and early life.
Nonetheless, it is no secret that she was born on November 26, 1958. For her academic records, the name of Granucci's high school is unknown but it is believed that she is not college-educated.
Victoria kicked off a career in showbiz right after high school. She has a handful of screen credits, working both in front and behind the camera. Granucci featured as an extra on the set of films, shows, and music videos such as Charlie's Angels, Happy Days, CHiPs, Grease, Fantasy Island, Thank God It's Friday, and Love Boat, among others.
All of these features made her quite a popular face in entertainment circles but it was her relationship with Mellencamp that took things further and brought her to the spotlight.
How Working With Mellencamp And The Relationship That Ensued Dragged Victoria Into The Limelight
Already a part of the entertainment industry, albeit a silent member, Victoria sprung to the spotlight following her marriage to Rock and Roll Hall of Famer John Mellencamp.
Besides their erstwhile romance, the couple also worked together with Victoria, starring in some of her husband's music videos. From working behind the scenes on many of John's videos, she made a progression and was featured in a video. One of her most recognized screen credits is the feature in Mellencamp's hit music video, Jack and Diane.
As fate would have it, Vicky Granucci and the Grammy-winning singer became lovers. As the musician is super famous, it rubbed off on Vicky as plenty of people were curious to learn more about the woman who captured the singer's heart just as he parted with his first wife, Priscilla Esterline.
The Ex-couple Got Married in 1981, The Same Year John Divorced His First Wife
Though the marriage was Victoria Granucci's first, it was the second for John who was formerly married to his high school sweetheart, Priscilla Esterline.
Victoria and John met while Granucci was working as an extra. They quickly established a romantic bond and eventually tied the knot sometime in 1981. Victoria and John soon expanded their family and welcomed their first daughter named Teddi in July 1981. Teddi's sister Justice was born in 1985.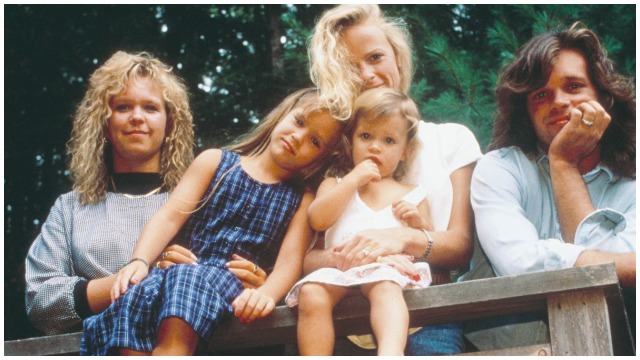 The former couple relocated to Indiana after their marriage. Though Victoria Granucci later admitted that working with her ex-husband was a good experience, she is believed to have quit her showbiz career to become a full-time homemaker.
With her husband mostly on tour, it was only logical for Vicky to stay back at home and raise their daughters.
They Parted Ways In 1989 And Victoria Has Remained Single
Unfortunately, in 1989, the couple shocked fans with the news of their divorce. The circumstances surrounding their divorce was originally unknown until 1994 when Mellencamp confessed to having committed a professional hazard and being unfaithful to his wife while on tour.
While her rockstar husband quickly moved on and remarried again after their divorce, the same isn't the case for Victoria Granucci. It is believed that she has never remarried since her first marriage ended. Victoria relocated to Hilton Head, South Carolina, and it is uncertain what exactly she has been up to since then.
Considering the status of the man she was once married to and the fact that their union ended in a divorce, people are curious about Victoria Granucci's net worth based on the assumption that she must have walked out of the marriage with a good deal of fortune.
As earlier hinted, Victoria Granucci had an active career in the entertainment industry before and during her marriage to John Mellencamp. However, she later became a full-time stay-at-home-mom and eventually retreated from the spotlight after her marital relationship with John Mellencamp ended. Given the uncertainty of her career endeavors thereafter, there is no information readily available about Vicky's earnings or net worth. If she received anything as a settlement after the end of the marriage, it has remained unknown to the public.
What Has Granucci Been Up To Lately?
Though it has been reported in various quarters that she works at Reilley's North End Pub, the capacity of her service there is unknown. But being a doting mother, Granucci has remained an integral part of her daughters' lives. Victoria Granucci is a loving grandmother to Teddi Mellencamp's kids and is presumed to be enjoying living her life out of the limelight.
While she may not be present on all popular social media sites, it has been claimed that she is relatively active on Facebook. In addition to being socially inactive, there is also a scarcity of her photos on the internet. Besides Vicky's Facebook profile which reportedly states that she currently lives in Hilton Head and loves being a grandmother, not much is known about her endeavors in recent years.
Vicky is also recognized as a celebrity mom as her first daughter Teddi is an actress and reality television star who joined the cast of The Real Housewives of Beverly Hills (RHOBH) in 2017.
An accountability coach, Teddi is a former nationally ranked professional equestrian and she is very passionate about maintaining good body shape.