Victoria Justice is a renowned American singer and actress who shot to fame with her roles on Nickelodeon, especially her performance on the Zoey 101 TV series. Her acting skills are said to have been groomed with experience and she has shown this to be true with her performance in movies like The Boy Who Cried Werewolf, Funsize, The First Time, and much more.
We wouldn't want to leave out her incredible soprano voice which became evident after singing different soundtracks for movies and her YouTube channel. This talented damsel has sure sparked curiosity among fans who would love to learn more about her.
What We Know About Victoria Justice's Early Days
Born on the 19th of February 1993 in Hollywood, Florida, the actress' full name is Victoria Dawn Justice. She belongs to a small family unit with her parents and a half-sister. The juvenile actress attended Cleveland high school and has a diploma which she obtained through a homeschool program.
In a bid to polish off the rough edges in her act, the damsel further attended Millikan Performing Arts Academy in Los Angeles. Justice moved to Hollywood California in 2003, leaving her mom and sister behind to pursue a career in entertainment. Prior to her decision to build a career in the industry, she was a cheerleader and also took gymnastics classes.
Victoria Justice Is From A Mixed Background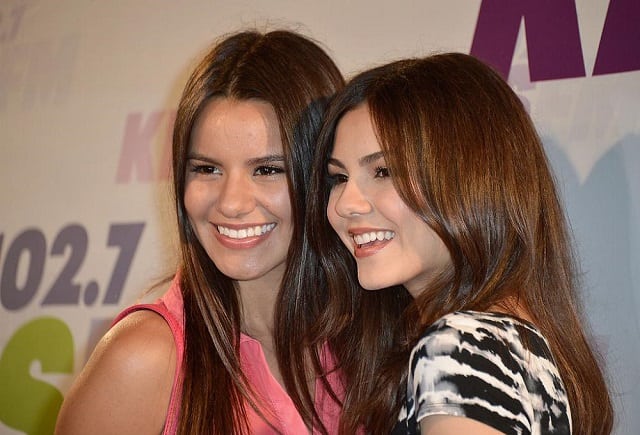 She is the daughter of Serene Reed (mother) and Zack Justice (father), though their professions are not known. Justice, who goes by the nickname Toric or Vicky is multiracial; while her mother is of Puerto Rican heritage, her father's ancestry is a mixture of English, German, and Irish.
The Nickelodeon star has a younger half-sister named Madison Grace Reed and from what we gathered, she has no other sibling. Madison was born on April 29, 1996, and has taken her career path also in the music industry. Both girls did a public performance together in 2013 during a concert duet.
She Made Her TV Debut At Age 10
Victoria Justice was just 10 years old in 2003 when she made her debut appearance on screen with the series Gilmore Girls episode The Hobbit, the Sofa and Digger Stiles. Following that, she joined Disney Channel after her family moved to Los Angeles and starred in the series The Suite Life Of Zack & Cody, appearing as a young pageant contestant Rebecca.
In 2005, Aaron Ruell's short film Mary cast her as Stella – a young girl who was seeing visions of the biblical character Mary Magdalene. Afterwards, her skills blossomed and she landed the role of Lola Martinez – a new student who is an aspiring actress in Zoey 101. This role became the foundation of her success as an actress. Her character came on the scene in season two on the 11th of September 2005. According to the young entertainer, she was ecstatic after getting the role as she said it was a really great moment.
Victoria Justice's Subsequent Roles Were Even More Successful
Subsequently, Victoria Justice came on the set of When Do We Eat? The R-rated film cast her in a cameo appearance, and afterwards, Silver Bells – the Hallmark television production gave her the role of Rose. Victoria appeared as a guest actress in the series Everwood in 2006 in the episode titled Enjoy the Ride. She also played a role in the film The Garden that same year.
Victoria Justice continued her contract with Nickelodeon and appeared on the series The Naked Brothers Band. The entertainer soon started her own musical show, Victorious on Nickelodeon and also guest-starred in the cartoon The Penguins of Madagascar, voicing Badger Pride. Her performance in the movie The Boy Who Cried Werewolf wouldn't be neglected as she won the hearts of over 5.8 million viewers on the first night the movie was released.
The movie star portrayed herself in the TV special, Valentine Dream Date. She was also part of the cast of iCarly, True Jackson, VP, The Troop, BrainSurge, Eye Candy, Ely's No Kiss List, The Rocky Horror Picture Show: Let's Do the Time Warp Again, and The Outcasts among others.
Her Stint In The Music Sphere
Meanwhile, she made her talent in music a common knowledge when she released a cover for Vanessa Carlton's song, A Thousand Miles in 2007. In 2009, Victoria Justice released a few recorded songs on the Nickelodeon musical Spectacular! and won over 3.7 million viewers on the first night it was released.
The movie which aired on Nickelodeon on February 16, 2009, became one of their most popular films and saw her record three songs as the leading actress. Generally, the film received positive reviews from critics and made the record of holding a 76 percent approval rating on Rotten Tomatoes as of 2011. Her debut single Gold was a bomb! She further released two other songs Caught Up in You and Girl Up on her YouTube channel in 2015.
Victoria Justice's Income Flow And Estimated Net Worth
Victoria Justice started her career as a child and has remained relevant in the entertainment industry ever since. It goes without saying that she started earning the big bucks early in life. The movie star has had her acting income boosted several notches higher as she grows older and gains more popularity in the movie scene.
Added to the money she earns from acting is her remuneration from the music scene. Her first single Gold was sensational and well-received by the public and she has released others since then. As expected from someone with a flourishing career in both music and movies, Victoria Justice soon became the face of popular brands like Ralph Lauren, Gap, Guess, Mervyn's, Peanut Butter Toast Crunch, and Ovaltine, opening another great source of income.
In view of this, one can understand why the value of the wealth she has thus far acquired is estimated at $10 million. But then, this is only an estimated value and may not represent the true worth of her riches.
Who Is The Zoey 101 Star Dating?
With how far she has come in the glittering world of showbiz, one would not be completely wrong to assume that Victoria Justice has been in lots of relationships and has been linked to quite a number of people who are mostly part of the entertainment industry. Fans have kept close tabs on the actress' love life – from her flings to long-term relationships and everything in between. However, the actress is currently single, according to recent reports, but we have the juicy deets on her previous hookups.
Cole Sprouse
Victoria Justice met actor Cole Sprouse on the set of The Suite Life of Zack and Cody. A first kiss shared onset between the duo turned out to be Victoria's first kiss in real life, which eventually led them into a real-life relationship that turned out to be very brief. The actress herself revealed this in a 2011 interview. Cole is now an item with Lili Reinhart – his Riverdale co-star.
Josh Hutcherson
Victoria and Hunger Games star Josh Hutcherson reportedly commenced dating in 2008. However, their relationship was barely one year old when they decided to call it quits in March the next year. Josh has since been dating actress Claudia Traisac.
Ryan Rottman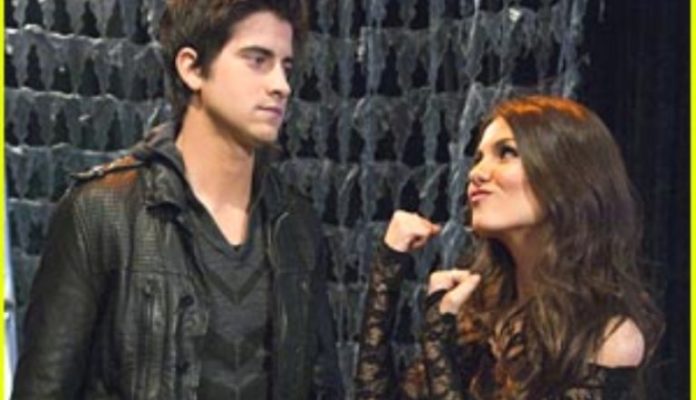 US Weekly reported that Victoria Justice and Ryan Rottman had a romantic relationship that lasted for a couple of years from 2011 to 2013. The publication was informed by a close source that the reason for their separation was that they were both at "different points in their life and had been travelling".
See Also: Hailee Steinfeld Dating, Boyfriend, Parents, Ethnicity, Height, Bio
Pierson Fode
Victoria Justice and Pierson Fode were former costars who hit it off after they met on the set of Naomi and Ely's No-Kiss List. Their dalliance took off in 2013 and lasted until 2015. Their breakup was highly publicized and an insider said that they were taking a break while trying to work things out between them. However, they never really got to patch things up.
Reeve Carney
Actor and singer Reeve Carney met Victoria Justice while filming the remake of the Rocky Horror Picture Show in 2016. Their relationship which commenced immediately lasted for three years; their last public appearance was in February 2019. Reeve is currently dating one of his Broadway costars.
Meanwhile, there were rumours about Justice's relationship with Nicholas Hoult but she promptly debunked them when she publicly said that they were not dating.