Victoria Spader is the ex-wife of James Spader, the American actor. She is an American set designer born on 1st June 1959. Victoria and James from 1987 to 2004. 
Victoria Spader gained celebrity status after her marriage to three-time-Emmy award-winning actor James Todd Spader. However, she gradually made a name for herself both within the entertainment industry and in set decoration.
Her career took off as a set designer and it is only natural that working closely with entertainers will rub-off on her with time. Consequently, she got the opportunity to take part in some notable films like 1988 Jack's Back –a Rowdy Herrington movie with James Spader in the leading role and Sex, Lies, and Videotape – a Steven Soderbergh comedy-drama released in 1989.
In addition, Victoria Spader is still working for an art department known as Jack's Pack, she is one of those celebrity wives who went ahead to achieve mainstream fame after taking a ride on the wings of their spouse's popularity. She owes her success to hard work and dedication and even before James came into her life, she was already earning a handsome income from her career as a set decorator.
Summary of Victoria Spader's Biography
Full name: Victoria Elizabeth Spader (nee Kheel)
Gender: Female
Date of birth: 1st of June 1959
Place of Birth: Rochester, New York
Victoria Spader's Age: 53 years old
Ethnicity: White
Nationality: American
Zodiac Sign: Gemini
Sexual Orientation: Straight
Marital Status: Divorced
Victoria Spader's Ex-Husband: James Spader
Victoria Spader's Children: Sebastian Spader (born in 1989) and Elijah Spader (born in 1992)
Victoria Spader's Parents: Lee Kheel and Julian Kheel
Victoria Spader's Height in Inches: 5 ft 4
Victoria Spader's Height in Centimetres: 162
Famous for: Being the ex-wife of James Spader 
Victoria Spader's Bio
She was born as Victoria Elizabeth Kheel in Rochester, New York, on the 1st of June 1959. The set designer got her last name of Kheel from her mum's maiden name Lee Kheel, however, there is no information on her formative years and it is not known whether she has other siblings. Likewise, there is absolutely no detail on her academic qualifications as well as institutions attended.
Does She Have Kids and Who Are Her Parents?
While no information exists on her childhood, Victoria Spader's parents are part of the entertainment industry. Her mum Lee Kheel is a notable actress best known for the character she portrayed in the movie Jersey Guy which came to light in 2003. On his own part, her dad Julian Kheel works as an audio mixer. One would not be totally wrong to say that her parent's profession may be the reason Victoria was able to find her fittings in the world of entertainment.
On her kids, she has a couple of children from her marriage to James, which lasted for several years. Victoria Spader's children are both boys – her first son is named Sebastian Spader, he was born in 1989 while her second son Elijah Spader followed in 1992.
How Victoria Became James Spader's Wife
James Spader was not yet a celebrity when he met Victoria, he was in a yoga studio where was employed as a yoga instructor after he dropped out of school. The duo became very food friends in no time at all and consequently, they became lovers in a romantic relationship which lasted for 11 years.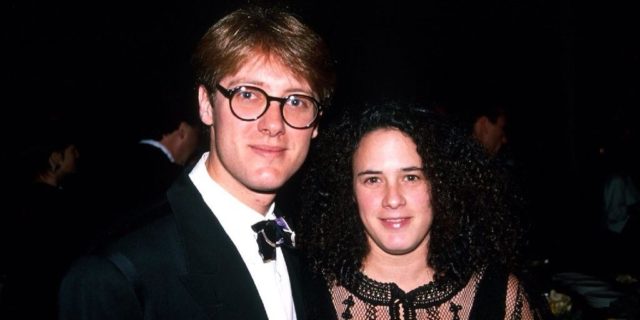 Victoria Spader's popularity grew when James became part of the entertainment industry and hit the airwaves after their nuptial which came in 1987. Following her marriage to the Emmy award-winning actor, Victoria changed her last name from Kheel to Spader.
The couple's union endured for over 20 years before they decided to call it quits in 2004. Although the reasons for their separation and ultimate divorce has never been divulged. It is a known fact that the divorce proceedings were initiated by James, but the speed with which he hooked up with model/actress Leslie Stefanson was a giveaway that he wanted to be with another woman.
Even after having two sons with his ex-spouse, James still went ahead to father a third son named Nathaniel with his lover Leslie. On her own part, Victoria has been single since the divorce and there is no sign of any man on the horizon. Speculations are that she wants to concentrate on her career and raising her children.
James spoke about his kids in an interview he had with Radio Times, according to the famous actor, he has no plans to father more children after three sons because of his belief in negative population growth. However, media speculations point to the fact that his aversion to fathering more kids was that his dalliance with the opposite sex always turns out to be more trouble than it is worth.
Victoria Spader's Net Worth
Even before she became a celebrity wife, Victoria Spader has been earning a very good income from her career as a set designer. Coupled with the salary she earned when she became an actress, her net worth came to $2 million at the last review, though her ex-husband's wealth was last listed at $10 million.
Body Statistics
Victoria Spader is not a tall woman; she stands at a height of 5 feet 4 inches which is the same as 1.63m. Her other body statistics are not listed but she has curly black hair with eyes that are brown in color.
FAQs
How old is Victoria Spader?
Victoria Spader is 53 years old. She was born Victoria Elizabeth Kheel in Rochester, New York, on the 1st of June 1959.
What is Victoria Spader's ethnicity?
Victoria Spader is of White ethnicity as both her mother, Lee Kheel, and father, Julian Kheel, are Caucasians.
Is Victoria Spader Still Alive?
Victoria Spader is still very much alive. There have been rumors that she is dead but that's fake news. She is living a peaceful and quiet life with her children.
Where Is Victoria Spader Now?
Since her divorce from James Spader, Victoria has been off the radar. As a result, information about where she is right now is unavailable but it is likely that she still lives in the United states.
When did Victoria Spader and James Spader get married? 
Victoria and James got married in 1987. Following the union, Victoria changed her last name from Kheel to Spader. The couple's union endured for over 20 years before they decided to call it quits in 2004.
Who are Victoria Spader's children?
While she was married to James Spader, Victoria had two sons named Sebastian Spader (born in 1989) and Elijah Spader (born in 1992).