Viggo Mortensen is a multi-talented person especially as it concerns the creative arts. He is an actor, producer, director, and musician. He is also an author, poet, painter, and photographer. Mortensen has featured in several highly-acclaimed movies such as A History of Violence, A Dangerous Method, Eastern Promises, Green Book etc. He is, however, most popular for his role as Aragorn, one of the main heroes in the award-winning epic trilogy The Lord of the Rings. A deeply rooted family man, Mortensen initially turned down the role of Aragorn as it would have meant having little time to spend with his family, however, it was his son who was a big fan of the books that convinced him to take the role. We discuss Mortensen's career and personal life in the paragraphs that follow.
Viggo Mortensen Bio (Age)
Viggo Peter Mortensen Jr. was born on the 20th of October 1958 in New York City. He spent his formative years in various parts of South America such as Argentina and Uruguay as well as Europe.
Mortensen hails from a family of five. He has an American mother and a Danish father. His mother's name is Grace Gamble while his father's name is Viggo Peter Mortensen Sr. The actor also has two younger brothers named Walter Mortensen and Charles Mortensen. Viggo Mortensen speaks several languages fluently. They are Spanish, English and Danish.
Mortensen commenced his high school education at a boarding school in Argentina but would come to complete it at Watertown High School in New York in 1976. The actor also attended the St. Lawrence University, Canton, New York where he studied Spanish and government.
On graduating college, Viggo Mortensen moved to Denmark where he worked various odd jobs and pursued a writing career (with little success). He later commenced a relationship with a lady who convinced him to come back to The States. Mortensen returned to the U.S. in the early 80s and pursued an acting career. He took acting classes at Warren Robertson's Theatre Workshop and also featured in several stage productions in New York.
He later moved to L.A. where he got his major breakthrough in a stage production known as Bent. His excellent performance in Bent, not only won him awards but also earned him movie roles. Mortensen's first movie role was as an Amish farmer in the 1985 movie, The Witness. This marked the commencement of an accomplished career that has seen him feature in at least 50 movies.
Wife and Children
The Lord of the Rings star was previously married to Exene Cervenka. Cervenka is a singer and poet and was a member of the punk rock band, X. Mortensen and Cervenka met in 1986 while filming the movie, Salvation. They played husband and wife in the movie and decided to move their love to real life. They got married on the 8th of July 1987. The marriage lasted for almost six years and they separated in 1992. The divorce was finalized in 1997. Their union produced one child, a son. His name is Henry Blake Mortensen and he was born on the 28th of January 1988. Henry has followed in his dad's footsteps and is a documentary maker.
Is He Gay or Does He Have A Girlfriend?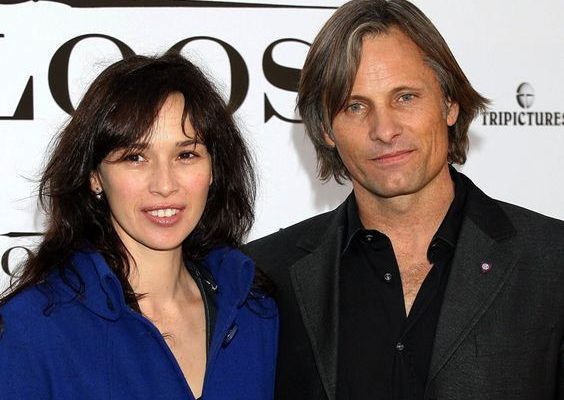 Judging from his previous marriage to a woman and his relationship with his Spanish girlfriend Ariadna Gil Giner, it is safe to say that Viggo Mortensen is not a gay man. He began dating the Spanish actress Ariadna in 2009 and though they have not tied the knot, their relationship remains steadfast. The couple is based in Madrid, Spain. They do not have any kids together. Ariadna, however, has two children from a past relationship with movie director, David Trueba.
See Also:  Mahershala Ali Wife (Amatus Sami-Karim), Height, Body, Net Worth, Bio
Net Worth
Viggo Mortensen has a net worth estimated at $30 million. He made his fortune from his movies as well as other creative pursuits such as poetry, music, painting, writing, etc. He has released over 15 books covering topics such as poetry, painting, photography etc. Mortensen has also released several jazz songs and is the founder of a publishing company known as Percival Press. Viggo Mortensen has received several recognitions for his life works. He was awarded an honorary Ph.D. by his alma mater in 2006.