Hard work has really paid off for Vince Gill who has his numerous Grammy Awards to show for it. In addition to that, Gill's career boasts over 40 singles which left a mark on the U.S Billboard charts.
Irrespective of his many successes, the country musician has continued to push the limits; little wonder he has a lot of other musicians who look up to him. Vince is rated as one of the best guest vocalists and a perfect duet partner.
His skills with the guitar explain perfectly why his music has stolen the hearts of many, he is not limited to singing but also makes extra income from writing songs. He started his career in the 1970's as a front-man in Pure Prairie League; a country band and later began his solo work sometime in 1983.
So far, Vincent Gill has won over 21 Grammy Awards, 18 Country Music Association Awards and is a member of the Country Music Hall of Fame. He has recorded over 20 studio albums with over 40 of his singles taking up spots on the Hot Country Songs for the US Billboard Charts. The Country icon has also sold over 26 million albums.
 Vince Gill's Bio (Age)
It was as Vincent Grant Gill that the singer was born on April 12, 1957, in Norman, Oklahoma. His father; J Stanley Gill practised as a lawyer and worked as an administrative law judge. Records about who the mother is are not available yet, nevertheless, we know she was previously married prior to her marriage with J Stanley Gill.
Bob Coen was Gill's half-brother from his mother's previous marriage, he was involved in a ghastly motor accident and battled for his life for three months while in a coma. Bob, unfortunately, died in 1993. His demise was tragic for Gill who decided to dedicated his songs It Won't Be the Same This Year and Let there be peace on Earth to him.
Northwest Classen High School was the singer's Alma Mata, he was a member of the band Mountain Smoke while at Northwest, after graduation in 1975, he became a member of the Bluegrass Alliance in Louisville, Kentucky. Prior to his relocation to Los Angeles and joining the band Sundance, he was also a member of the Ricky Skagg's Bone Creek.
Vince Gill appreciates his father for being there for him musically and for teaching him the basic foundation on the banjo and guitar. Apart from the aforementioned instruments, Gill is also skilled at playing the bass, mandolin, dobro, and fiddle.
The skilled musician is also known for his powerful slings while playing Golf. He was personally trained by his dad and has also taken a keen interest in the sport.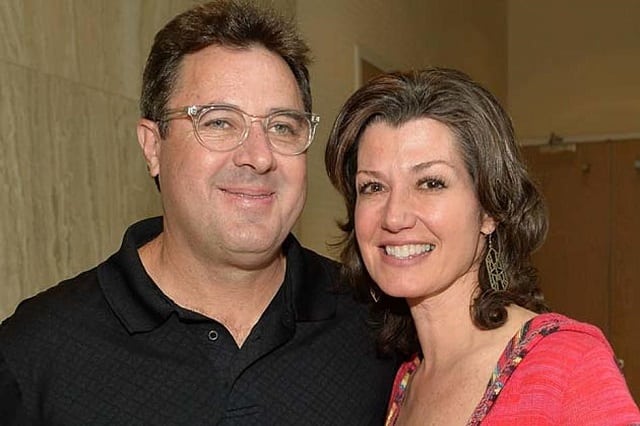 Who Is Vince Gill Married To As Wife?
Vince Gill has walked down the aisle twice, both marriages were with women who also trailed on the part of music. His first was with Janis Oliver; a Sweethearts of The Rodeo. The duo met in Los Angeles and tied the knots sometime in 1980. By 1982 their bundle of joy arrived and they named her Jenny. No one knows what went wrong, neither has the couple spoken about why their marriage later went down the drain. They officially got divorced in 1997.
Gill's second marriage was with Amy Grant who is popularly known for her devotion as a Christian Music artist, they met in 1993 and were both having marriage troubles as of the time of their meeting. They decided to share their pain together and ended up building a very strong bond. They got married in 2000 and the union was blessed with their daughter Corina.
See Also: Tim McGraw Wife, Daughters, Age, Height, Net Worth, Family, Divorce
Vince's second wife was born Amy Grant Lee but was named Audrey Faith Perry by her adopted parents Edna and Ted Perry who were devoted Christians. She was born in Ridge land, Mississippi on November 25, 1960. Faith is an American singer and record producer who has done well and has sold over 40 million albums, winning 5 Grammy Awards. She was also rated as one of the 30 Most Powerful Women in America in 2001 and has graced the Hollywood Walk of Fame with a star. Gill's special skills in dueting could be noted perfectly when singing with his wife, you wouldn't only perceive togetherness but the harmony of their songs are heart-thrilling.
Daughter
The amazing singer is blessed with two girls from both of his marriages. The first is Jennifer Jerene Gill who was born during his first marriage sometime in 1982 and Corina Grant Gill, born on March 12, 2001; from his second marriage. Having paved the way for their children, Jenny and Corina have decided to trail the same career path as their parents and often times, they are seen singing on stage with them.
Net Worth
Having recorded over 20 studio albums with more than 40 singles which made it to the Hot Country Songs on the U.S Billboard charts, Vince Gill is no doubt an accomplished singer. He has sold at least 26 million albums and thus far, he has amassed a net worth of $30 million as of 2018.