Virginia Vallejo can be referred to as one of the oldest whistleblowers in history after her involvement with Pablo Escobar which made her famous. Over the years, many questions have been raised about her relationship with the drug lord and why she endangered her life to be with him despite his notorious acts. The death of her lover became her uprising although this was not easily attained because it led her to an uneasy life until the Drug Enforcement Agency of The United States of America came to her aid. This article would give clarity on her relationship with Escobar and her personality.
Virginia Vallejo's Biography
Currently living in Miami Florida, the United States of America as a political asylee, Virginia Vallejo was born on August 26, 1949, in Cartago, Valle Del Cauca, Colombia to Juan Vallejo Jaramillo and Mary Garcia Rivera. She spent her childhood in Bogota where her three siblings where born; Felipe(1951), Antonio (1955) and Sofia (1957), however, Antonio passed on in 2012.
Virginia was born into a strong and politically influential family yet they wouldn't be termed wealthy, records have it that her grandfather Eduardo Vallejo Varela was a minister of economy in the Colombian government in the year 1930 and her dad was the boss in his business.
Being from a noble home, Virginia Vallejo had her kindergarten classes with Elvira Lleras Restrepo who was the sister to Carlos Lleras Restrepo; the president of Colombia in 1970. She further attended Anglo Colombian School which was co-founded by her uncle Jaime Jaramillo Arango; an author, professor in Med. Surg, a minister and ambassador to London, Berlin, the United Nations and the United Nations Educational Scientific and Cultural Organisation.
Career
Virginia Vallejo worked as a news anchor and presenter for the first three television channels created by the Colombia government until others were established in 1998. She began her career as a media personality in 1972 when she started working as a presenter for Oiga Colombia, she would also later work in Revista del Sábado in 1973 before joining their team of reporters that same year.
In 1975, she worked as a host for the musical shows Éxitos 73', 'Éxitos 74 and 'Éxitos 75 and was aggrandized to be an international editor from 1975 through 1977. The journalist was also employed by TV Magazine as a film critic, she would also later became a host for the program TV Crucigrama and as well assisted Chef Segundo children cooking show.
Vallejo did amazingly well and was opportune to be the anchorwoman for the program Noticiero 24 Horas, this increased her popularity and led to her recognition by international media persons. She further became the vice president of the association of Colombia announcers in 1978 and received an award for being the Best television Anchor for the Association of Entertainment Journalist for three consecutive years. She further worked for radio stations to cover some pageant show but was fully involved as a host for the Miss Colombia Pageant.
The journalist teamed up with other media persons to come up with her own television program known as TV Impacto in 1981.  She was also hired as the international editor of Grupo Radial Colombian in 1984 and retired from Colombian media in 1994. Vallejo at a later time became a columnist for a Venezuelan newspaper from 2009 till 2010 before she took a bow from her public career. Currently, no one knows what she has been busy with except for her involvement with her memoir with Escobar.
She has had two marriages; her first was with Fernando Francisco nevertheless they divorced in 1971. Her second was with David Stivel in 1978, but again, she divorced him in 1981. This led to her love escapades with Pablo Escobar though they separated in 1987 but were never married.
Relationship With Pablo Escobar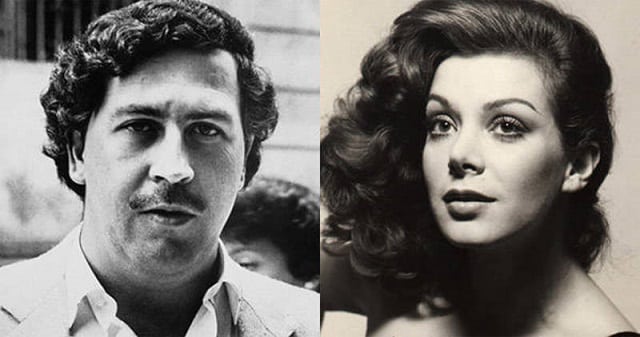 Pablo Escobar fell in love with Virginia Vallejo on screen after watching her in a famous commercial, he gave an ultimatum that he wanted to have her despite being legally married to his wife Maria Victoria Henao. They became lovers although their relationship ended in 1987 because jealous Escobar felt she cheated on him.
Ironically, no one talks about the cartel Lord without mentioning her name, this became a problem as Escobar's criminal acts filled the whole of Colombia and for her own safety, Vallejo took to her heels as an asylum seeker. She became a person of interest in the United States of America in 1996.
Virginia Vallejo released a memoir on September 22nd, 2007 titled Amando a Pablo, odiando a Escobar (Loving Pablo, Hating Escobar) which was published by Random House Mondadori. The book caused an uproar amongst so many media house as it contained every detail of who Escobar was and her ordeals with the drug Lord.
The book has been translated into 15 different languages and the tale has been told by so many different magazines. She further told Hollywood her story which birthed the movie Loving Pablo in 2017 starring Penelope Cruz and Javier Bardem as Vallejo and Escobar respectively.
Other Facts About Her
1. Do you know that Pablo Escobar's main attraction to Virginia Vallejo was because she had a pair of sexy fair long legs after watching her on a commercial way back in the 1970's? When they eventually met in 1983, the drug Lord still had a very low profile but his criminal acts became open just about five years after their meeting.
2. As a journalist, Vallejo helped Escobar into Fame, she encouraged him as the man of the people because of his benevolent acts which are still remembered by the People of Medellin despite his ill acts as a criminal.
3. Pablo Escobar was named 'the Robin hood of Medellin' after his interview with Vallejo which led to his public recognition.
See Also: Who Is Manuela Escobar – Daughter of Pablo Escobar
4. As they say, women are attracted to wealth, it is not entirely surprising that Vallejo's attraction to Escobar was because he was the richest man in Colombia as of then and the only one who remembered the poor in his days.
5. Virginia Vallejo was one of the first persons who underwent a Rhinoplasty way back in 1981 and was offered to be a star in Hollywood, however, she declined because she had busy Schedules.
6. The journalist once filed a lawsuit with Neways international because they canceled her appointment as an employee and gave the roles to their children, however, she lost the case.
7. Vallejo volunteered to testify against minister Alberto Santofimio, however, the presiding judge inspector General Maya Villazon shut down the case which made her a political asylee in the United States of America.