His full name, Tevita Tuliʻakiʻono Tuipulotu Mosese Vaʻhae Fehoko Faletau Vea, has 47 characters and 20 syllables. But that is just one of the several reasons that Vita Vea stands out as a professional football player in the NFL. Thanks to his body size and playing style, he is quickly becoming a revered talent in a league he joined as a first-round pick in 2018.
As a defensive tackle for the Tampa Bay Buccaneers, injuries have hampered his NFL career. Regardless, in the games he has played, Vea has shown he has the potential to become an NFL superstar. Thus, it is worth learning about the journey that led him to the league, starting with his successful stint as a high school player.
He Has Been a Fine Player Since High School
Vita Vea was born on the 5th of February 1995 in Milpitas, Santa Clara County, California. He had his education at Milpitas High School (2010 – 2013), where he was a multi-sport athlete, lettering in football and basketball.
In high school, Vita played in both offensive and defensive positions and took part in a total of 29 games. If his output at the Buccaneers is a surprise to NFL fans, it isn't for those who had been following his games since high school.
As a running back, he had an impressive 69 carries for 764 yards (26.3 yards per game) and 12 downs. At the defensive line, he recorded 296 tackles (out of which 196 was solo) and one interception. He also had two passes defended, 19.0 sacks, and two fumble recoveries.
In recognition of his many exploits, Vea received several honors including All-NorCal first team, Division II All-State first-team, San Francisco Chronicle first-team, All-Metro, etc. It also didn't take long for major college programs to circle the high school running back.
He got offers from Oregon State, UCLA, California State, and the University of Washington. Vita Vea committed to Washington and kicked off another significant step in his football career in 2015.
A Look At His Three Years of College Football Brilliance
He spent a total of four years at Washington (2014 to 2017), redshirting in his first year. In his second year, he took part in 11 games, registering 17 tackles, 13 of which were solo. He also recorded a forced fumble, one pass defended, and one sack.
Vea did even better in his third year, taking part in 14 games and tallying 39 tackles. He also had 5.0 sacks, two passes defended, and a forced fumble. Vita Vea's performance and skill grew with every passing year, and it continued into his final college season.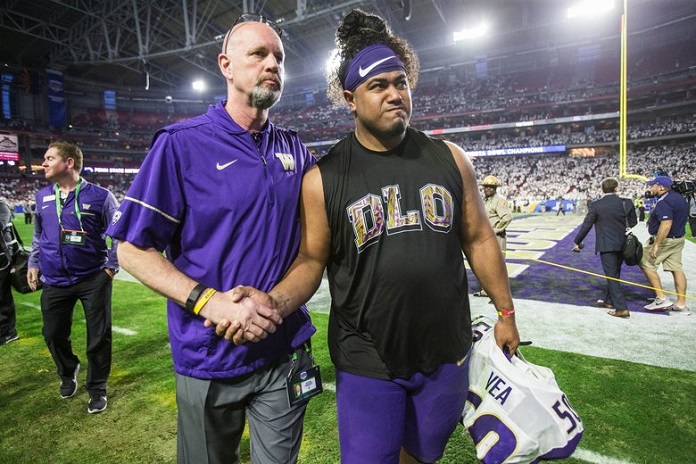 Vea's fourth year (2017) was his breakout season. He recorded 44 tackles, 30 of them solo, with four passes defended, 2.5 sacks, and a blocked punt in a total of 12 games. He finished his college career with a total of 99 tackles, 65 of which were solo.
In recognition of his outstanding season, he was named the Pac-12 Defensive Player of the Year. Vea also won the Morris Trophy for Best Defensive Lineman in the Pac-12 conference. Additionally, Vea was named to second-team All-American by USA Today, Sports Illustrated, SB Nation, and The Athletic. He also had a nomination for the Polynesian Player of the Year Award.
Vea decided to forgo his last year of college football and entered the 2018 NFL draft. The Tampa Bay Buccaneers picked him in the first round of the draft, as the 12th overall pick, fulfilling his dream of playing in the National Football League.
An Overview of His Pro Career Journey Thus Far
The Buccaneers locked him down on a four-year contract worth $14,824,238. Vea made his professional debut in Week 4 on the 30th of September 2018 in a game against the Chicago Bears. He missed out on the entire preseason and first three games of the season because of a sprained calf.
Despite the slow start to his NFL rookie season, Vita Vea managed to play 13 games, starting eight of them. He recorded 28 tackles throughout the season, attaining an impressive 21 of them solo. He also had three sacks to his name, the first of them recorded in a game against the Washington Redskins.
Vita came further alive in his sophomore season, bettering his debut season tackles record with seven tackles. While his solo tackles dropped to 19, he recorded 2.5 sacks and had three passes defended. In the 12th game of the season, in a game against the Atlanta Falcons, he became the first defensive player since 2014 to record a sack and catch a touchdown in the same game. The feat also made him the ninth player to do so, and the heaviest player to catch a touchdown.
How High School Experience Influenced His NFL Style of Play
As a defensive tackle, catching touchdowns is not a responsibility traditional to his position. But thanks to a set of skills in his arsenal, it is a part of Vita Vea's game and a quality that makes him stand out among his peers.
Despite having a large body that weighs 347 pounds, Vea has an incredible speed. During the NFL combine, he completed 40 yards in 5.1 seconds.
Another impressive guy, @MikeMayock's top rated interior DL, Vita Vea runs a 5.11u 40-yard dash! Gonna wreck havoc in the backfields. Watch #NFLCombine on @nflnetwork today and tomorrow pic.twitter.com/jhIGi8Zgwc

— Tampa Bay Buccaneers (@Buccaneers) March 4, 2018
It is skill Vea's admirers can thank his high school career for, where he played as a running back and recorded impressive numbers. He also has incredible strength, putting up 41 reps at 225 pounds on the bench press. This rare combination of speed and strength makes a skill that has put the Buccaneers defensive tackle on the national radar.
See Also:  Who is Devin Funchess? His Weight, Height, NFL Career
Dissecting Vita Vea's Family and Ancestry
Vita Vea comes from a tight-knit family. His parents are Sione (dad) and Fipe Vea (mother). He also has an elder brother by the name Sifa and an elder sister named Alisi. Vea's parents, and by extension, Vita, are initially from the kingdom of Tonga, a Polynesian island nation.
As a Tongan, Vea is one of only two players of his ancestry to play in the NFL. The second is Haloti Ngata, a retired defensive tackle for the Baltimore Ravens.
His parents grew up in Tongatapu, a major island in Tonga, but only met and married after migrating to northern California. Vita Vea's family story is one of resilience, character, and survival. His parents had to work multiple jobs just to make ends meet.
Buying a Home for His Family
At a point, they couldn't meet up with the mortgage payments on their home, and the bank repossessed it. The family had to relocate to a motel room that only had one bed. It is therefore not a surprise that Vea bought his family a house with his first NFL paycheck.
Vea cites his mom's selfless commitment as one of the things that pushed him to work harder to succeed. At a point, his mom worked as many as five jobs to keep the family afloat. According to Vea, he is driven by the motivation to give his family quality life. One thing is for sure; if he continues with his career trajectory, he would be able to so and much more