'I walk the line' was one of the most popular songs that legendary American musician, Johnny Cash, ever sang. The song was basically a pledge of fidelity and responsibility to his wife, Vivian Liberto. Prior to meeting Cash, Liberto was a quiet unassuming girl from San Antonio Texas. Her life was forever changed after her husband found fame and with it, drugs, booze, and other women. Want to know more about Liberto? We have got all the details here including her bio and wiki, ethnicity as well as other interesting facts about her.
Vivian Liberto – Bio (Age and Ethnicity)
Vivian Dorraine Liberto was born on the 23rd of April 1934 in San Antonio Texas. Her father's name was Thomas Peter while her mother's name was Irene Robinson. She also had a brother named Raymond Alvin Liberto as well as a sister named Susan Flye. With regard to her ethnicity, Vivian Liberto is Italian-American. However many people erroneously believed that she was African-American. This was due to a particular newspaper photo of her and her husband in October 1965 where she looked African-American in a period when racial segregation was still very much alive in the American South.
The photo led to an uproar amongst white supremacists who accused Cash of spending his fortune on drugs and black women. It also led to a targeted campaign against Liberto with some going as far as sending her death threats. Some others boycotted her husband's concert and his manager had to come out and clarify that Liberto was no black. This clarification does not signify that Cash was sympathetic to white supremacists. The musician was renowned for highlighting issues affecting African-Americans and Native-Americans in his songs.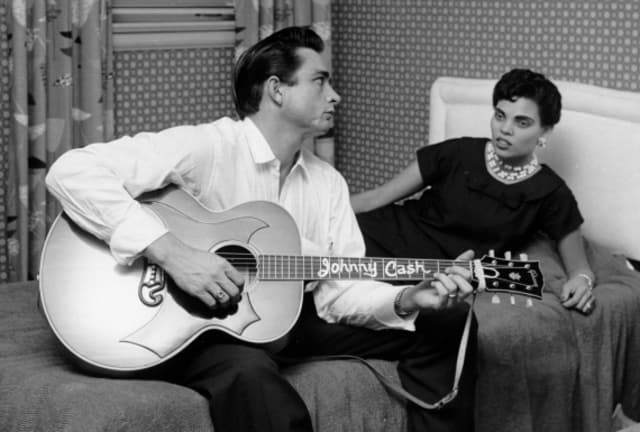 Vivian Liberto first met her future husband on the 18th of July 1951 at a roller skating rink in San Antonio. At that time, Cash was working as a radio announcer for the Air Force whilst doing music on a small scale. He asked Liberto for a skate and she gladly obliged him with one. They got talking and he wowed her with his singing abilities. The two immediately struck up a romance and were together for just three weeks before the Air Force shipped Cash out for overseas training. Johnny Cash spent the next three years abroad but the lovebirds did not allow the distance to come between them. They instead kept their romance alive by exchanging hundreds of love letters. Cash returned to The States in July 1954 and the couple got married.
They tied the knot in a Catholic Church in San Antonio on the 7th of August 1954. After the nuptials, Liberto and her husband started a family in Memphis. At that time, Cash was a salesman as well as a struggling musician. All his hard work paid off in 1955 when he broke into the spotlight with his single, Cry Cry Cry. He would go on to become a legendary singer, both in country and rock and roll. However his new-found fame brought drugs, alcohol, and women and this put a strain on the couple's marriage. Another factor that hastened the demise of their union was Cash's friendship with fellow country musician, June Carter. All these pushed Vivian Liberto to file for divorce in 1966 and it was finalized in 1967.
Daughters
Vivian Liberto's marriage to Johnny Cash produced four daughters namely Roseanne, Kathy, Cindy, and Tara. Following the divorce, Liberto made her home in Ventura California which is where she raised her four daughters. She also remarried a police officer named Dick Distin in 1968. Liberto did not allow her failed marriage to weigh her down. She rather worked hard and was an active member of her community. She volunteered her time at the Ventura County Medical Center as well as a home for unwed mothers. The selfless lady also served as the president of the Garden Club of San Buenaventura. Vivian Liberto passed away on the 24th of May 2005. Her death was as a result of complications arising from lung cancer.
See Also:  Carol McCain, John McCain's First Wife – Bio, Age, Where is She Now?
Other Facts about Vivian Liberto
She co-authored the 2007 memoir I Walked the Line: My Life with Johnny Cash. The book detailed her life as well as her marriage to Cash.
Despite the way their marriage ended, she did not speak ill of her ex-husband. She rather described him as a wonderful, caring and protective husband.
The legendary love triangle between Liberto, her ex-husband and singer – June Carter was the subject of the 2008 Hollywood movie, I walk the line.
Her wedding to Cash was officiated by her uncle who was a priest and his name was Vincent Liberto.
Liberto's eldest daughter, Roseanne, is an accomplished country singer and has released several albums. She has also won many awards including the 1985 Grammy for best country song.