Vivian Salama is a gorgeous American journalist, famously known for being the White House Correspondent for the Wall Street Journal. She garnered fame through her exceptional performances which include bringing live coverage of the operations of the Islamic terrorist sect, ISIS. Known for her act of courage and bravery, Vivian Salama has also unraveled various critical information relating to politics, economy, and finance in the United States of America.
Starting off her career with a local station, she worked as a freelancer before finally earning the opportunity to cover the White House. She has equally worked with various media outlets as a writer and reporter. In addition, Vivian Salama is also a married woman and a mother of two. Learn more about her below.
Vivian Salama – Bio
One description that fits Vivian Salama is her fearless and outspoken nature. She has trod paths that most reporters are scared of crossing and has been solely involved with matters of the public that contains life hazards. That being said, she doesn't careless and has pursued her passion for broadcasting to the fullest.
Her fluency with the Arabic language has made it easy for her to cover the ISIS's blitz news across Iraq and Syria as the AP's Baghdad bureau chief. Her birth happened sometime in 1980 in New York City, New York. She has successfully concealed the details of her birth month and date. She holds an American nationality.
Vivian Salama gained educational knowledge in Journalism at the Rutgers University in New Jersey and subsequently acquired a master's degree in Islamic Studies from Columbia University. Also, she is currently taking law classes at the Georgetown University Law Centre.
Career
After obtaining her second degree, the reporter worked for four years at WNBC Channel 4 as a producer. While proving her producing skills with ABC news, Vivian went ahead to work as a freelance writer for several magazines and news outlet. Some of which include TIME.com, France24, Newsweek Magazine, and lots more. To top up her language skills, Salama Vivian decided to adapt and learn the Urdu culture as well as the Arabic language.
In 2007, Salama took to lecturing and was a co-lecturer for the department of journalism at Rutgers University. Shortly after she left her job as a lecturer, she became the specialist correspondent for the Middle East. This happened when she joined Bloomberg TV in 2009; she put in her best to her work and within a short while, earned the position of Head of Abu Dhabi Bureau.
With Bloomberg TV, her exposure to certain critical matters started. She covered major financial issues as well as the economic crisis. After spending three years at Bloomberg, she fell back to freelancing and supplied stories to news outlets in North Africa and Yemen.
While being enveloped with her freelancing job, she was announced as the Iraq Bureau Chief for Associated Press in 2014. Her job description involves her heading the team (photographers, reporters, video journalist and more) to cover unfolding stories.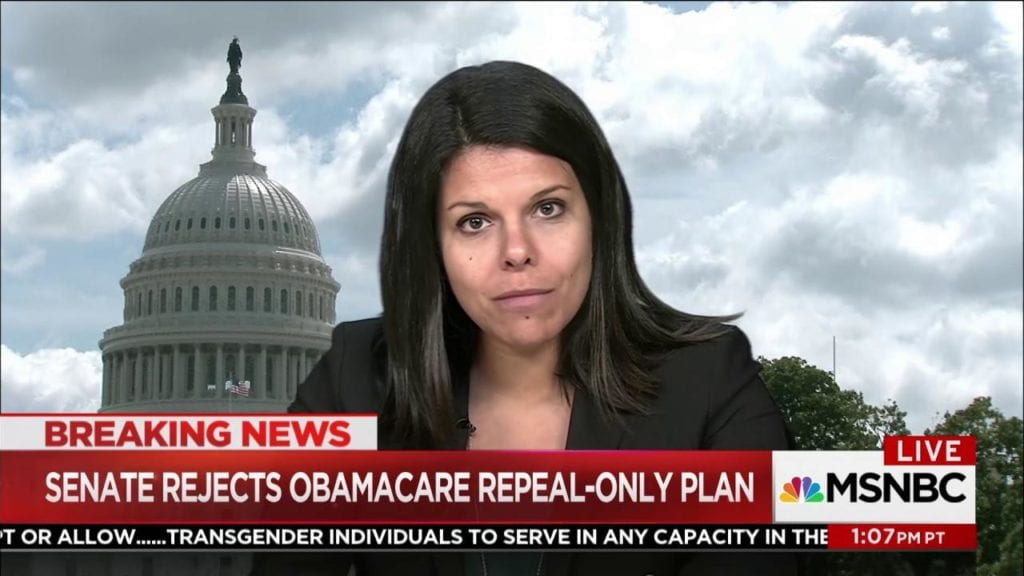 After working on the field for a year, she relocated to Washington DC where she served as the Deputy Political editor for the Associated Press. She worked in that capacity until 2016 when she was named the National Security Foreign policy reporter for AP. The following year, she became AP's White House reporter.
Subsequently, she left AP in the following year 2018 and became a political reporter for NBC News. Her stay with the news outlet was quite short before she proceeded to work for the Wall Street Journal where she currently serves as their White House Correspondent to date. In addition, Vivian Salama also continues to provide write-ups on issues of Radicalization, Terrorism, and Conflict.
Is She Married, Who is The Husband?
The fearless reporter, Vivian Salama is a married woman. She married a chartered accountant, Joe Salama. Prior to the period that she became a Mrs. Joe, Vivian kept their relationship off the radar. Howbeit, we discovered that the two are also longtime lovers. Together, they share two beautiful children – Geoge and Michael Salama. She and her family currently reside in North Carolina.
See Also: Crystal Hefner – Bio, Age, Net Worth, Facts About Hugh Hefner's Wife
Other Facts About Vivian Salama
1. Vivian Salama's mom, Charlotte Georges Farag kicked the bucket at the age of 85 on 3 November 2013, while her father died a long time ago. She has two sisters, Venise Fayez, and Rosette Attia and a brother, Ragui Marcos.
2. Salama's fearlessness led her to cover the Iraq war shortly after the war broke out. She covered the story for Associated Press and of course, reported every detail involved. Also, she covered the Arab Spring story for many countries in 2011.
3. Having worked for several news outlets as well as freelancing, Salama is said to have amassed enormous wealth from her broadcasting career. Though her net worth is still under review, sources say that she earns between $41,042 to $45,665 annually.