Vivian Salama is a gorgeous American journalist, famously known for being the National Security Correspondent for CNN. She garnered fame through her exceptional performances, which include bringing live coverage of the operations of the Islamic terrorist sect, ISIS while working for the Associated Press. Known for her act of courage and bravery, Salama has also unraveled various critical information relating to politics, economy, and finance in the United States of America.
Starting her career with a local station after earning her first degree, she worked as a freelancer before finally earning the opportunity to cover the White House. She has equally worked with various media outlets as a writer and reporter, with her educational endeavors proving pivotal in her journalism career pursuit.
Vivian Salama Got Her Journalism Degree From Rutgers University
One description that fits Vivian Salama is her fearless and outspoken nature. She has trod paths that most reporters are scared of and has been solely involved with matters of the public that contains life hazards. That being said, she doesn't care less and has pursued her passion for journalism to the fullest.
Her fluency with the Arabic language has made it easy for her to cover the ISIS's blitzkrieg news across Iraq and Syria as the AP's Baghdad bureau chief. Her birth happened sometime in 1980 in New York City, New York, and she holds an American nationality.
Vivian Salama gained educational knowledge in Journalism at the Rutgers University in New Jersey, where she graduated with a Bachelor of Arts degree in Journalism/Theatre in 1999. Later in 2004, she decided to hone her language skills, as well as perfecting her fluency with the Arabic language by having a brief stint at The American University in Cairo.
Still not contented with her educational achievements, the adroit journalist proceeded to Columbia University in the City of New York, and there, she achieved a Master of Arts degree in Islamic Politics in 2008. Afterward, she earned a Doctor of Law (J. D.) from Georgetown University Law Center in 2019.
She Started Her Professional Career At WNBC
After obtaining her first degree in 1999, Vivian Salama worked for four years at WNBC Channel 4 as a producer. Afterward, she went on to work as a freelance writer for notable journals such as Newsweek Magazine, Jerusalem Post, Voice of America, USA Today, and International Herald Tribune. She then got hired by ABC News in 2006, and there, she worked as a producer for two years.
While still at ABC News, Salama also combined her work with a lecturing job, as she served as a co-lecturer for the department of journalism at Rutgers University. Also, at the time, she served as a freelance reporter for several magazines and news outlets. Some of them include TIME.com, France24, CBS Radio, TV New Zealand, RTE Radio, and lots more. Shortly after she left her job as a lecturer, she became the specialist correspondent for the Middle East.
Becoming a Foreign Correspondent At Bloomberg TV
Vivian began working as a foreign correspondent when she joined Bloomberg TV in 2009. She put in her best to her work, and within a short while, she was promoted to be the head of the network's Abu Dhabi Bureau. Hence, she reported for Bloomberg News, as well as Bloomberg TV, and BusinessWeek Magazine. With Bloomberg TV, her exposure to certain critical matters started. She covered major financial issues and economic crises, as well as the Arab Spring Uprising for many countries in 2011.
After spending close to three years at Bloomberg, Vivian Salama fell back to freelancing and worked as a foreign correspondent while supplying stories to news outlets in North Africa and Yemen. During such time, she frequently appeared as a contributor on many international TV news networks, and her byline equally appeared in the Atlantic, Columbia Journalism Review, and Rolling Stone, among others.
She provided reports from Uganda, Algeria, Egypt, Libya, and Yemen during that time, covering topics relating to international security and US foreign policy. The freelance journalist covered the national dialogue in Yemen, a parliamentary election that took place in Algeria, as well as Egypt's historic presidential election.
She Joined Associated Press As Its Iraq Bureau Chief in 2014
After she left Bloomberg TV, Vivian Salama continued working as a freelance writer until 2014 when she joined Associated Press (AP) as their Iraq Bureau Chief. Her job description involves her heading the team (photographers, reporters, video journalists, and more) to cover unfolding stories. She worked on the field for a year, covering the activities of the Islamic State group in Syria and Iraq, as well as the plights of the internally displaced persons and the refugees while visiting their camps across the Middle East.
Afterward, she relocated to Washington DC, where she served as the Deputy United States Political editor for the Associated Press. She worked in that capacity until 2016 when she was named the National Security/Foreign Policy reporter for AP. Later in January 2017, Salama rose through the ranks to become their White House reporter, covering the national security and foreign policy under Donald Trump's administration. Her roles at AP garnered her much recognition as she was subsequently recruited by the NBC News.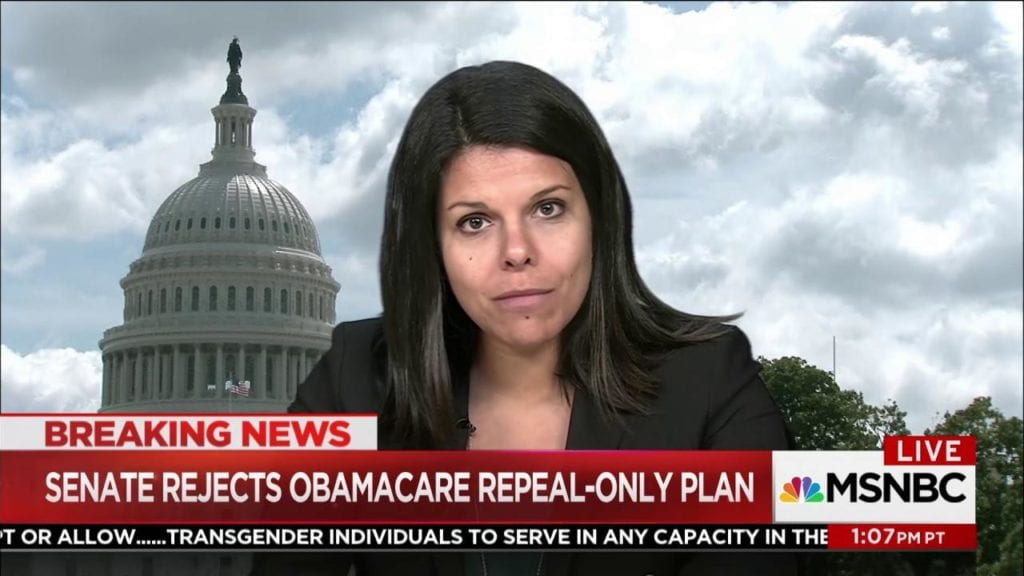 In late 2017, Vivian Salama started working as a political reporter for NBC News. Her stay with the news outlet was quite short as she only spent 8 months before jumping ship to join the Wall Street Journal in April 2018. At the Wall Street Journal, she covered the White House and national politics, with a focus on foreign policy.
Salama's Excellent Field Reports Earned Her A Place At CNN
Having broken a good number of major stories on Trump's administration, including the controversial ban, Vivian Salama was hired by CNN as a Washington-based National Security Correspondent after spending a year and 10 months at the Wall Street Journal. Joining CNN in January 2020, Vivian has covered major top stories, including Trump's China dilemma and the commencement of formal withdrawal from the World Health Organization by Trump's administration.
Thus far in her journalism career, Vivian Salama has covered many top political stories, and her work has seen her travel to over 70 countries. This, therefore, comes as no surprise that she is regarded as one of the most prominent journalists in the US.
How Rich Is Vivian Salama?
Having worked for several news outlets as well as freelancing, Vivian Salama is said to have amassed enormous wealth from her broadcasting career. Though her net worth is still under review, CNN correspondents reportedly earn between $58,432 to $74,950 annually. She has also boosted her earnings through her works as an author.
My passion project is finally done – a children's book about a young refugee. In this tale of migration and acceptance, inspired by true stories, an innocent boy's life is upended after his family flees war-torn Syria in search of a better life. https://t.co/KjCmo2j1pi

— Vivian Salama (@vmsalama) April 4, 2019
With her experiences as a field reporter in the Middle East region for several years, Salama decided to write books on her journalism journey so far. Her first book entitled "Radicalization, Terrorism and Conflict" explored the diverse means through which the radical militant organizations use the internet to reach a wider audience, promoting their ideologies, and also recruiting potential followers across the globe. Her second book, "The Long Journey Home," follows the story of a Syrian boy, whose life turned upside down after his family left Syria because of war.
The Truth Behind Her Speculated Marriage To Joe Salama
Over the years, the fearless reporter has been reported by many sources to be married to Joe Salama, a chartered accountant, whom she dated for a while before tying the knots, and Google also listed Joe Salama as her spouse. Vivian was equally said to be a mother of two kids named Geroge and Michael Salama. Surprisingly, she had not been aware of her profile on Google for the past years until January 2020, when a friend of hers shared it with her.
A strange thing was flagged to me this week by a friend: Google lists my "spouse" as Joe Salama. I don't know a Joe Salama!! I contacted Google requesting that they drop it (and I tried to delete it myself), but my requests were rejected. (My birthplace is also off by about 100m) pic.twitter.com/1ylZzlRw5W

— Vivian Salama (@vmsalama) January 23, 2020
The journalist was awestruck with the way the wrong information about her personal life disseminated online. As such, she contacted Google, requesting that they take down the wrong information as her efforts to delete it by herself proved abortive. However, her request is yet to be granted, but she has taken to her Twitter account to disavow the information about her spouse being Joe Salama, citing that she doesn't know any Joe Salama.
As of this writing, Vivian is not yet married and doesn't have any kid. It is also not known if she is currently dating someone or is single as she has successfully kept details of her love life secret.