The West African Examinations Council (WAEC) has remained one examination board that has consistently conducted Certificate Examinations for five Anglophonic countries in West Africa. In Nigeria, as well as in the remaining four Anglophonic countries where this examination council operates, the body is also responsible for conducting what is known as the West African Senior School Certificate Examination (WASSCE), required before gaining admission into universities in these West African countries.
However, this is not all the body does: as an examination council domiciled in West Africa, WAEC also conducts examinations on behalf of some international examination bodies like Scholastic Aptitude Test for Educational Testing Service, Princeton, USA, University of London GCE, among others.
WAEC Was Born Out of The Jeffery Report of 1950
The body now known as the West African Examination Council (WAEC) was established, based on Dr. George Barker Jeffery's recommendation supporting the need for a West African Examination Council. Jeffery who was the Director of the University Of London Institute Of Education had visited some West African countries to see the level of education and ascertain the general education requirement in the region. After his visit, which lasted about four months (December 1949 to March 1950), he submitted a report (known as Jeffery Report) where he recommended that a West African Examination Council be established, the report also came with detailed recommendations of what the composition and duties of the council will be.
Following this report/recommendations, The University of Cambridge Local Examinations Syndicate, University of London School Examinations Matriculation Council, and West African Departments of Education met with the governments of the West African countries Jeffery had visited, and they all agreed to establish a West African Examination Council. This was how the West African Examination Council (WAEC) was born in 1952.
WAEC Serves 5 Anglophonic Countries In West Africa
The West Africa Examination Council is in five English speaking countries in West Africa and these countries are:
Ghana
Nigeria
Sierra Leone
Liberia
The Gambia
The body conducts examination in individual countries under the following:
Junior Secondary School Certificate for Nigeria and the Gambia
Junior and Senior High School Certificate Examinations for Liberia
National Primary School and Basic Education Certificate Examinations for Sierra Leone
Basic Education Certificate Examinations for Ghana
Senior School Certificate Examinations for Ghana
The board also conducts West African Senior School Certificate Examination (WASSCE) for universities in these countries, as well as the Joint Admissions and Matriculations Board (JAMB), an entrance examination board for tertiary-level institutions in Nigeria.
General Requirements That Qualifies You To Sit For WAEC
The West African Senior School Certificate Examination (WASSCE) Junior category is open to all students in the third year of junior secondary school, the examination qualifies them to proceed into the senior class. The senior category is open to students in the third year of senior secondary school, or those who have taken the examinations previously but failed to pass the number of subjects required to gain admission into a higher institution of their choice.
Candidates are required to enter and sit for a minimum of 6 core subjects (seven in some countries like Nigeria). The core subjects must include the following:
Mathematics
English Language
At least one science subject (Physics, Chemistry or Biology)
Agricultural Science or at least one vocational subject
Literature in English, History or Geography
At least one Nigerian Language (a waiver has been given in by Nigeria's Federal Ministry of Education since 2003).
In addition to the subjects above, every student must also sit for two or three of the subjects listed below which are not already offered as core subjects
Biology
Economics
Physics
Book Keeping
Chemistry
Typewriting
Further Mathematics
Shorthand
Commerce
History
Geography
Literature-in-English
Agricultural Science
Woodwork
Health Science
Auto-Mechanics
Building Construction
Music
Clothing & Textiles
Art
Christian Religious Knowledge
French
Islamic Studies
Physical Education
Arabic Studies
Government
Metal Work
Applied Electricity
Electronics
Foods and Nutrition
Technical Drawing
Home Management
WAEC Registration Guidelines
The West African Senior School Certificate (WASSC) is taken twice a year; one around May-June each year and the one is taken November-December. The May/June examinations are for school candidates (students in the third year of senior secondary school) and the November/December is for private candidates (those who have taken the examinations previously but couldn't pass the number of subjects required to earn them admission into a university).
Guidelines For School Candidates
In this case, the school does the registrations on behalf of the students, and below are the guidelines:
To register qualified candidates, you will have to:
Log in to the website, select the examination type (May/June), and click on the E-Registration session
Click on "Register" on the cascade menu
Enter the Center Number, the School Name, and the number of entries, the Registration Form will be displayed
You will then go ahead to fill in each candidate's personal details such as Surname, First Name, Date of Birth, Sex, and the number of subjects they are sitting for.
The candidate's passport photograph and signature must also be captured.
NB: The passport photo should be taken with a digital camera, should be black and white, and 35mm x 40mm in size with a contrasting background. The passport photograph must be clear with the candidate's face clearly showing.
Guidelines For Private Candidates
Anyone planning to take the examination must first pay to obtain the registration pin (the amount, however, differs from country to country). With the registration pin, you can now proceed to the council's official website for each country to begin the registration process.  for those in Nigeria, visit www. waecnigeria.org, Ghana – www.waecgh.org, Liberia – www.liberiawaec.org, Sierra Leone – waecsl.org, and if you are in The Gambia visit www.waecgambia.org.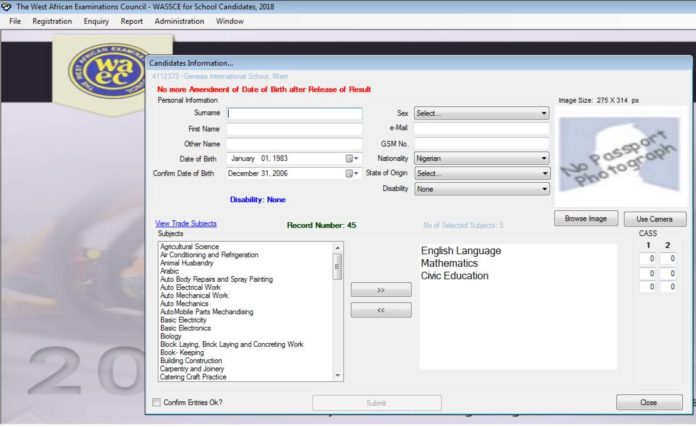 Below are the step-by-step guidelines on how to go about the registration.
Login and Fill the Biometric Data
Candidates are to start their registration by enrolling their fingerprints and capturing other personal details using the Biometric Data Capture software. Ensure your surname, first name, and other names are captured using the software. You are also required to enter your bio data which includes your gender, disability, marital status, maiden name (if applicable), date of birth, nationality, and state of origin.
You are required to take a picture which will be printed on your photocard and certificate. The picture must be taken with a webcam of a minimum Camera Specification* 2.0MP 720p USB 2.0 Color: High-Resolution RGB Support Hi-Speed USB 2.0 certified 2.0-megapixel sensor Up to 30 frames per second. The council recommends the Microsoft LifeCam HD 3000 Webcam.
You are then required to supply your contact information which includes telephone number, email address, residential address, residential city, residential state, postal address, city, and state. Note that a phone number is compulsory since it would be used to contact the candidate if the need arises.
Preferred Examination Town
You are required to select the state and town you wish to write the examination. Once this is done, the system automatically assigns you to your exam center. This applies to private candidates. Please note that you cannot change your examination town after submission.
English Language and Mathematics have been automatically selected for you because they are compulsory. Candidates are then required to select the other subjects they wish to register for in this examination. Please note that a minimum of seven (7) and a maximum of nine (9) subjects are allowed (English Language and Mathematics inclusive).
You are required to read the declaration section carefully and check or tick the boxes before submitting your form. You cannot proceed unless you have done this.
Once the registration form has been duly completed, candidates are required to click the ACCEPT button after which a preview of their details will be displayed. It is important to review the application at this stage and click the EDIT button if they desire to make any modification, if there is none, they can go ahead to click the SUBMIT button to submit their application.
After completion and submission of the registration form, the system will allocate a center to the candidate and generate their examination number. Candidates should then print the admission notice/photo card. Note that this document will be required before you are allowed into the examination hall.
Payment Procedures For Waec Registration
Payment guidelines and the amount to be paid differ from country to country. As mentioned above, private candidates will have to first pay to obtain the registration pin which allows them access to the registration sessions on the respective websites.
For school candidates, all schools that wish to register their students collect the approved registration fees from their students then visit WAEC offices in their area of jurisdiction to complete a remittance form. The school will get approval from the state Ministry of Education for the number of candidates they intend to register and also obtain the endorsement of WAEC Branch Controllers or Zonal Coordinators in their States/Areas/Regions.
Subsequently, they proceed to the designated banks to make payments and head back to the WAEC Zonal/Branch Office in charge of the State/region as the case may be.
The designated WAEC Finance Officer in the Zonal/Branch Office will then enter the payment information online and issue the school a scratch card or pay voucher containing information to enable the Principal/Examination Officer to sign into the e-Registration Website.
However, for schools without internet service in their locality/region, the council makes provision for registration on their standalone PCs or through business centers in their locality.
Information about the offline registration transaction is then stored in an electronic device and given to schools along with the pay voucher upon payment. This enables schools to start registering their candidates as they collect entry fees from them.
As mentioned above, WAEC registration fees differ from country to country. For those in Nigeria who wish to apply for the 2021 MAY/JUNE examination, they are required to pay ₦13,950 through NIBSS EBILLSPAY available in all the banks listed below.
Access Bank
Access Diamond
ECOBANK
Fidelity Bank
First Bank Bank
FCMB
GTB
Heritage Bank
Jaiz Bank
Polaris Bank
Stanbic IBTC Bank
Standard Chartered Bank
Sterling Bank
Union Bank
UBA
Unity Bank
WEMA Bank
 Zenith Bank
FAQs About WAEC Registration and General Requirements
Who are qualified to sit for the WASSCE?
In the case of the school examination, the prospective candidate must be in the SS 3 class in a recognized school. For the private candidates' examination, any one of the following categories may enter for the WASSCE:
a. Those who have attempted the WASSCE in previous years
b. Those who have attempted the GCE and obtained a pass in at least three subjects
c. Those who have passed the Teachers' Grade two
What Is the official life span of WAEC Certificates?
WAEC certificates have no expiry date.
How does a candidate collect his/her certificate?
School candidates collect their certificates from their schools while private candidates obtain theirs directly from WAEC offices.
Can one combine May/June and Nov/Dec WASSCE results for admission purposes?
Yes.
Why is it that candidates sometimes have a partial release of results?
Results are partially released due to queries arising from one or a combination of the following mistakes:
a. Wrong transfer of examination numbers in one or more papers
b. Failure to shade examination numbers
c. Shading objective sheets with ink pens instead of pencil
d. Mistakes in entries leading to duplication of subjects
Why are some results canceled?
Results are canceled when candidates are found guilty of examination malpractice.
Can a candidate register a protest over his examination result? If yes, how?
Yes, but only if he is a school candidate. No provision is made for a private candidate in this regard. Also, a school candidate does not write directly to WAEC. It is his principal who, knowing the candidate's ability, forwards a request for the review of the candidate's scripts. Of course, there is a specified fee to be paid on every paper to be reviewed.
What are the acts that constitute examination malpractice?
The following, among others, constitute examination malpractice:
Candidates bringing books or scripts into the
examination hall
Insulting or assaulting any examination official
Swapping of scripts in an examination hall
Replacing their answer scripts with another one during or after the examination;
Impersonation
Taking part in mass or organized cheating in the exam hall
All other acts that contravene the rules governing the conduct of the examination
A comprehensive list of offenses is provided in Council's Regulations & Syllabuses.