WAEC result checker is a platform provided by the West African Examination Council
(WAEC), a body tasked with the conduction, coordination, and supervision of O' level certificate examination in 5 West African countries – Nigeria, Ghana, Sierra Leona, Liberia, and The Gambia.
The result checker is utilized by candidates who registered and sat for WAEC examinations across the listed countries to check their result status.
Procedures For Checking WAEC Results
Two methods can be used to check and print out the results. Firstly, a candidate can do it online by going directly to the examination body's website: www.waecdirect.org, or through text message.
To successfully check WAEC result online, the candidate will have to purchase a special scratch card through banks, post offices, WAEC offices.
The card usually contains a serial number and pin which is to be entered on the WAEC
website or sent through mobile phone text message.
Checking Results Via the WAEC Result Checker Platform
The internet option is the same for candidates in the 5 West African countries. The procedures are listed below.
Using a scratch card and WAEC ID card, candidates should visit https://www.waecdirect.org/ and enter the 10-digit WAEC examination number.
The 10-digit number is a combination of the school/center number, which is followed
by the 3-digit candidate number (eg: 3460202101).
Once it is done, the candidate is required to select examination years (e.g 2021), then select the examination type as (school candidates only).
After that, the card serial number is entered, followed by the card's pin number.
Click the submit button and wait for the result to be displayed.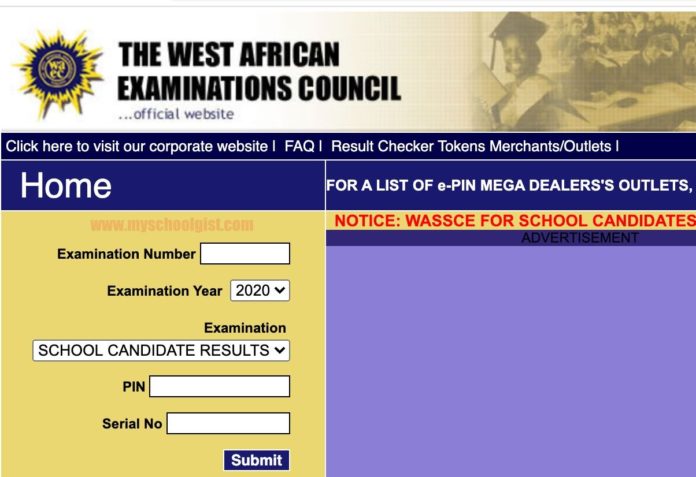 How To Check WAEC Results Via SMS
To access the result, a candidate must have in his or her possession a WAEC scratch card or a WAEC ID card.
This format is applicable to all the candidates in the 5 West African countries, but those in Nigeria can send text messages using this format: WAEC*ExamNo*PIN*ExamYear to 32327.
Ensure there is no space in the text format. For instance, WAEC*3460202101*123456789012*2021.
Once the text is sent successfully, the result will be delivered to the candidate's phone in the form of a text message.
It costs N30 to send the text and is applicable to MTN, Airtel, Etisalat, and Glo users.
text.
You Can Also Leverage the School System Method
This is about the oldest method of checking WAEC results; it was used before technology and the internet became popular and it's still been used. This method requires checking your results in your school. When released, the results will eventually be sent to the school where candidates took their exams, however, this is applicable to secondary school leavers.
For private candidates (those who wrote the November/December batch popularly known as GCE) they may need to go to WAEC offices to obtain their result. This method is more stressful, why go through all the protocols when you can to check your results from the comfort of your home?
Asides From Checking Results, What Else Can Be Done On the WAEC Result Checker Platform?
The platform is dedicated to checking WAEC results across the five Anglophonic countries where the council conducts examination; however, you can also find a list of Tokens Merchants/Outlets on the site. Overall, the platform is exclusively reserved for checking WAEC results.
Frequently Asked Questions (FAQs)
Oftentimes, candidates face some form of challenges when trying to check their results on the WAEC portal or through text messages. Thus, the council came up with a list of questions frequently asked by candidates about accessing results on the platforms, and below are answers that have been provided.
What does an e-pin stand for?
An e-pin stands for Electronic Personal Identification Number. It is a special 10-digit to 12-digit number that allows candidates to access the service. The service permits the candidates to access their results through various channels. The e-pin is found in a valid WAEC coupon.
Where can I buy an e-pin?
It can be purchased at any national WAEC office or any of its zonal and branch offices across Nigeria and other countries. It costs N1, 500 (Nigeria).
How many times can I check my result?
One e-pin can be used by a single candidate to check results not more than 5 times. Once the 5 times is exhausted, you must purchase a new e-pin, which will you give you another 5 times to check the result.
Can I use one e-pin to check more than one result?
No, you cannot. one e-pin is used to check one result. To check another result, you need a new e- pin. You'll be penalized for using one e-pin to check more than one result.
What information is available on this service?
WASSCE results for school candidates
WASSCE results for private candidates – first series
WASSC results for private candidates – the second series
Addresses of Zonal and Branch offices of WAEC
I have a problem checking my WAEC result. Can you please help?
Please, do send the following details to our [email protected] for verification and assistance:
Error message displayed
Your examination number
Type of Exam
Year of Exam.
I have been trying to check my result but the page is not loading. What should I do?
Kindly note this could be the result of a poor internet connection or high traffic on the site. You are advised to try again.
I went to the WAEC portal and fill in the required details only to see a page
telling me there is no result for the candidate in the specified year. Please what do I do?
You are advised to continue checking from time to time because the website may undergo updates subsequently or you can visit the nearest WAEC office for assistance.
Why is my result displaying outstanding?
Please note that these results that are pending are linked to several problems but, you can keep checking the portal for updates on pending results.
I checked my WAEC result with the center and examination number given to me but saw someone else's result. What do I do?
Please be informed that examination numbers are reused every year and the only unique difference is the examination year. Please change the exam year to the year you took your exam. However, you will have to purchase a new WAEC result checker e-PIN voucher to do this.
Please can the result checker e-PIN voucher bought the previous year be used to check the result of the current year?
A result checker e-PIN voucher purchased the previous year is still valid for use in the next year but note that you can only use one e-PIN voucher to check one result. To check another (different) result, you will require a new e-PIN voucher.