Actress, writer and American comedian Wanda Sykes is renowned for her smart-witty routines, she has appeared in several comedy shows as well as movies and TV series. She has won many awards in the course of her career and is regarded as one of the funniest stand-up comics in the U.S. Find out more about her including her net worth, sexuality, biography, wife, and family etc.
Wanda Sykes' Biography
Wanda Yvette Sykes was born on the 7th of March 1964 in Portsmouth, Virginia. Her dad, Harry Ellsworth Sykes was a U.S. Army colonel and worked at the Pentagon while mom, Marion Louise, was a banker. She also had an elder brother named Harry. Sykes spent her formative years in the state of Maryland, studying at the Arundel High School. For her college education, she went back to Virginia where she attended Hampton University, a historically black university. She obtained a BSc in Marketing from the institution.
On graduating college, Sykes worked as a contractor for the National Security Agency. The job did not give her much fulfillment and she started performing at various local comedy clubs. She found that her stand up gig made her much happier and after five years, she left the NSA for New York City to pursue a career in comedy. It was a big gamble but it eventually paid off. From opening for other prominent comics, Wanda Sykes was employed to be a writer on the Chris Rock Show in 1997. This launched her into the spotlight and since then, the Virginia native has never looked back.
She has manned several comedy shows including Wanda at Large, Wanda Does It, Wanda Sykes: Sick & Tired, Wanda Sykes: I'ma Be Me, The Wanda Sykes Show etc. She has also gone on to appear in several movies including Monster-in-Law (2005), My Super Ex-Girlfriend (2006), Evan Almighty (2007), License to Wed (2007), Pootie Tang (2001), Bad Moms (2016) and The Hot Flashes (2013). Additionally, the comic has lent her unique voice to several animations including Over the Hedge (2006), Brother Bear 2 (2006), Rio (2011), Ice Age: Continental Drift (2012), Ice Age: Collision Course (2016), Barnyard (2006).
Wanda Sykes has won several awards including a Primetime Emmy for "Outstanding Writing for a Variety, Music or Comedy Special" in 1999 (as part of the writing team of The Chris Rock Show. In addition, she has also received the American Comedy Award for outstanding female stand-up comic (2001) as well as Comedy Central Commie Award for "Funniest TV Actress (2003).
Net Worth
Sykes' net worth currently stands at $6 million. Her sources of income are most ostensibly her television shows and stand up performances. Other sources of income include the many movies and TV series she has appeared in. She also earned royalties from her 2004 book, Yeah, I Said It. In May 2009, she made history as the first openly gay and the first African American woman to headline the Whitehouse Correspondent's Association dinner.
See Also: Amy Schumer Bio, Boyfriend or Husband Chris Fischer, Net Worth, Weight Loss
Is She Gay?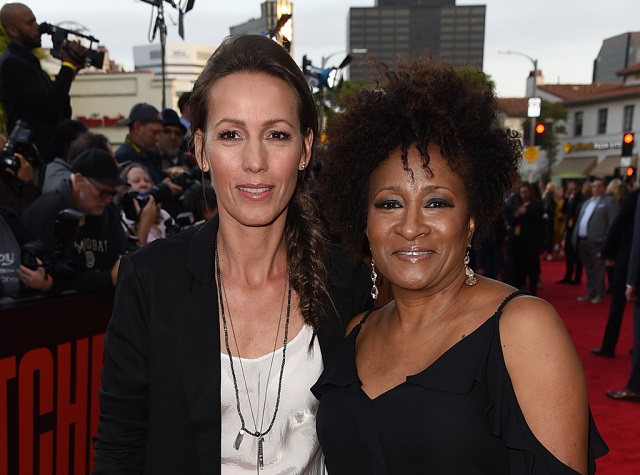 Yes, Wanda Sykes is gay. She openly came out as gay at a same-sex marriage convention in Las Vegas in 2008. She had come out to her parents in 2004 and the revelation left her conservative parents devastated. They had a difficult time accepting her, leading to a strained relationship. They have however come around and patched things up with the comic. Unsurprisingly, Sykes is a big time supporter and advocate of LGBT rights.
In 2008, she appeared in a Think Before You Speak Campaign, aimed at curbing the use of homophobic slangs by young people. She has also hosted several LGBT events and fundraisers. Her activism has not gone unnoticed and in 2010, she received the GLAAD Stephen F. Kolzak Award. The award is handed out by GLAAD (Gay & Lesbian Alliance Against Defamation) to personalities who have contributed to the fight against homophobia. Past recipients include Laverne Cox, Ellen DeGeneres, and Jim Parsons.
Family – Wife and Kids
Wanda Sykes has been married on two occasions. Her first marriage was to music producer, Dave Hall. They got married in 1991 and divorced in 1998. Sykes is presently married to Frenchwoman, Alex Niedbalski. They met in 2006 and got married in 2008. The couple has two children, a set of fraternal twins born on the April 27th, 2009. Their names are Olivia Lou (girl) and Lucas Claude (boy). At the time Sykes and Alex got married, Sykes' parents were still unhappy with her and did not attend the ceremony. They have however come around and are doting grandparents to their grandchildren.