Actress, writer, and American comedienne, Wanda Sykes is renowned for her smart-witty routines, as she has appeared in several comedy shows as well as movies and TV series. Kicking off her stand-up comedy career at Russell Simmons' Def Comedy Jam, Wanda has gone on to release several of her own comedy specials. Her recent release titled Wanda Sykes: Not Normal was ranked among the top ten most popular releases of 2019 in the United States.
With her impeccable improvisational skills, the actress made history in 2009 as the first African-American woman, as well as an openly gay person to perform in the annual White House Correspondents' Association dinner. She has won many awards in the course of her career and is regarded as one of the funniest stand-up comics in the U.S., though, she initially started as a contractor before venturing into stand-up comedy.
Wanda Sykes Worked For The NSA
Sykes spent her formative years in the state of Maryland, studying at the Arundel High School. For her college education, she went back to hometown, Virginia, and there, she attended Hampton University, a historically black university where she obtained a B.Sc in Marketing.
On graduating college, Wanda Sykes worked as a contractor for the National Security Agency (NSA). The job did not give her much fulfillment and she started performing at various local comedy clubs. She had her first performance in front of a live audience in 1987 at a Coors Light Super Talent Showcase held in Washington DC. She found that her stand up gig made her much happier and after five years, she left the NSA for New York City to pursue a career in comedy. It was a big gamble but it eventually paid off.
She Had Her Big Break With The Chris Rock Show
Moving to NYC in the early 1990s, Wanda performed at Russell Simmons' Def Comedy Jam before working as a book editor at Hal Leonard publishing house. Afterward, she had her comedy career breakthrough when she opened for The Chris Rock Show at Caroline's Comedy Club. Noticing her unique writing talent, she was hired as a writer for The Chris Rock Show in 1997 and was equally performing on the show at the time. Wanda Sykes and her writing team gained mainstream attention when they claimed Primetime Emmy Award for Outstanding Writing for a Variety, Music or Comedy Special in the year 1999, after gaining four Emmy Award nominations.
The Virginia native has never looked back since then and has moved on to appear in several Comedy Central shows including Tongue Untied, Premium Blend, Crank Yankers, and Wanda Does It. Later in October 2006, she debuted her first comedy special on HBO titled Wanda Sykes: Sick & Tired. Then in November 2009, she began hosting a late-night talk show, The Wanda Sykes Show. Despite the show lasting only for one year, it heightened Wanda's celebrity status.
The same year, the talented writer released her second comedy special, Wanda Sykes: I'ma Be Me, and in 2016, she dropped another comedy special titled What Happened… Ms. Sykes? She then released her Netflix special Wanda Sykes: Not Normal three years later – in 2019.
Her Numerous Acting Roles Skyrocketed Her To Superstardom
Beyond attaining fame for her diverse comedic efforts, Wanda Sykes is a renowned actress who began her acting career with a minor role in Nutty Professor II: The Klumps in the year 2000. She then moved on to appear in Down to Earth, Pootie Tang, Monster-in-Law, Curb Your Enthusiasm, before playing the main role of Barbara "Barb" Baran in 54 episodes of The New Adventures of Old Christine from 2006-2010. Also, she voiced the character of Bessy in 50 episodes of Back at the Backyard between 2007 and 2011.
Since 2015, Wanda has been scoring the role of Daphne Lido in Black-ish and has equally been playing the voice role of Gregoria the Gargoyle in Vampirina since 2017. She is among the cast of upcoming TV series, Mapleworth Murders and Tig N' Seek, as well as movies titled Friendsgiving and Breaking News in Yuba Country. As a voice actress, Wanda Sykes is quite famous for providing the voices of Stella in Over the Hedge (2006), Innoko in Brother Bear 2 (2006), Granny in Ice Age: Continental Drift (2012), Wage in UglyDolls (2019), and Tsaritsa/ Queen of Fables in Harley Quinn (2019-2020).
Other TV series and films she has graced her acting talent with include My Super Ex-Girlfriend (2006), Will & Grace (2006), Licence to Wed (2007), The Hot Flashes (2013), Alpha House (2013-14), Bad Moms (2016), A Bad Moms Christmas (2017), Broad City (2017-19), Hurricane Bianca 2: From Russia With Hate (2018), The Wedding Year (2019), among others.
Her Works In The Entertainment Industry Has Gained Her Many Awards
Wanda Sykes has won several awards including a Primetime Emmy for "Outstanding Writing for a Variety, Music or Comedy Special" in 1999 (as part of the writing team of The Chris Rock Show). In addition, she has received the American Comedy Award for an outstanding female stand-up comic (2001) as well as Comedy Central Commie Award for "Funniest TV Actress (2003). In 2019, Sykes' comedy special Wanda Sykes: Not Normal landed her another Emmy Award.
The popular comedienne has additionally gained some Award nominations over the course of her career. In 2006, her voice role of Stella in Over the Hedge was nominated for Annie Award for Voice Acting in a Feature Production. Also, her HBO stand-up special, Wanda Sykes: Sick & Tired was nominated for Primetime Emmy Award in 2007.
How Much Is Wanda Sykes Worth?
Sykes' net worth currently stands at $6 million. Her sources of income are most ostensibly her television shows and stand up performances. Other sources of income include the many movies and TV series she has appeared in. She also earned royalties from her 2004 book, "Yeah, I Said It".
More so, she has bolstered her earnings from her works as a writer. Wanda has penned down the scripts for many TV shows including The Kernel Ivory Wayans, The Downer Channel, Premium Blend and Roseanne.
See Also: Amy Schumer Bio, Boyfriend or Husband Chris Fischer, Net Worth, Weight Loss
The Actress Made Her Sexuality Open In 2008
After repressing her gay identity for years, Sykes publicly came out as gay at the age of 44.  She publicized her sexuality at a same-sex marriage convention in Las Vegas in 2008 when she delivered an impromptu speech concerning the dangers of Proposition 8, a California state amendment that illegalized same-sex marriage but has been overturned.
She had come out to her parents in 2004 and the revelation left her conservative parents who are devout Christians devastated. They had a difficult time accepting her, leading to a strained relationship. They have however come around and patched things up with the comic.
She Is An Advocate Of The LGBTQ+ Rights
Unsurprisingly, Sykes is a big-time supporter and advocate of LGBTQ+ rights. Since opening up about her sexuality, she has been serving as a voice for the queer community and also, has championed many equality campaigns. In 2008, she appeared in a Think Before You Speak Campaign, aimed at curbing the use of homophobic slangs by young people. She has also hosted several LGBTQ+ events and fundraisers. Recently, she collaborated with Apple TV+ to co-produce Visible: Out on Television, a five-part documentary series that outlines the history of LGBTQ+ representation on television
Her activism has not gone unnoticed and in 2010, she received the GLAAD Stephen F. Kolzak Award. The award is handed out by GLAAD (Gay & Lesbian Alliance Against Defamation) to personalities who have contributed to the fight against homophobia. Past recipients include Laverne Cox, Ellen DeGeneres, and Jim Parsons. She is also a recipient of the Ruth Ellis Legacy Award.
The Award-Winning Writer's First Marriage Ended In Divorce
Wanda Sykes has been married on two occasions. Her first marriage was to music producer, Dave Hall. They got married in 1991 and divorced in 1998. The comedienne has cited that she was unhappy while married to Dave who is famously known for his works on Mary J. Blige's first studio album 'What's the 411?' and Madonna's 1994 album 'Bedtime Stories'.
She told The New York Times that she prayed to get away from the marriage, as she forced herself to be straight during such time and eventually ended up having a bad relationship with her husband.
Wanda Sykes Has Been Married For Over a Decade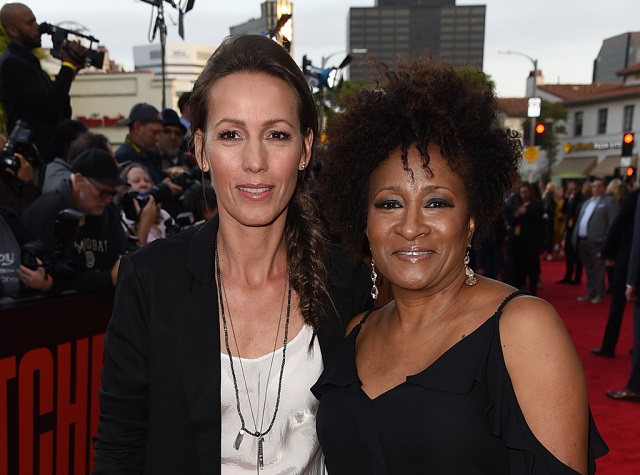 Sykes is presently married to Frenchwoman, Alex Niedbalski. They met in 2006 on a ferry heading to the gay resort, Fire Island located in New York. She was introduced to Alex by a stranger she met and complained about refurbishing her kitchen. The stranger then hooked her up with Alex Niedbalski who was selling granite countertops at the time. After dating for two years, the two tied knot in the year 2008, in a private ceremony held in Las Vegas.
The couple has two children, a set of fraternal twins born by Alex on April 27th, 2009. Their names are Olivia Lou (girl) and Lucas Claude (boy). Wanda and his wife have been going strong as a couple since they secretly got married and have been together for more than ten years now. At the time Sykes and Alex got married, Sykes' parents were still unhappy with her and did not attend the ceremony. They have however come around and are doting grandparents to their grandchildren.