Everything about the NIMC enrolment has been made easy for applicants to access and checking your details can be achieved in different ways. Your NIN can either be collected from the center where you enrolled or you can request transfers to a more convenient spot. Alternatively, people have been leveraging the USSD code to access their NIN and you can do the same. Just dial *346# and follow the steps. Besides, this service is pocket-friendly as it only costs a token of N20 which is deductable from the available credit balance on your MTN, Glo, Airtel, or 9Mobile line.
Different Ways To Check Your NIN Number
Upon the completion of your NIMC enrolment process, the next stage is to collect your National Identification Number. The ideal situation is for applicants to collect their NIN from the center where they enrolled; this is usually the most common way of getting your NIN.
However, people who are unable to collect their NIN from their enrolment center have the option of requesting for it to be transferred to other centers where they can collect at their convenience. Please note that NIN cannot be collected by proxy as the enrolment centers can only give them to the enrollee. Thus, if you have relocated from where you did your initial enrollment, it is best to request a transfer.
Again, another way of accessing your NIN is to go through the approved USSD code. People who have completed their enrolment process can get access to their NIN by dialing *346#. This should be done with the phone number associated with their driver's license, voter's card, or BVN registration. Before dialing the code, ensure that your phone has a credit balance as the services attract a fee of N20. When the NIN is displayed on your screen, you should screenshot or copy it out as it will not be displayed twice. The USSD code is currently working on MTN, Glo, Airtel, and 9mobile.
How to retrieve your National Identification Number(NIN) via the USSD Code: #DigitalNigeria #digitalidentity pic.twitter.com/yS2foVMFdO

— NIMC (@nimc_ng) December 15, 2020
Those who have lost their NIN can also retrieve them by following a similar process. here is how to go about it
Dial *346#
Type "1" to select "NIN Retrieval"
Some steps will be displayed on your screen, follow them and provide the required info as you go along
This service will also deduct the N20 service charge from your airtime credit balance.
Is it Possible For Applicants to Change the Initial Details Used During NIMC Registration and Capturing?
People who made mistakes during their NIMC enrolment process or even those who wish to update some information can do so. However, the commission has listed the fields that can be updated and those that are tagged Non-Updatable Fields; thus it is dependable on where the area you want to change falls in. Remember, updating or changing the information on your NIMC enrolment comes with charges. These are explained below;
These are the Approved Updatable Fields
1. Names
2. Date of Birth
3. Addresses
4. Phone Number
5. Place of Birth – State
6. Place of Birth – Local Government Area
7. Place of Birth – Country (if it is different from Nigeria)
8. Place of Origin – State
9. Place of Origin –Village, Town,
10. Place of Origin – Local Government Area
11. Father's NIN
12. Father's Town, Village of Origin
13. Father's State of Origin
14. Father's Local Government Area of Origin
15. Mother's NIN
16. Mother's Town, Village of Origin
17. Mother's State of Origin
18. Mother's Local Government Area of Origin
Non-Updatable Fields
1. Gender
2. NIN
3. State of Registration
4. LGA of Registration
5. Registration Centre
6. Ward
7. Polling Unit
8. Date of Death
9. Date of Death Type
10. Tracking Number
11. Date of Registration
12. Originating Centre
13. Loading Centre
14. ID Card Number
15. Applicant's FingerPrint (Finger 1 to 10)
16. Applicant's Finger Print Reason (Finger 1 to 10)
17. Applicant's Signature
Applicants should be aware of the amount to pay for each change or modification. in the first instance, those that want to change their date of birth should be ready to part with a huge sum as it costs as much as N15, 000. However, making alterations in other fields cost less; you pay a token of N500 per field for all others. Enrollees should also note that these payments are non-refundable and must be paid through NIMC into the CBN TSA. Those who wish to go ahead with these modifications are expected to present evidence of payment before the process will be allowed to commence.
How do I Check if My NIMC Card is Ready?
The NIN slip that applicants are issued with at the conclusion of their enrolment is merely a temporary requirement. Enrollees are advised to continue monitoring to know when their permanent National Identity Card will be ready for collection. The under-listed process can be used in checking to know when it will be available for collection;
Visit www.nimc.gov.ng which is the website for the National Identity Management Commission [NIMC].
When you land on the home page, scroll down to the e-ID Card Status Portal and click on it; this will indicate whether your NIMC card is among the ones that are ready and it will also tell you if the card is already at the activation center.
To achieve this, applicants need to enter some details like their first and last name, including their NIMC check tracking ID. When this is done, click the 'check now' icon.
Where Can I Find My NIN Number?
When you are done with enrolment, you will receive two slips:
Transaction Slip
National Identification Number (NIN) Slip
To find your NIN, go to the top left corner of the National Identification Number (NIN) Slip, on the second row, you will find your 11 digit NIN which is considered valid for every legitimate transaction in Nigeria.
Where Can I Pick Up My National ID Card?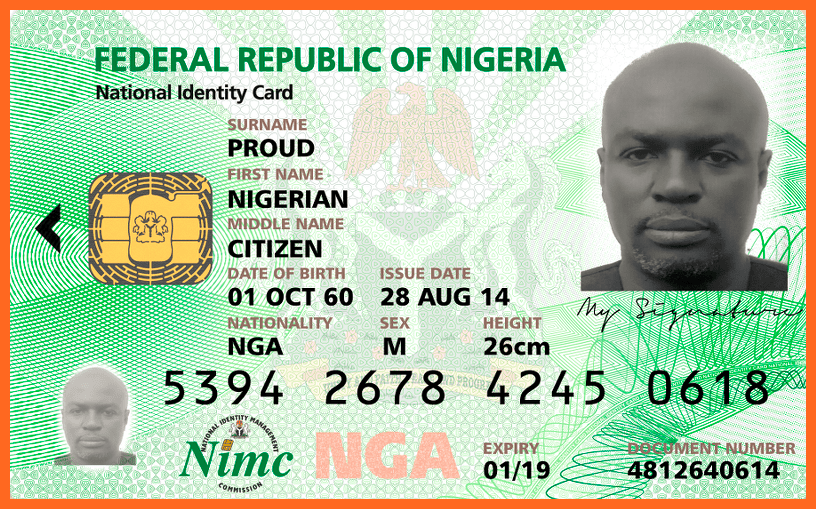 If you have ascertained that your national id card is ready for pick up, then it is back to your enrolment locations. All enrolment centers can issue National identity cards and every state have their own; these are usually delineated into several centers for convenience. Nigerians in the diaspora can also return to the centers where they enrolled to be able to collect their cards.
For the enrolment forms, you can download them online or they can be picked up at NIMC'S ERC (NIMC Enrolment Center)
e-ID Card Issuance
Applicants whose National e-ID Card is ready for collection and activation should have the following;
1. Batch ID Number received via SMS.
2. 4 digit secret pin (known only to them); this is for the e-ID Card activation.
3. Enrolee's fingerprints will be needed for the activation (for those with fingers only).
Process of Card Activation
Card owners visit the NIMC Card collection Centre and present either the text message or email printouts they received from NIMC together with the batch ID.
NIMC Card Operations Support Officer extracts the batch ID from Card from Owner's SMS and uses it to sort out his/her Card.
When the card is sorted out, the Activation Officer presents it to the e-ID Card Owner to confirm details on the Card Envelope like Name and Address.
Once the card owner confirms that the details on the envelope are correct, he will be allowed to bring out the e-ID Card from the envelope to confirm details like Names, Dates of Birth, and Image before Activation is done.
Upon the Card Owner's satisfaction, the activation officer proceeds with the Match-on-Card (MOC) Verification.
With the MOC verification done, the Activation Officer goes ahead to Activate the Electronic Public Key Infrastructure (ePKI), International Civil Aviation Organization (ICAO), Electronic ID (eID), Applet and Europay-MasterCard-Visa (EMV), Applet Using the four-digit password created and known only to card owner
After the completion of activation, the card Owner gets his National e-ID Card