The supposed heir of the famous Durst Organisation, Robert Durst has instead taken to criminal notoriety. The Durst family from which Robert comes has remained famous for their massive stake in New York City real estate for the past three generations. Most prominent among the family's vast real estate fortunes that total almost 10 million square feet across NYC are the Bank of America Tower, part ownership of the new World Trade Center and the Conde Nast Building. But why did Robert Durst lose his rightful place in this lasting empire? What exactly happened to him? Where is he at the moment, and what is he doing with his life?
Robert Durst's Background
Robert Durst was born on April 12, 1943, in New York City. He is the first son of the second generation manager of the Durst Organisation, Seymour Durst and his wife, Bernice Herstein. He has three younger siblings – Douglas, Thomas, and Wendy.
Robert grew up in his family's estate in Scarsdale and attended the Scarsdale High School. He, however, had a troubled childhood, holding a record of personality decomposition and schizophrenia as early as age ten. He also frequently engaged in savage rivalry with his brother, Douglas and always kept to himself. His Scarsdale school mates also perceived him as a recluse.
After high school, Durst studied Economics at Lehigh University, earning a bachelor's degree in 1965. He subsequently enrolled for a Doctorate at the University of California, Los Angeles. He, however, abandoned the program, returning to New York in 1969 where he began working in his family's estate business.
What Happened to Robert Durst?
In April 1973, Robert Durst married Kathleen McCormick, a dental hygienist whom he met in the fall of 1971. McCormick however, went missing in February 1982, after about nine years of marriage with Durst. Due to the troubled nature of their union and the circumstances surrounding her disappearance, rumors became rife that Robert murdered Kathleen. However, for lack of evidence, Robert never faced charges for the allegations.
Owing to this ugly development alongside other misbehavior on the part of Robert, his father in his stead, appointed his immediate younger brother, Douglas to head the Durst Organisation before his death in 1995. This move caused a bitter rift between Robert and his family, against whom he subsequently waged a legal battle. The Durst family eventually cut him out of their business, settling him with a trust worth up to $65 million.
Further Murder Allegations and Trials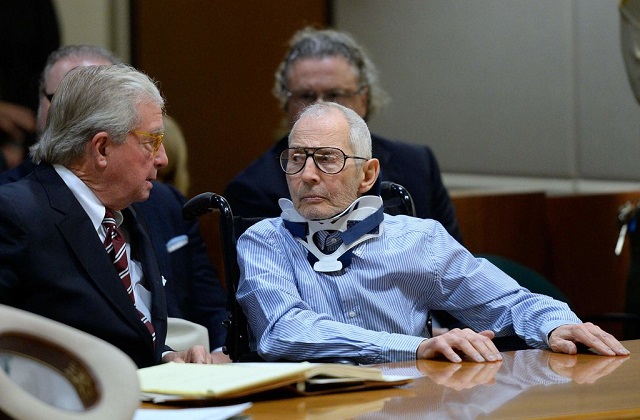 After years of McCormick's disappearance, Robert Durst's longtime friend, Susan Berman was shot dead in her residence in Los Angeles. Robert was once again, indicted in the murder which occurred on 24th December 2000, a few days before the LAPD was reportedly about interviewing Berman during a reopened investigation on the Kathleen McCormick case. Many believe that Durst got rid of Berman to forestall her spilling any information on his involvement in McCornick's disappearance. Due to suspicions that he has hands in Susan Berman's gruesome murder, Durst moved to Galveston in Texas. There, he lived in the guise of a woman in a boarding apartment.
Crime, however, continued to follow Durst. Barely one year after Susan's murder, the police apprehended him after they discovered the dismembered body of his boarding house neighbor, Morris Black afloat the Galveston Bay in October, 2001. While the case was still in court, police once again arrested a bailed but yet-to-be-tried Durst for shoplifting at a Wegmans supermarket in Bethlehem, Pennsylvania on 30th November. On searching his car following his arrest, the police discovered Black's driver's license, two guns, marijuana and $37,000 in cash.
Durst later confessed to killing and dismembering Black out of self-defense during a physical altercation. On this basis alongside a lack of proper evidence and poor mental health status, the court acquitted him of Black's murder. He, however, later served two short jail terms between 2004 and 2006 for evidence tampering and parole violation. Following his release, Durst continued to live in different cities under false names and aliases.
Also See: 5 Interesting Things To Know About Fiona Gubelmann
Where Is Robert Durst Now and What Does He Do?
Despite meandering through the murder cases, Robert Durst later bagged an 85-month sentence in February 2016 for unauthorized firearms possession. He was first incarcerated in the United States Penitentiary in Terre Haute, before being transferred to the Twin Towers Correctional Facility in Los Angeles.
Meanwhile, Durst's health has been in a poor state since 2007 after he underwent surgery to cure esophageal cancer, he subsequently developed hydrocephalus. He presently resides in a hospital jail cell in the correctional facility's medical ward, awaiting his next trial on the the Susan Berman murder case.