Chidinma Ekile was only 19 when she came to prominence on national television. Her claim to fame hinged on her emerging as the winner of the 3rd season of MTN singing competition Project Fame West Africa. As an entertainer and celebrity, she was instantly thrust into the spotlight and while she has navigated this elegantly, all aspects of her life have come under public scrutiny. Particularly her romantic life. The most notable rumor about her romantic life is Chidinma's relationship with Flavor.
Her alleged relationship with colleague and fellow musician Flavor started making the rounds when she recorded a few collaborations with the highlife music icon. Did they or did they not have a romantic relationship? We explore the facts about her true relationship with Flavor and all the men she has been associated with since she joined the celebrity hub.
Did Chidinma Ekile Really Have an Affair with Flavor?
For over a period of nine years, rumors of their love affair has existed and continues to spread. However, in 2015, during an interview, Chidinma revealed that they` have never dated and are only good friends. According to her, all the things that they have done to point to them being lovers was just acting. She urged fans to believe that the only thing that exists between the both of them is purely a professional relationship.
Flavour has also not been silent on the state of their relationship. Speaking to BBC Igbo, he echoed Chidinma's words when he stated that they are professionals who work together often and regularly do good work together.
Notwithstanding what the two had to say about their alleged love affair, they didn't make it any easier to believe there is nothing going on between them. There have always been pointers that suggest they are an item, what with the kisses and cozying up together. If the picture they portray to the public while working together is anything to go by, nobody would be blamed for assuming there is more than a professional relationship between these two.
How Did Chidinma and Flavour Come to Public Attention?
Four years after winning MTN Project Fame, Chidinma collaborated with high life musician Flavour on the song Ololufe. The unification of the two talented musicians was not one that was expected but also sparked a flurry of rumors. At some point in the song's video which was shot in South Africa, the two shared a kiss and it was not a light one. For Nigerians, this was a confirmation of a romantic relationship between them. Most people found it very difficult to believe it was mere acting and this theory has refused to go away.
The kiss was not the only driving force for this, they shared certain chemistry and seemed to have a connection that spoke to a relationship existing off-screen. As a result of all these factors, a rumor started that the two have had a romantic relationship but are reluctant to share it with fans.
In 2019, the rumors of their relationship came to light again. Chidinma had uploaded pictures of herself in the traditional Igbo marriage attire on Instagram, the pictures had Flavour in them as well.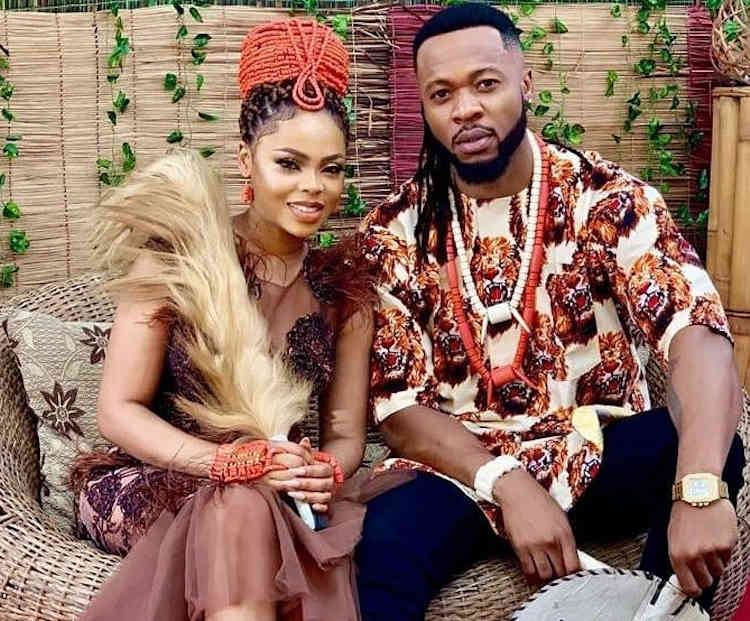 This was enough to fan the embers of the rumors of their relationship. But just like the last time, this was only for their careers. As the pictures were promotional content for their EP, 40 Years Everlasting.
The Works They Have Done Together
Ololufe
Oh Baby
Sweet Like Shuga
40 Years Everlasting EP: Nkem, Iyawo Mi, Nkem (Acoustic), Mma Mma and 40yrs
The singers might not be an item in reality but they have collaborated on a good number of projects that will not be forgotten in a hurry. Chidinma has worked with a number of artists in her career but of the people she has worked with, the one person she had worked with the most is none other than Flavour.
Their first song together was Ololufe and before they went on to make more magical productions, their debut sent the rumor mill buzzing with speculations of a romance brewing between the two. The music video of the song depicts the two stars professing love for each other in a very convincing manner and even shared a romantic kiss. Their other songs together include Oh Baby, Sweet Like Shuga, among others and they have an EP together, which features 4 songs and a bonus track.
Who Is Chidinma Dating Now?
For the most part of her career, Chidinma has gone the extra mile to make sure that she lives a scandal-free life. She has kept to herself and made sure that her private life has remained so. This is why she is often playing around when the question of her love life comes up during interviews. She once declared that she kissed Kizz Daniel and even married him but that turned out to be a joke as well. There were also hints that she was an item with Kizz and that they were planning a wedding in 2019 but nothing has been confirmed in this regard.
Currently, this musician is not in any known relationship. She has been single for a long time. It is also possible that if she gets into a relationship she will do her best to make sure that it does not get a lot of attention. Just as she has done in her previous relationships. Chidinma Ekile's relationship with Flavor, or the lack of it, and the way it gathered unsolicited attention to her personal life has fueled her desire to keep love life away from the public eye.
She did mention she was in a relationship years ago but refused to give out the details of who her partner is.
The Men Chidinma Has Dated
As a result of her obsession with privacy, it is hard to say who Chidinma has dated. For one, it is certain that she had a relationship with Dammy Krane in 2015. But this relationship was short-lived. According to her, Dammy Krane was a crazy guy who made her laugh a lot, her hit song Kedike was dedicated to him and she credited him with eliciting all the laughs she had while she was shooting the Kedike video.
She, however, revealed that he was also immature and dating him was not the right choice in the long run. Some other men she is believed to have dated include Phyno, Falz and Teckno but they were never confirmed.