Juliet Ibrahim (born 3 March 1986) is a Ghanaian actress, film producer, and singer known for her role in the movie 4 Play. Since her divorce from her husband, Kwadwo Safo Jnr, she has been romantically linked to Ogbonna, Iceberg Slim, and VJ Adams.
Juliet Ibrahim is one stunning woman who has been dubbed the most beautiful West African woman by A-listers Magazine. She is of Ghanaian and Lebanese heritage which might account for her unusually exotic looks. Aside from her looks, she is also very talented as she is all of an actress, singer, as well as a film producer.
Juliet has been through a number of relationships since the break down of her marriage and being a celebrity makes it even more difficult to confirm the true status of most of these relationships. Nonetheless, a lot has happened in her life since her first marriage crashed. But first, here is a look at how her career started.
Summary of Juliet Ibrahim Biography
Full name: Juliet Ibrahim
Gender: Female
Date of Birth: 3 March 1986
Place of Birth: Accra, Ghana
Juliet Ibrahim's Age: 37 Years Old

Ethnicity: Mixed
Nationality: Ghanaian
Zodiac Sign: Pisces
Sexual Orientation: Straight
Marital Status: Divorced
Juliet Ibrahim's Ex-Husband: Kwadwo Safo Jnr
Juliet Ibrahim's Children: 1
Juliet Ibrahim's Parents: Mr. Hussein Ibrahim and Mrs. Sarah Elizabeth Ibrahim
Siblings: 

Sonia Ibrahim, Nadia Eman Ibrahim, Nabil Ibrahim

Education

:

 

Ghana Institute of Languages

Profession: Actor, author, singer, film producer
Juliet Ibrahim's Height in Inches: 5 feet 7 inches
Juliet Ibrahim's Height in Metres: 1.71
Juliet Ibrahim's Weight: 147 lbs. (63 Kg)
Body measurements in inches: 36-28-39 inches (bust, waist, and hip size)
Dress Size: 3 (US)
Shoe Size: 6 (US)
Juliet Ibrahim's Net worth: $800,000
Famous for: 
Juliet Ibrahim's Instagram: julietibrahim
Twitter: @julietibrahim
Juliet Ibrahim Made Her Acting Debut in 2005 At Age 19
Juliet Ibrahim was born in Accra, Ghana on the 3rd of March 1986 and subsequently spent most of her formative years in the Ivory Coast and Lebanon due to civil wars. Her Lebanese father and Ghanaian-Liberian mother raised her and her two sisters together. After completing her primary education in Lebanon, she proceeded to Ivory Coast for her secondary education. The future actress later attended the Ghana Institute of Languages where she studied English, Spanish, and French. To further enhance her career, she proceeded to the Ghana Institute of Journalism where she studied Marketing, Public Relations, and Advertising.
In the year 2005, aged 19, Juliet made her acting debut in the movie Crime to Christ where she appeared alongside Majid Michel. In 2008, she featured in her first Nollywood movie, Yankee Boys. She has since then gone ahead to feature in over fifty movies spread across the Nigerian and Ghanaian movie industries. So far, Juliet Ibrahim has featured in movies in different languages, including Yoruba, Hausa, and Twi.
She Launched Her Career as a Producer in 2014
While still taking the movie industry by storm with her face on many posters, Juliet Ibrahim leveled up to become a producer. The first film she produced was titled Number One Fan in 2014. In the movie, she featured as an actress being stalked by a fan.
Juliet has gone ahead to produce several other projects. Her second film in this capacity was Shattered Romance which was released the same year she debuted as a producer. Shattered Romance featured an array of Ghanaian and Nigerian actors and mixing talents from the two big industries have really helped her career.
The actress cum producer added director to her portfolio with her debut in the capacity in the TV series, Every Woman Has A Story. She is said to be working on a new reality show titled The Perfect Assistant.
Juliet Ibrahim was 24 When She Entered Her First Marriage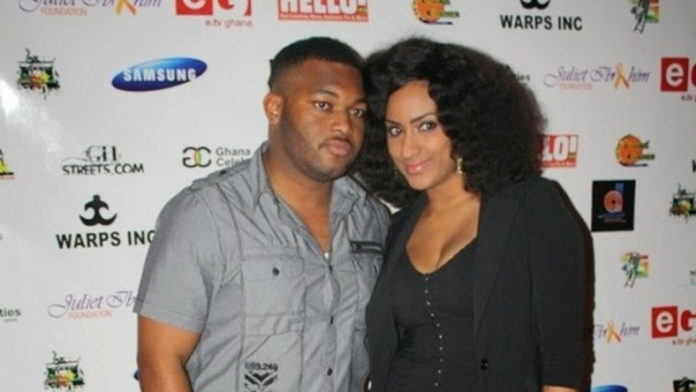 Juliet Ibrahim has been really upfront whenever she talks about her failed marriage to Kwadwo Safo Jnr. Even though it has been rumored that the union deteriorated because she was perceived to be a bad girl by Kwadwo's father, she has insisted that this isn't the case as Kwadwo first saw her in a strip club and knew what he was getting into with her. According to her, she rushed into marriage at a time that all she wanted to do was have fun.
Kwadwo Safo Jnr is an Ashanti, Ghana native whose father is Safo Kantanka, a religious leader, innovator, and one of the most successful car manufacturers in Africa. Safo Jnr has toed his father's business line to become a successful businessman and the C.E.O of Kantanka group of companies which has stakes in the transportation, education, automobile, health care, and construction industries.
Juliet and Safo Jnr got married in 2010, the same year they welcomed their son Jayden Safo. Four years into the marriage, both parties couldn't take it any further, thus, divorce proceedings were initiated to dissolve the union.
What Led to the Breakdown of Their Marriage
In retrospect, Juliet Ibrahim has highlighted several issues that might have led to the breakdown of her marriage. She believed that she was young at the time, and none of them considered their backgrounds nor stated their boundaries before walking down the aisle.
Moreover, she later revealed that Kwadwo cheated on her during the course of their union and went ahead to impregnate the lady he was cheating with. It was a devastating situation for Juliet who admitted that she could not stomach such disrespect from any man no matter how rich he was. She then made the hard decision of quitting her marriage. The actress revealed that her ex-husband immediately moved on with the same side chick after their break up. He did get married just a few months after their marriage ended.
Kwadwo, on the other hand, has chosen not to make any comments about these allegations. However, in a post on one of his social media accounts, he reiterated that there is no need for him to share his side of the story and he would rather spend his time on more productive things like thinking of new models and how to capitalize on the newly launched automobile policy by the government.
All the Other Men Juliet Ibrahim Has Been Romantically Linked To Since Her Divorce
Following the end of her marriage to the business magnate, Juliet Ibrahim has been linked to a few men, both in the movie/entertainment industry in her home country and in Nigeria. It is important to note that some of these relationships have never been confirmed by either party.
Ik Ogbonna (2014)
Shortly after her marriage ended, Juliet Ibrahim became very close to Nigerian actor Ik Ogbonna. The media was abuzz with rumors of the duo being in a relationship but they never came out to confirm or rebut this claim. Years down the line, the actress has admitted that they were really close friends who had a fling that ended in a short time.
Iceberg Slim (2016-2018)
Juliet began to date Nigerian rapper Olusegun Olowookere also know as Iceberg Slim in 2016. Their relationship was really public and looked perfect from the outside. They were together for about 2 years before Juliet called it quits.
The Nigerian rapper took to his Instagram page to reveal the real cause of their breakup and apologized. He admitted to having cheated with another woman, adding that he lied and took his lady love for granted. Juliet seems to have moved on and urges Iceberg to stop using her name to get attention and move on with his life.
VJ Adams (Rumored 2020)
V.J Adams is a popular Nigerian TV presenter, actor, and musician. His real name is Adams Ibrahim Adebola. In October 2020, Juliet Ibrahim shared pictures of herself in a stunning wedding dress alongside V.J Adams which led to speculations about a relationship and marriage between the duo.
As typical of her, she is yet to confirm if this is a photo session or if they are truly married. We expect to hear from the horse's mouth though maybe some years down the line when she is comfortable enough to reveal the truth about her love life. For now, we assume the pictures were taken for one of her reality shows.