Kaitlin Olson has an estimated net worth of $16 million. She is an American actress and film producer.
Kaitlin's net worth has been on the rise since she started appearing as Deandra Reynolds alias Sweet Dee in the highly captivating TV show, It's Always Sunny in Philadelphia. Olson who was born on the 18th of August, 1975 officially began her career in the year 2000. After appearing in numerous small roles, she eventually landed her breakthrough on the FX sitcom that also stars Rob McElhenney, Charlie Day, Danny DeVito, and Glenn Howerton. Here is a detailed look at how the long-running TV series affects Kaitlin Olson's net worth.
Kaitlin Olson's Net Worth Since 'It's Always Sunny in Philadelphia'
Kaitlin Olson's net worth stands at $16 million at the moment. The actress built her worth from her career as an actress, comedian, and producer.
However, mainly contributing to Kaitlin Olson's net worth is her role as Sweet Dee in It's Always Sunny in Philadelphia. Kaitlin began appearing in the show from its first season which began airing since 2005. Owing to the fact that the comedy show gets its material from actualities, it has gone on to become cable's longest-running sitcom series ever. More striking is the fact that the show, unlike a majority of others, has nothing to do with projecting good morals. It rather divulges how immoral man can be in almost every aspect, portraying the absurdities in the most hilarious ways; thus, keeping viewers glued.
Sunny is, however, not Olson's only source of income. While starring in the highly-received comedy show, Kaitlin has also appeared in numerous other works both movies and TV series which have all contributed to the build-up of her net worth. Prominent among these works are Leap Year (2010) in which she portrayed Libby; The Heat (2013) where she played Tatiana, Finding Dory (2016) wherein she voiced Destiny, a whale shark; and The Mick (2017-2018) wherein she played the lead role of Mickey.
What Was Kaitlin Olson's Net Worth Before It's Always Sunny In Philadelphia?
Prior to Sunny, Kaitlin Olson's net worth was practically nothing to reckon with, especially on the celebrity scale. In fact, it was something not worth talking about by the media. As earlier mentioned, Olson's "Dee" role on the series is her big break as she only appeared in minor roles before landing it.
A look at her career timeline reveals that on completing her studies in Theater Arts at the University of Oregon in 1997, Olson moved to Los Angeles in pursuit of professional acting. There, she started working with an improvisational comedy group called The Groundlings. Before joining the cast of It's Always Sunny in Philadelphia, she only made guest/minor appearances on a number of TV shows and films some of which include The Drew Carey Show, Out of Practice, Miss Match, Family Guy, Punk'd, and Coyote Ugly.
Kaitlin Olson's Income Sources
Other 'It's Always Sunny in Philadelphia' Stars Net Worth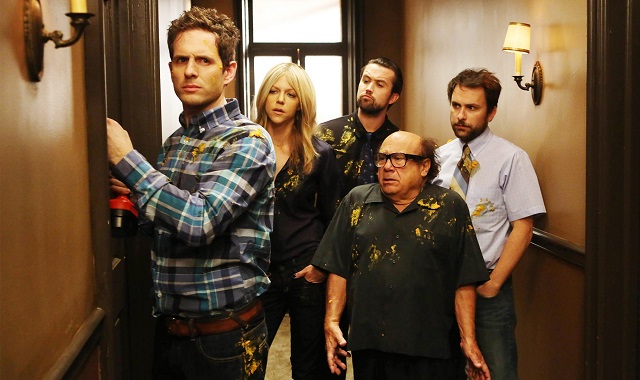 With the height of financial success Sunny in Philadelphia has attained, no one would believe that its pilot had cost less than a hundred dollars to make and that most of its now world-famous stars were practically nobodies initially. The series has now, not only brought fame to its main cast members but has also earned them impressive net worths. Here's what each of the Sunny stars are worth:
Glenn Howerton who starred as Dennis Reynolds, a twin brother to Deandra Reynolds (Kaitlin Olson) and son to Frank Reynolds (Danny DeVito) is worth $25 million. Glenn joined Sunny from its first episode and its best known for the show.
Charlie Day who appeared as Charlie Kelly, a friend to the Reynolds twins and Mac is worth $30 million. Day is also popular for his role on Sunny and has appeared in all of its seasons to date.
Rob McElhenney who portrayed Ronald McDonald alias Mac is worth $50 million. In real life, Rob is the creator of Sunny as well as the husband of Kaitlin Olson. The duo married in 2008 and have two sons together.
Danny DeVito played Frank Reynolds, legal father to Deandra and Dennis. He is worth $80 million. While Sunny is the major source of fame and wealth to the first three actors on this list, Devito actually brought popularity to the show. Danny joined the show in its second season when FX was in dire need of a big name to boost ratings. He is best known for his role in Taxi (1978-1983).