If there is one sports star who had a stellar 2019 season, it is certainly Kawhi Leonard. The player tallied astonishing numbers as he led his underdog Toronto Raptors team to the NBA championships. The trophy, which is the first in franchise history, threw the city of Toronto as well as the whole of Canada into frenzied celebrations. So, what has the small forward got to show for all his magnificent exploits? What is Kawhi Leonard's net worth? All these and more details are explored below.
Kawhi Leonard's Net Worth
Kawhi Leonard has a net worth estimated at $35 million. This sum primarily stems from two sources; his lucrative playing contracts, as well as the juicy endorsement, deals that he has scored over the years.
Earnings from Contracts and Salaries
Leonard was drafted into the NBA in the year 2011. Since then, he has played for three teams namely The San Antonio Spurs (2011 – 2018), Toronto Raptors (2018 – 2019), and L.A. Clippers (2019 – date). Leonard's rookie contract was a two-year deal which he penned with the Spurs in 2011. The contract was worth $3.54 million, and subsisted from 2011 to 2014. During this period, the player received two contract extensions worth $1.89 million (2013/2014) and $2.89 million (2014/2015).
Following a stellar 2014/2015 season in which Leonard led The Spurs to the NBA championships, the franchise rewarded him with a new five-year contract worth $94.3 million. Under the terms of the deal, the California native earned at least $18 million each season. Kawhi Leonard presently plies his trade with the L.A. Clippers. He joined the franchise on a three-year contract, worth $103.14 million, in July 2019. Under the terms of the contract, Leonard will earn a basic salary of $32.7 million (2019), $34.3 million (2020), and $36.0 million (2021). It therefore suffices to say that Kawhi Leonard's net worth will remain on an upward trajectory for years to come.
Income from Endorsement deals
Kawhi Leonard's net worth has also benefited from endorsement deals. According to Forbes estimates, the player makes as much as $5.5 million per annum from endorsement deals. Leonard previously had a multi-million dollar deal with Nike which ran from 2014 to 2018. He has since pitched his tent with New Balance, an American multinational corporation which specialises in athletic shoes, apparel, sportswear, sports equipment, etc. Leonard signed a long-term deal with New Balance in 2018. He has featured in TV campaigns for the company. New Balance has also released a series of Kawhi Leonard's men and women shoes titled OMN1S.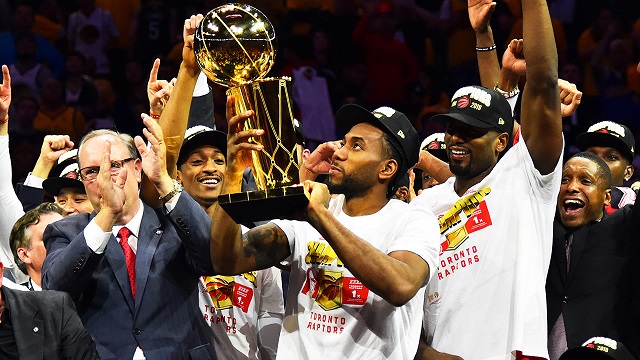 Nike Lawsuit
Leonard's ability to maximize his endorsement deals is the subject of litigation. In 2011, the player came up with a Klaw logo based on his infamous large hands. The logo also included his initials as well as the No 2 jersey which he dons. Leonard trademarked the logo and upon signing with Nike in 2014, shared it with them. The company burnished the logo and copyrighted it. They also used it on various merchandise. Following the end of Leonard's association with Nike, the company asked him not to use the logo as they had copyrighted it. The NBA star thus filed an action in June 2019 asking the courts to declare, that he is the owner of the logo; that he is not infringing its use; and that Nike committed fraud by copyrighting it. Nike has since counter filed, stating that their logo is sufficiently different from the rough draft that Leonard presented to them. The outcome of the matter is awaited.
What Kind of Car Does He Drive?
Kawhi Leonard is not your typical sports star. While many of his peers utilise the power of social media to gain fame, the Clippers player remains notoriously private. He avoids sharing personal titbits and is content to let his game speak for him. Leonard's reticent personality also extends to his lifestyle. The NBA star does not live a lavish and extravagant life but believes in being frugal. For instance, Leonard still has the beat-up SUV that he drove in high school. The 1997 Chevy Tahoe is nicknamed The Gas Guzzler, and the player still drives it simply because it runs and is fully paid off. This, however, does not mean that Leonard denies himself the good things of life. The two-time NBA champion owns a Porsche car. He also owns a $13.3 million home in San Diego, California. The 13,000 sq. ft Tuscan-style estate is located in the upscale neighborhood of Rancho Santa Fe. It has 7 bedrooms, 10.5 baths, a temperature-controlled wine vault, a gourmet kitchen, a fruit orchard, a multi-section pool, and a tennis court.