Shawn Mkhize who is popularly known as MaMkhize is a South African socialite, businesswoman, philanthropist and television personality who has a net worth of R300 million.
As a renowned South African businesswoman, she is involved in several ventures that cut across various sectors of the economy. These investments by MaMkhize have not only made her popular but she has also gathered a staggering amount of wealth from various business endeavors which accounts for her huge net worth.
MaMkhize Hails From An Affluent Family Which Robbed Off On Her 
MaMkhize was born into a political family and was raised by her mother, Florence Mkhize an ANC veteran, anti-apartheid activist, and former counselor in eThekwini. Her father was also part of the ANC as an activist against the apartheid regime but he met his death in 1991 when he was allegedly shot by a policeman for reasons connected to politics. The next year, MaMkhize also lost one of her brothers in Isipingo during a police shoot-out.
Asides from politics, her family was also business inclined – MaMkhize's mother started a construction company named Zikhulise Construction. This company would later become the kick-off point for the wealth and influence that Shawn would amass.  Florence Mkhize later died in 2008 from heart-related problems but her legacy lives on as the eThekwini Municipality raised a building and named it after the heroine, "Florence Mkhize Building", in the Durban CBD.
MaMkhize's R300 Million Net Worth Comes From Her Multifaceted Engagements
Shawn MaMkhize is rich and she is not shy showing it off. From her posts on Instagram to the revelation of her remarkable 5-star luxury apartment that she flaunts effortlessly on her reality TV show, her high-class cars attest to the fact that MaMkhize is extremely wealthy. All these put together, begs the question, 'what is the source of her wealth?' and they include:
Zikhulise Construction
Football Clubs
Reality TV show
Real estate properties
Zikhulise Construction
This construction company was handed down to MaMkhize by her mother and she continued to build it to become the empire that it is now. The company is responsible for many housing projects in Durban and has won many tenders from the government to build low-budget houses in the city.
It is also gathered that her former husband, a policeman, Sbu Mpisane had resigned and joined her in the company while they were still together in order to boost its image. Although the desired goal for Zikhulise Construction was achieved, the company would later come under scrutiny as they were allegedly accused of tax evasion and fraudulent activities – thankfully, they came out victorious. The cases happened in 2012 and 2016 respectively and she would eventually divorce her husband in 2019.
Football Clubs
After the divorce, she left Royal Eagles, a football club she and her former husband owned, and went on to buy Real Kings. After the purchase, she renamed the club Royal AM. Though she had always wanted a team that would be playing in the Premier League, she had to settle for a team that was playing in the second division.
When Royal AM failed to meet her expectations, she went further to buy Celtic for a total sum of R50 million. This move further increased her fame and in a football match her newly acquired team played against Tshakhuma Tsha Madzivhandila (TTM), she met with Lawrence Masala Mulaudzi a football club chairman who would end up becoming her beau. More so, the Royal AM team picked up in their league and began to amass sponsorships and several endorsements.
Reality TV
The versatile businesswoman has also turned into a TV sensation as DSTV's Mzansi Magic began to air her reality show, Kwa MaMkhize. She flaunts her beautiful house, her family – including her son Andile Mpisane, her famous stepdaughter Sbahle Mpisane, and those closest to them on the show. However, her ex-husband had some reservations about the show, which he made public after the divorce but that did not stall MaMkize from keeping the show running.
So far, MaMkhize's show has become a hit with several viewers and this has paved the way for her to land a role on the popular SABC drama, Uzalo. More so, she went on to win the Best Reality Show in 2020 from Hollywood and African Prestigious Awards.
Real Estate Investments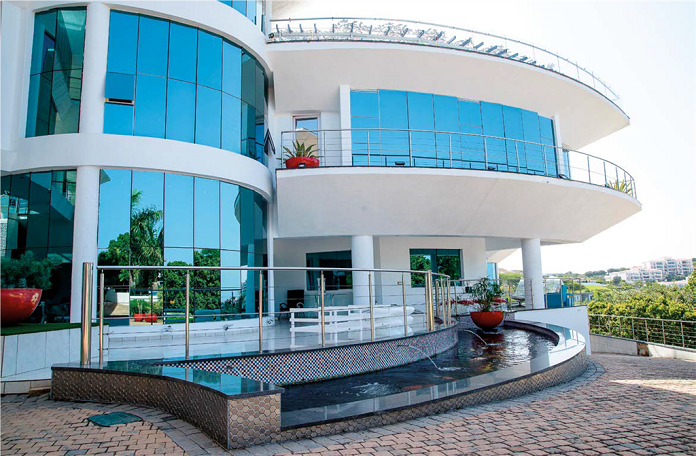 Shawn MaMkhize's apartment in LaLucia, Durban, is a mega-mansion where she also hosts parties with top politicians and friends. The multi-million mansion is one of sight of awe for the viewers of her reality show. It clearly may even stand out as a tourist view in Durban. She acquired this asset for several millions of dollars and went on to buy the adjoining properties to be able to build what she had in mind.
Shawn also bought additional properties after her mansion which she renovated to use as a showroom for her many luxurious cars. Her real estate investments also include the Royal AM Luxury & Grooming Pampering Lounge and other properties she bought, renovated, and gifted as an entertainment pad for her son – this said property is so big, that it could be mistaken for a mall.
How Did MaMkhize Withstand the Bribery and Tax Evasion Charges Against Her?
In 2012, the astute businesswoman was arrested for allegedly trying to bribe her way out of a tax evasion case, by bribing an investigating officer. The South Africa Revenue Services (SARS) had accused her of non-compliance. Her file had up to 173 charges of forgery and fraud that she was accused of but the charges were later withdrawn.
However, a couple of years later in 2016, she and her ex-husband, Sbu Mpisane, were called out once again by SARS, and this time, it was a case of debt. They were said to be owing up to R141 million in taxes. Fortunately, they had a good legal team that won them the case. MaMkhize professed that they followed due procedures when acquiring tenders and clearly stated that she was a taxpayer – these were some of the major things that led to the end of the case.
Philanthropic Works MaMkhize Is Involved In
Though Shawn MaMkhize flaunts her luxurious lifestyle, she is of the disposition that giving back to society should be a thing of the heart rather than a thing of display or as a publicity stunt. She said this in response to her fans who urged her into making a show of her philanthropic gestures.
Sometime in January 2020, the enterprising lady worked closely with the Department of Sports, Arts & Culture and she was given the honor of choosing a school she would love to donate to. More so, together with her family, MaMkhize has at one time donated shoes and sanitary pads to Umlazi ComTech High School.
More so, her massive success over the years has endeared her to a lot of young South Africans, especially ladies who look up to her as a role model. Somizi Mhlongo, who also happens to be her friend has referred to MaMhkize as 'the true definition of black girl magic' and an inspiration to many.