Old Mutual Secure Services is a platform that gives policyholders easy access to log in and view their policy products and information when the need arises. This is a secured and less stressful digital platform provided by Old Mutual to enable policyholders to update their beneficial and personal information within the Old Mutual Secure Services website.
The platform also has an additional functionality offer that enables policyholders to view their product portfolio, purchase additional products like unit trusts, and helps policyholders monitor their Old Mutual Rewards to view their points and know how they can gain rewards and also spend them.
How To Sign Up To Old Mutual Secure Services
To sign up for Old Mutual Secure Services, you must possess an original South African green barcode identity document or smart ID card in which you must scan both sides of the smart ID card. Before logging into an Old mutual account, you must register for Old Mutual Secure Services. You must have your cellphone handy to receive and put in the verification number sent to you.
To sign up, visit the link
Click on "login" in the top right corner of the website.
Scroll down and click on "Register for a service".
Fill in your personal details like name, surname, ID type, ID number, date of birth, country code, cellphone number, agree to the terms and conditions, and click on next.
Select your login details like username and password.
A One-time-pin (OTP) SMS will be sent to you to complete the registration.
How To Login To Old Mutual Secure Services
Click on the link.
Click on "login" in the top right corner of the website.
Select a service.
Enter your username/user number and password.
Click on login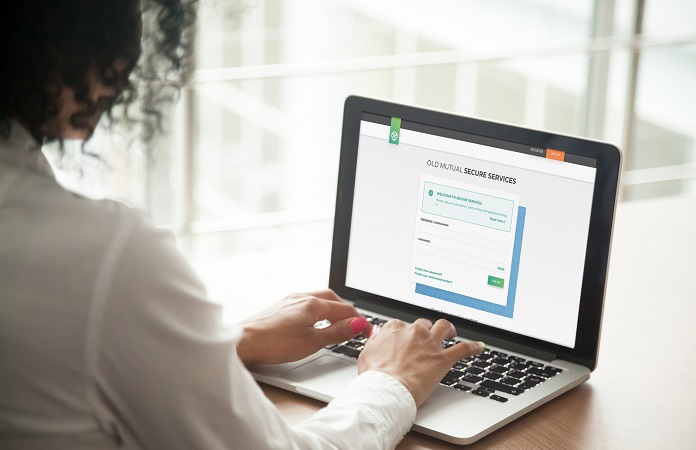 Services Offered By Old Mutual Secure Services
These features can be accessed after logging into Old Mutual Secure Services. It enables connection with the company at any time and anywhere, is simple to use, and guarantees the safety and security of the policyholders' accounts.
1. Updates Personal Details Of Policyholders Online
Old Mutual Secure Services website enables a user to change their contact and personal details and also manage their beneficiaries. Pieces of information like address, contact number, surname, or personal information which have changed over a period of time can be changed using Old Mutual Secure Services at your convenience time.
2. View and Downloads Policy and Tax Documents
Keeping track of policy and tax documents is made easy using this digital platform. A user can view and download policy and tax documents when they access My Portfolio on Old Mutual Secure Services.
3. Update Beneficiaries and Policy Details
Beneficiaries and policy details can be updated when the need arises at the click of a button when a user accesses My Portfolio on the Old Mutual Secure Services digital platform.
4. Changes Bank Details and Debit Order Dates
Policy debit order dates on investment products can be changed to your preferred debit order date by clicking on a button on the My Portfolio on the digital platform. This will automatically change the date you prefer and the requested amount will be deducted from your registered bank account thereby crediting the Old Mutual account. It is mainly used for easy policy renewals and saves the stress of making renewal payments to the bank monthly.
5. Old Mutual Secure Services Keep Track On Old Mutual Reward Points
To keep proper track of your old mutual reward points, open the old mutual reward homepage using the link.
6. Give Informations On Earning And Spending
The platform gives room for proper information on your earnings and available means of spending them. Old Mutual rewards programs were not set up just to add value but also as a means of saving for the rainy days (Emergency Funds). The total reward is shown on the reward dashboard and a summary of rewards is accessible. Old mutual secured services offer policyholders an available means of using their reward points.
Reward points help policyholders minimize the cost of purchasing fuel as cash is no longer needed to make payments.
Policyholders can also buy airtime, data, and SMS bundles with your reward points.
Policyholders can spend their points with the Old Mutual partners like Wimpy, Steam, KFC, Nando's, Krispy Kreme, Kauai, Bootlegger, Coffee Company, Steers, Primi, Sorbet, Dis-chem pharmacies, Checkers, Travelstart, Sportsman warehouse, Outdoor warehouse, EDGARS, W, Telkom, MTN, Vodacom, Cell C, Playstation, Showmax, NuMetro, SK, Shoprite, Uber, XBOX, and Uber Eats where Old Mutual Secured Service can be used to make payments using their reward points.
Policyholders can also spend their points by donating to charity organizations.
Domestic and international flights can be booked with given discounts using the reward points.
Policyholders can as well invest their points in certain Old Mutual Products that they wish to own.
7. View Inactive Contracts
When a policy is inactive it means that the contractual agreement between the two parties is breached. The policyholder can not lay claim in the event of any claim. With the Old Mutual Secure Services, a policyholder that finds it difficult to renew his policy over time can easily view his policy status and know if it is active or inactive. Old mutual secure service in this situation is very important to companies or individuals with more than one policy.
8. Purchase a Range of Products
Old Mutual offers a wide range of products you can purchase using the Old Mutual Secure Services platform. With the help of the platform, the purchase of more Old Mutual products for existing policyholders is made easier like the unit trusts product in which more points are earned as well.
9. View Your Old Mutual Insurance Allsure Products With Old Mutual Secure Services
As a policyholder, viewing your Old Mutual insurance allsure products as well as monitoring them can be done on your old mutual app. All you need to do is to download your old mutual app, register and login to get easy access to your policies.
10. Give Feedback and Request a Call Me Back
For every client-based company, feedbacks are necessary. As a policyholder, you need to login and at the bottom, the various social media platform to contact them are all listed there.