Owen Wilson's net worth is estimated at $60 million. An American screenwriter, film producer, and actor, Owen Wilson remains one of the top highest-paid actors at the moment.
Wilson, who is most popular for his lead voice role on the Cars series. first came to the limelight for starring alongside Jackie Chan in Shanghai Noon (2000). For his various film jobs, Owen has earned thousands and millions of dollars over the years, leaving him with such an impressive net worth that may not have crossed your mind. Interestingly, Owen Wilson's net worth has been on a steady progression over the years.
What is Owen Wilson Net Worth and How Did He Make His Money?
Owen Wilson's net worth is estimated at $60 million at the moment. The film icon mainly builds his worth from his career in writing, acting and film production. Below is a detailed chronicle of how he made his money through the years.
Born on the 18th of November, 1968 in Dallas, Texas of the United States, Owen Wilson began professional acting at the age of 27. That was in 1996. But prior to venturing into a full-time film career, Wilson attended St. Mark's School of Texas in Dallas, and the New Mexico Military Institute in New Mexico. He subsequently earned a Bachelor of Arts degree in English from the University of Texas, Austin.
Following his graduation from the UT, Owen Wilson made his film debut film in Wes Anderson's crime-comedy, Bottle Rocket (1996). It was also on the film that Wilson made his screenwriting debut since he co-wrote the movie's script with Anderson. Worthy of note is the fact that Owen did not immediately start amassing millions in his early career years. His first film, Bottle Rocket actually grossed woefully less than its budget – $560,000 as against $5 million per HBO. His starring role as Dignan in the movie, therefore, didn't earn him much.
Owen Wilson's Career Breakthrough
Luck, however, began to shine on Wilson after he landed significant roles in several successful films including The Cable Guy (1996), Anaconda and As Good as it Gets both in 1997, and Armageddon (1998). He also did a writing job on the 1998 movie, Rushmore which earned him several Best Screen Play nominations out of which he won the one of Lone Star Film & Television Awards. Wilson later played his first lead role in the 1999 thriller, The Minus Man.
In 2000, Owen starred in two high grossing films, Shanghai Noon and Meet the Parents, earning $4 million from the former per Celebrity Net Worth. In 2001, he starred and co-wrote with Wes, the financially and critically successful film, The Royal Tenenbaums. The film also earned them several Best Original Screenplay nominations including an Oscar's. He also starred in Zoolander and Behind Enemy Lines, respectively earning $2 and $3 million in salary.
High Grossing Films and Salary Peak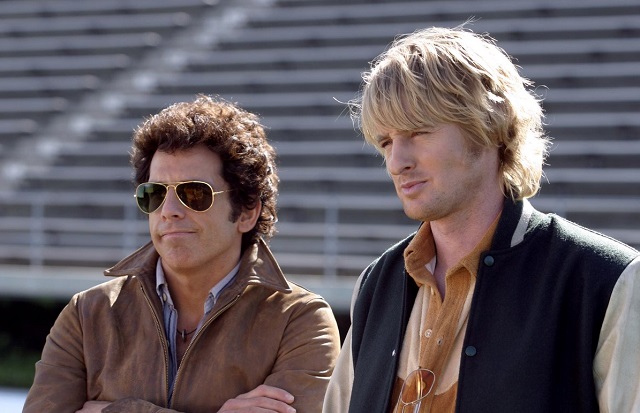 The coming years saw Wilson appearing and starring in numerous other box office hits that tremendously enriched his pocket. In 2004, he received as much as $10 million in salary for portraying Ken Hutchinson in Starsky & Hutch. He subsequently pocketed $5 million for playing John Beckwith in Wedding Crashers.
Wilson went on to hit his career salary peak in the 2010 box office knockout, Little Fockers. Owen earned a whopping $15 million as salary for portraying Kevin Rawley in the American comedy film. The same year, he earned $1 million for his voice role on Marmaduke, and $2 million from Night at the Museum: Battle of the Smithsonian.
In 2011, Owen Wilson pocketed a salary of $8 million each from The Big Year and Hall Pass. Also in 2011, he took home $2.5 million for his voice role on Cars 2. 2015 saw Wilson star in the box office hit, No Escape. He later reprised his highly financially rewarding voice role of Lightning McQueen on Cars 3 in 2017. So far, the movies Owen has starred in have reportedly grossed over $2 billion in the U.S and Canada. This explains why Owen Wilson's net worth eventually lands at approximately $60 million at the moment.
Other Financially Rewarding Ventures
Aside from film, Owen Wilson has signed various endorsement and advertising deals which contribute significantly to the growth of his net worth. Among his top brand deals are Heineken, Michelob Lite, CoverGirl, and Sofology. He began working as the brand ambassador of Sofology in 2017 on an advertising campaign reportedly worth up to £20 million.
Meanwhile, Owen Wilson continues to earn from his previous works. In 2009, he reportedly received up to $1 million in royalties from his old films. Moreover, with a line up of promising film roles on his to-do list, Owen Wilson's net worth is sure to witness further progression in the coming years, all things being equal.
Owen Wilson's Income Sources
His writing, acting and film production careers
Endorsement and advertising deals