Paul Wall's net worth has enjoyed a steady rise thanks to his multi-faceted show business career that has lasted well over two decades. The Texas-born talent is a rapper, actor, and a DJ. Growing up, Wall spent the earlier part of his career signed under Swishahouse Records; where he has collaborated with other talented rappers over the years. Fans who have followed Paul Wall for a while will recall collaborations he's made with fellow artist Chamillionaire.
Together, the duo released several albums, including their independent release Get Ya Mind Correct in 2002. The album was so popular and widely received, it sold over 350,000 copies even without any major label distribution. Wall's cumulative successes have built him an empire worth a fortune.
What Was He Doing Before Fame?
After graduating from Jersey Village High School, Paul Wall spent the next three years studying mass communications at the University of Houston. Armed with a degree in mass communications, one would settle for a public relations job or some appointment with a media outlet. Paul Wall may have considered this route for a while before shrugging it off to pursue his passion; music.
Paul Wall and his best friend, Chamillionaire, began their first steps into the music industry running promotions for several southern hip-hop groups including Cash Money Records. The duo later landed a job which required them to do promotions for Swishahouse, a company run by Michael "5000" Watts'. They would become a formidable team at Watts' studio, KBXX. With so much to offer, the young artists, Wall and Chamillionaire, talked Watts into allowing them to rap on his radio show and put the verses of their rap on one of his mixtapes.
The initiative would become one of Paul Wall's earliest shot at relevance. The mixtape they produced was christened Choppin Em Up Part 2 and was released in the middle of 1999. Their freestyle rap received such street credibility, so much so that Chamillionaire and Paul Wall became regular staples on Houston's mixtape circuit. The duo would later feature on several of Watts' mixtapes and became permanent members of Swishahouse. However, there was more to come.
Paul Wall's Net Worth – How He Built His Wealth
Music Success with The Color Changin' Click
As their talent got more polished and their reach expanded, the two soon left Swihahouse and established their own group; The Color Changin' Click, but not after working with a group called The Sleepwalker. The Color Changin' Click drew its name from Chamillionaire's chameleon persona; a brand he sought to project through their subsequent productions. Formed in 2001, under the label, Wall and Chamillionaire began to release their productions. Mixtape after mixtape, their productions opened up more and more business opportunities.
As Paul Wall recalls, one of those highly profitable opportunities was a 2002 contract to do a full album for Paid in Full Records. The one-album contract between the Color Changin' Click and Paid in Full's label head, DJ Madd Hatta from 97.9 The Box, led to the production of Get Ya Mind Correct. It became one of their most successful projects; selling over 200,000 copies. That same year, the work got nominated as one of the finalists for the indie album of the year by the Source.
Success As a Solo Artist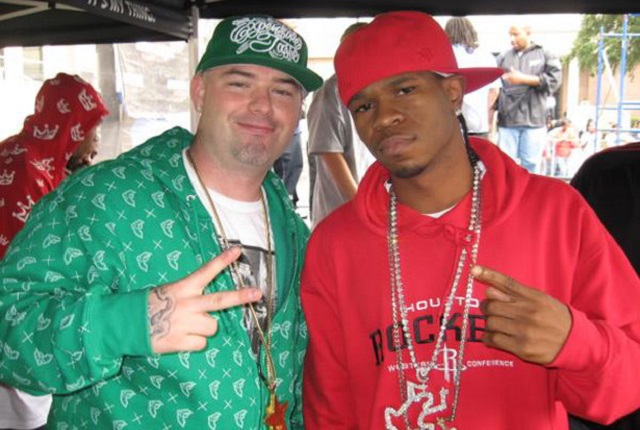 The group was well on their way to dropping their second album, Controversy Sells when their lingering disputes got the better part of them. The group split before the release of the album. Although it got released in 2005, it didn't gain as much traction as it would have had the duo been together. The group also released up to eight successful mixtapes.
While Chamillionaire egged on with the release of his independent records and even started his own label, Chamillitary Entertainment, Paul Wall traced his way back to their origin; Swishahouse. While there, he appeared on Mike Jones' first commercially distributed single, Still Tippin. The single was originally on Swishahouse's 2003 album titled The Day Hell Broke Loose Part 2 aka Major Without A Major Deal; which sold over 500,000 copies within only two months of release.
Now a solo artist, Paull Wall released his first album, The Peoples Champ, in 2005. The album debuted at #1 on the Billboard 200. He released his first three singles Sittin' Sidewayz (ft. Big Pokey), They Don't Know (ft Bun B of UGK) and Girl. The singles received radio airplay and peaked at #35 on the Billboard Hot 100. 2007 saw the release of Paul Wall's second album Get Money, Stay True. The album shot up to the #1 spot on the Billboard Chart Top R&B/Hip-Hop Albums. His subsequent singles Break 'Em Off and I'm Throwed featured Lil Keke and Jermaine Dupri respectively. These rankings and hits translated into shows, collaborations and productions that continue to churn out millions of dollars for the artist.
Other Sources of Income
More recently, Paul Wall has added another branch to his career tree; acting. Another income stream. In 2007, Paul Wall appeared alongside Ja Rule in the horror film Furnace. He also appeared in I Hope They Serve Beer in Hell in which he starred alongside Jesse Bradford and Matt Czuchry. In 2010, Wall made another appearance in the Sci-Fi movie Xtinction: Predator X. 2014 also saw him star in the theatrical film The Holy Spoof. The Holy Spoof was such a theatrical success that it's tickets were long sold out in all of its theater screenings before it's eventual release online.
Though none of these movies have gone on to become box office hits themselves, if anything, they have served to keep Paul Wall relevant in the entertainment space.
See also: What is Mike Shinoda's Net Worth Since He Released 'Post Traumatic' Album?
Added to his show biz career, Paul Wall wears another important hat, that of an entrepreneur. He currently runs an outfit, making diamond-laced grillz for high-value clients such as Lil Jon and T.I. Put together, Paul Wall's net worth amounts to $5 million.
Awards and Recognitions
Paul Wall is the recipient of several awards, including three Ozone Awards in 2006 for; Taste Maker (style and trendsetter), Best Rap/R&B Collaboration (in I'm N Luv (Wit a Stripper)) and Best Rap Collaboration (for Holla at Me). He earned a Grammy nomination in the Best Rap Performance as a Duo or Group category (for Grillz).